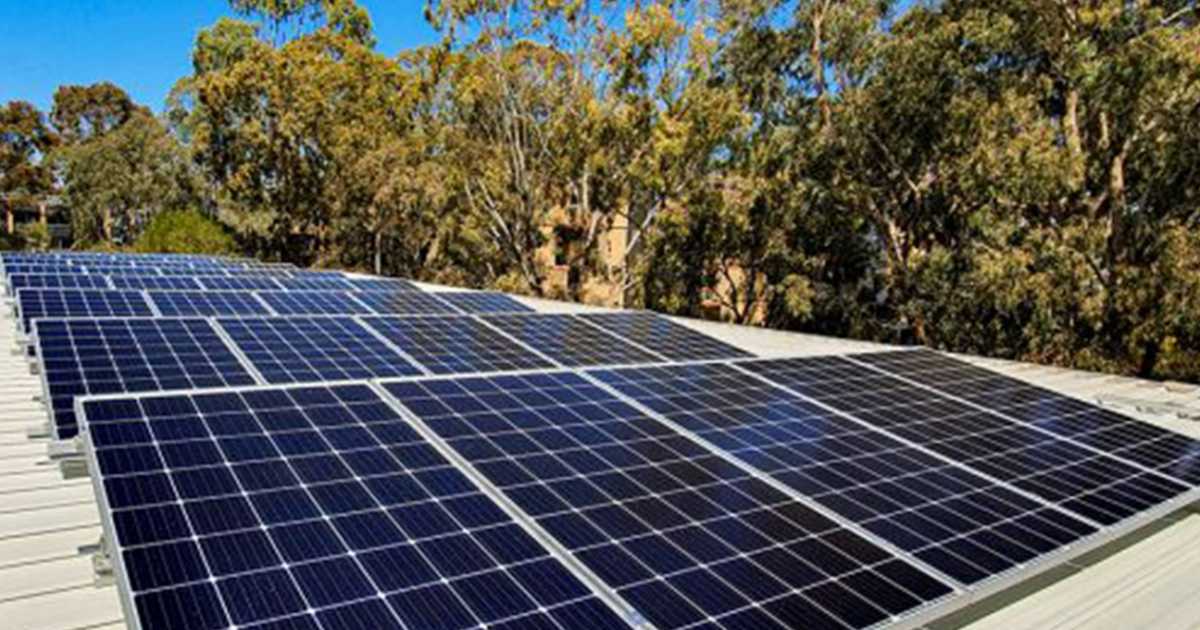 Works are under way to install more than 1,100 solar panels on the rooftop of La Trobe University's Bundoora Campus Library in Melbourne's north-east.
The installation is part of the University's Net Zero project announced in August, which aims to see it becoming Victoria's first major university to gain carbon neutral status. That goal is set for 2029, with regional campuses to become carbon neutral by 2022.
Under the project, more than 7,000 solar panels are to be installed on dozens of buildings at the campus in Bundoora, with the library accounting for 1,164 of the total. It's expected the full rollout across Bundoora will generate up to 50% of campus daytime electricity usage.
While a big project for the library, it's being carried out in such a way that  all library services will remain operational and all floors accessible throughout the installation. Libraries are meant to be pretty quiet places, so contractors will also limit the noisier aspects of their work to before 9am.
More Solar For La Trobe Regional Campuses
The 7,000 solar panels at Bundoora are in addition to the 3,300 already installed at regional campuses with a collective capacity of 1.1 MW, which contribute more than 18% of all regional electricity consumption. And there's more to come.
Two new solar carports will be constructed at Bendigo next year boasting 1,560 panels in total, plus 300 modules for the Student Services Corridor rooftop. Collective capacity of the installations will be 705kW. 1,400 are already installed at the Bendigo campus.
At Albury-Wodonga, a new solar carport will be constructed with 380 panels (110kW). The existing solar carport at the campus, which is around the same capacity, has been generating equivalent to 11% of the facility's total electricity consumption.
La Trobe's two other campuses, Mildura and Shepparton, already had solar power systems installed – 340 panels at Mildura and 115 in the case of Shepparton. It looks as though batteries or some other form of energy storage may also be installed at Mildura.
Other efforts towards La Trobe's carbon neutrality goals include upgrading lighting across all campuses to LED technologies. Once complete, 60,000 LED lights will have been fitted throughout the university in total, reducing its total emissions by over 15% within 12 months.
The $75 million Net Zero initiative involves 20 different projects.
"La Trobe recognises the social, environmental and economic importance of reducing our carbon footprint," said Vice-Chancellor Professor John Dewar back in August. "That's why we have set an ambitious target to become the first University in Victoria to meet this important goal."