In a series of 12 tweets, Waratah Coal Chairman Clive Palmer announced his intention to build a major coal-fired power station in Queensland's Galilee Basin.
The $1.5 billion 700 MW "high efficiency low emission ultra-supercritical" power station would be established on the mining lease for Waratah Coal's Galilee Coal Project and situated approximately 30 kilometres north of the Central Western Queensland town of Alpha.
The Galilee Coal Project, separate to Adani's Carmichael project in the same general region (and much larger), will consist of two open cut and four underground mines producing 40 million tonnes of thermal coal per annum for export markets. The power station will supply mine operations, coal transportation and port operations, plus serve Waratah's North Galilee coal mine development.
"I am putting my money where my mouth is by announcing this new station so we can power Queensland and help bring down energy costs which continue to escalate," said Mr. Palmer in tweet no. 3 of 12.
However, electricity costs are already reducing (albeit slowly) – and thanks in part to renewable energy putting downward pressure on wholesale electricity prices.
In a video spruiking the project, Mr. Palmer says:
"Coal fired power stations are cheaper than renewable energy, and we are finding that out the hard way".
This might be the case in this particular instance with Waratah digging the stuff out of the ground for use on-site, but generally speaking new build coal is more expensive than renewables – and has been for a while. Mr. Palmer may want to re-check his calculations.
Still on the topic of cost and learning things the hard way – what about those involved with the negative environmental impacts of the mines and power station?
"High Efficiency Low Emission Ultra-Supercritical" Coal
It sounds pretty impressive – but what does it actually mean in terms of emissions? First, let's shorten that up a bit – the acronym for "High Efficiency Low Emissions" is HELE. Advanced ultra-supercritical HELE coal fired electricity generation still involves around 670-740g of carbon dioxide per kilowatt-hour of electricity produced. That's still 670g CO2/kWh more than wind and solar power.
In addition to carbon emissions, HELE plants still spew other nasty stuff that renewables don't.  As for mining the little black rock, well: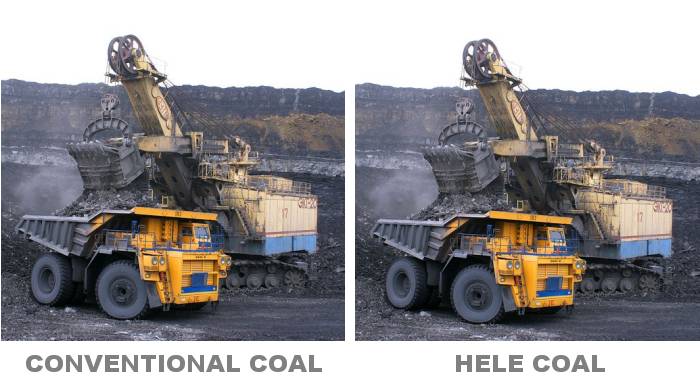 .. it still wreaks the same environmental destruction whether its burned in a conventional or HELE plant.
Currently Waratah Coal holds over 10,000 km² of tenements within the Galilee Basin. Between Waratah Coal and Adani, large chunks of this region could wind up looking like parts of Mordor and have much broader negative impacts.