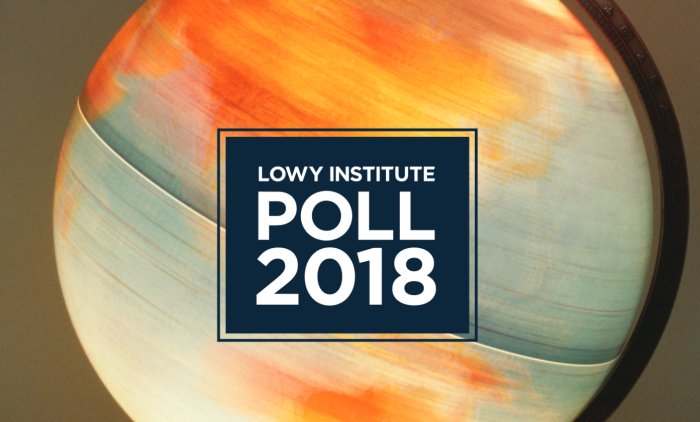 The latest Lowy Institute Poll indicates an overwhelming majority of Australians still want more renewables rather than coal power in the nation's energy mix.
Released yesterday, the Lowy Institute Poll 2018 found 84% of those surveyed believe the Australian Government should focus on renewables, even if this means potentially needing to invest more in infrastructure for the sake of reliability. This result was up 3 points on 2017. Just 14% believed the focus should be on traditional energy sources such as coal and gas, even if this resulted in environmental damage.
The Monash Forum, which is apparently about to embark on a turd coal polishing campaign, might want to take note of this particular result: 72% of Liberal-National Party supporters viewed a renewable energy focus more favourably than one on coal and gas.
Regarding climate change, the proportion of Australians surveyed who agree with the statement 'global warming is a serious and pressing problem [and] we should begin taking steps now even if this involves significant costs' has risen steadily from 36% in 2012 to 59% reports the Institute.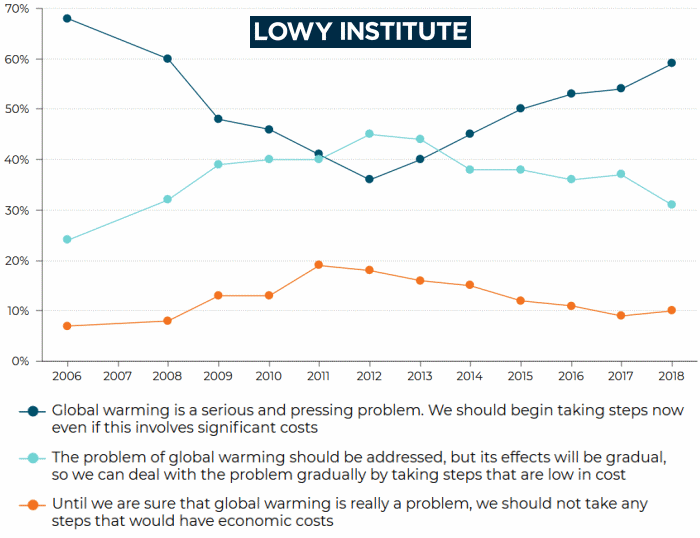 The highest this has scored was in 2006, when 68% agreed with the view.
Why 2006? It's hard to tell as it was only in 2006 when the Institute started including questions on climate change, but it may haveto do with the release of the American documentary An Inconvenient Truth that year. The film, which certainly had and still has its critics, acted as a wake-up call to many people and had a huge impact around the world.
The Lowy Poll also found that it still appears the younger generation is more switched on concerning climate change.
"While a clear majority (70%) of younger Australians aged 18–44 see 'global warming' as a 'serious and pressing problem', just less than half (49%) of their elders have the same level of concern," states the Institute
This  year's poll was conducted by the Social Research Centre between 5 and 25 March 2018 with a sample size of 1200 Australian adults from across the country.
The full Lowy Institute Poll 2018, which covers a broad range of topics, can be downloaded here (PDF).
Smart Energy Council Still Dirty On NEG
The Smart Energy Council seized on the poll results, using them as a platform to again warn it is convinced the controversial National Energy Guarantee currently being nutted out will stop investment in renewable energy.
"The Turnbull Government's energy policy is not consistent with Australia's international climate change commitments and does not provide sufficient incentive for investment in new, clean, cheap renewable energy generation," said Chief Executive, John Grimes. "It is simply not good enough".
The Council wants to see the Federal Government legislate to reduce emissions in the National Electricity Market (NEM) by at least 45% by 2030; based on 2005 levels – and for existing state and territory renewable energy targets to be maintained.
The Energy Security Board released a draft detailed design paper on the National Energy Guarantee last week. Green Energy Markets' Tristan Edis shared his views on how the NEG may work against consumers, and solar, on RenewEconomy yesterday.