Australian energy storage company Redflow has temporarily suspended delivery of new battery stock after detecting the presence of impurities beyond an acceptable level in battery electrolyte.
"Based on manufacturing test data and ongoing operational product testing, Redflow's expectation is that this issue is likely to be confined to a small subset of our stocks," says an announcement (PDF) from the company posted yesterday.
The impurities were not present in the electrolyte when it was added to the batteries at the factory, so it's thought the situation may have occurred due to a quality issue with a particular batch of source material used in the manufacture of the batteries tested.
At the time of publishing, Redflow stated it had 96 batteries in stock and another 120 on the way from its factory. Samples have been taken from an additional 20 batteries, to be tested by an Australian laboratory. This process is expected to take 10 days and will be followed up with further testing of other stock.
Regardless of how confined or widespread the problem is, Redflow believes any affected batteries can be fully remedied through the application of a simple chemical cleaning process – and the company is currently undertaking a trial to confirm this will be the case.
"Redflow remains confident in the effectiveness of its technology and underscores that this recent issue is not a fundamental technology deficiency, but rather it appears to be an unfortunate supply chain quality issue that can be resolved by improved supply chain controls."
The firm says it is making some changes in its material supply chain management to minimise the risk of similar problems occurring again.
Other Battery Issues Resolved
Redflow also reported it has or will be replacing 23 batteries installed since January under warranty after unexpected failure modes were detected via remote monitoring.
Three were due to minor mechanical problems and thirteen as a result of operating cycle issues in sustained operation not anticipated during in-house product testing. In the cases of the former, manufacturing changes have been made to address the issues. In the latter, the problems were resolved via "over the air" software updates.
Seven batteries have also been replaced after issues relating to unexpected stresses in specific scenarios. Again, this will be resolved by remote software updates that are about to be rolled out.
"Redflow expects to continue iterating and improving its battery software as we learn from real world experience that provides insights additional to those gained from internal laboratory testing," states the company.
These problems are certainly unwelcome bumps in the road for Redflow (and affected customers), which grabbed headlines last year with the unveiling of its groundbreaking ZCell battery storage system.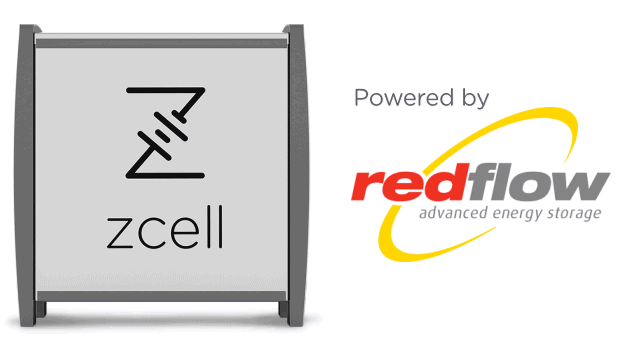 Redflow's ZCell is the smallest flow battery in the world designed for residential energy storage use. RedFlow's ZBM2 forms the core of the ZCell.
Boasting a usable capacity of 10kWh, one of a number of advantages of the ZCell energy storage solution is it has 100% depth-of-discharge capabilities; meaning it can be fully discharged without causing harm to the battery. Unlike lithium-ion batteries, the ZCell also has a 30,000 kilowatt-hour or 10 year warranty that covers 100% of the battery's capacity for the entire period.
Specifications for the ZCell can be viewed on our Solar Battery Storage Comparison Table page.
Redflow's other major product is the LSB, a plug-and-play large energy storage system (up to 600kWh per instance), made up of  ZBM2 units housed in a shipping container.
The company has its headquarters in Queensland and is led by South Australian technology entrepreneur, Simon Hackett.
UPDATE – MAY 9 : Redflow has resumed battery deliveries to installation partners. It also announced its largest single sale of ZBM2 zinc-bromine flow batteries, worth about A$800,000