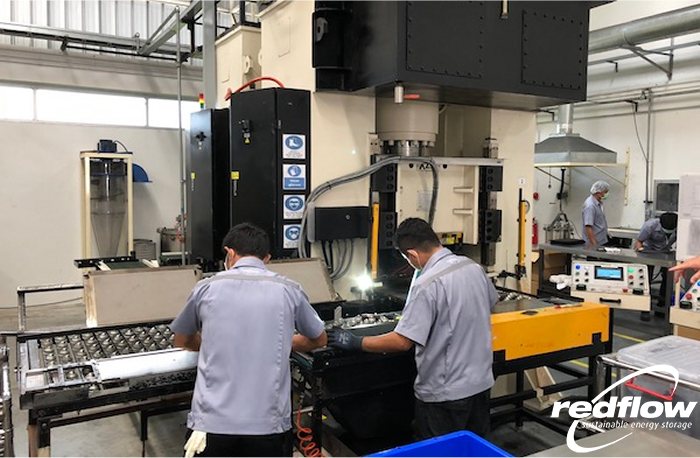 Australian energy storage company Redflow says it is on schedule to start commercial production of complete ZBM2 zinc-bromine flow batteries in Thailand by June.
During a recent inspection of the company's new factory in Thailand, Redflow directors observed factory staff fully assemble two ZBM2 batteries, which are now being subjected to post-production acceptance testing.
"We are impressed by the commitment of the on-site team to producing high-quality components," said Redflow Chairman Brett Johnson. "The current production of battery stacks and this preliminary demonstration of full battery assembly means that we remain on track to commence production of complete batteries in Thailand by June."
Last month, the company announced it had completed testing of the first ZBM2 batteries using battery stacks produced by the factory and was using those to assemble ZBM2 batteries in Brisbane to start fulfilling back orders. The ZBM2's stack contains electrodes that charge the battery by depositing zinc on a membrane and discharge it using a reversal of that process.
Previously, Redflow batteries were manufactured in North America. The company said it made a decision to shift manufacturing in order to remain competitive and Thailand offered the necessary expertise, lower labour costs, logistics and favourable tax treatment it required. The move also places it closer to its primary markets in Australia, Oceania and southern Africa.
The  ZBM2, which offers 10 kWh of usable storage capacity, is the world's smallest commercially available flow battery. Designed for industrial, commercial, telecommunications and grid-scale applications, multiple ZBM2's can be linked together to provide storage in the megawatt-capacity range.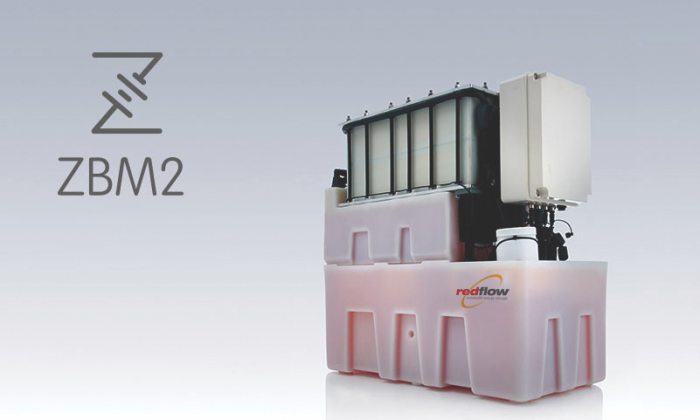 The ZBM2 also forms the basis of Redflow's ZCell battery system, the company's home/small commercial solar battery storage solution.
Further details of the ZCell and links to reviews can be found in SolarQuotes' battery comparison table.
More Accolades For Redflow
In other recent news from the company, Redflow announced it was the recipient of the 2018 Asia Pacific Battery Manufacturer Competitive Strategy and Innovation Leadership Award. Frost & Sullivan, presenters of the award, said it "acknowledged the relentless efforts of the Redflow team."
(Another) New CEO For Redflow
Last week, Redflow said it had named Tim Harris as its new CEO. Mr. Harris has a telecommunications background (one of Redflow's target sectors) and had previously worked as Chief Commercial Officer for Chorus in New Zealand and held senior leadership roles for BT Group in Singapore and the UK.
Richard Aird will return to the role of Chief Operating Officer.
"We have recruited Tim as CEO to allow Richard to focus on his operational strengths in scaling up production from Thailand to deliver fully tested quality batteries," said Chairman Brett Johnson. "Concurrently, Tim will work with myself and our technology evangelist Simon Hackett to identify and implement the optimal growth and commercialisation strategies for the company overall."
Simon Hackett stepped down from his role CEO of Redflow in September last year. As well as the company's technology evangelist, Mr. Hackett is also acting as a non-executive director of Redflow.