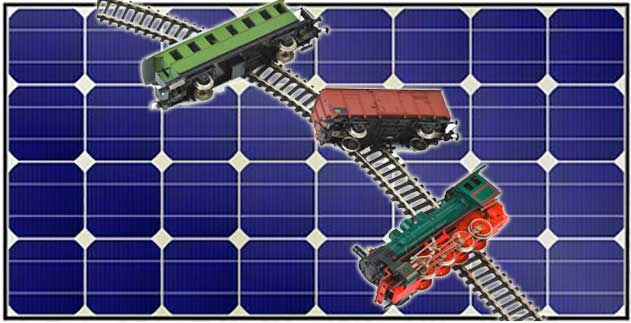 Its been a grim time for solar fans over the last week or so as the promised cutbacks, slashes and hatchet jobs on all forms of renewable energy Australia unfold before our horrified eyes. It's been a bit like watching a bad B Grade film; you know the ones that haven't even got the wit to take the rise out of themselves.
Watching the Godzilla of Abbott government policy smashing its way across our wide brown land can also be described as being akin to watching a slow motion train wreck. (Too much metaphor mixing is barely enough I always say readers!) First it was the promised repeal of the carbon tax with all the accompanying chest thumping and anti-renewable energy grunting and gnashing of teeth from cheer squads in the press and frontbench. Then there was the slashing of funding for the renewable energy agency ARENA in the interest of cost cutting and (dare I say it) promises made to vested interests. At least we can't say we weren't warned!
Which is why readers that I have no intention of covering these thoughts in detail in this week's article. Instead I thought a "good news" solar story would be appropriate. That story is the one this week about Google pumping a cool $US80 million into six massive solar utilities in Arizona and California.
Now we know that Google may have been a little naughty in recent times with uncoverings of alleged wrongdoings in accepting money from certain US government agencies. There's also the ah … aversion to paying tax in Australia that has raised the ire of its punters. However one thing that Google has never been accused of is not knowing the value of a good investment. The good folks at Google wouldn't be throwing their hard-earned dosh around on something they didn't consider worthwhile. Therefore we have to assume that they understand that investment in utility scale solar has a big future.
If only the renewable energy Australia sector had commited investors like the massive Google company. Imagine if these investors had some sway with government solar policy? Perhaps we would be hearing less about massive slashes in funding to agencies which have played their role in attracting investment and more about private/government partnerships for the good of Australia's clean energy future. Would it then be too much to ask for a coherent government renewable energy policy to provide certainty for our energy future?
Unlimited sun is one of our country's most tangible and reliable assets. Combine this with breakthroughs in solar energy storage being made on a regular basis and you have the basis of a renewable energy Australia-style industry of a scale to match that of Germany. Maybe.
Your thoughts readers? Has your SQHQ correspondent gone off the deep end (one final mangled metaphor) on this one. Will the current government be made redundant by massive investment in solar utilities from private companies with deep pockets. As always we look forward to your thoughts either here or over at our Facebook Page.