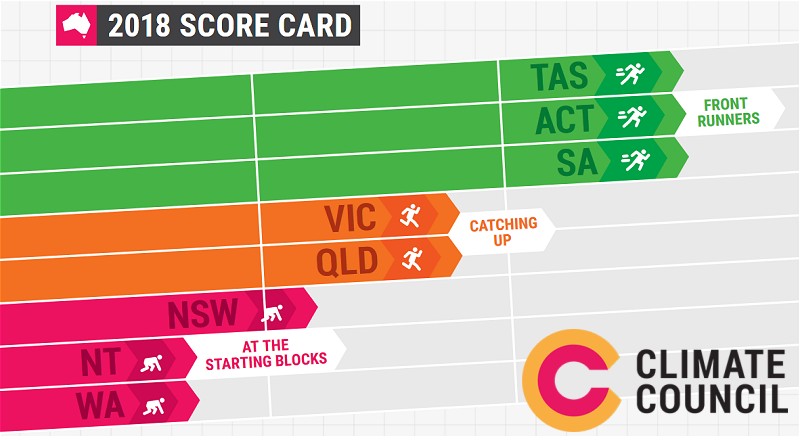 South Australia is no longer the nation's outright leader for renewable energy according to a report released yesterday by the Climate Council.
In the Council's renewable energy scorecards over the last few years, South Australia led other states and territories, but this time around appears tied with Tasmania and the ACT.
"Powering Progress: States Renewable Energy Race" notes that while renewable energy generation dropped slightly in South Australia last year to 43.4% (46.6% in 2016), the state is still on track to reach 73% by 2020-21. However, the dropping of SA's renewable energy target by the Marshall Government led to a fall in SA's ranking says the Council. The previous Premier, Jay Weatherill, had pledged to boost SA's renewable energy target from 50% to 75% by 2025 just before he was ousted.
The report acknowledges South Australia still is doing very well on renewables and the Marshall Government hasn't been totally missing in action in terms of related support. For example, last month it announced a solar battery storage subsidy; although whether this provides the best bang for renewable energy buck has been called into question.
The Climate Council's rankings/grades are not only based on percentage of renewable energy, but also wind and solar power capacity per capita, proportion of households with solar panels and renewable energy targets and policies.
Home Solar Power Proportion
South Australia also still had the second highest proportion of households with rooftop solar in the latest scorecard report, trailing Queensland (just) and leading Western Australia by a significant margin.  Here's how all the states and territories stacked up on that front:
QLD – 32.9%
SA – 32.3%
WA – 26.7%
NSW -17. 6%
VIC – 15.9%
ACT – 14.2%
TAS – 14.2%
NT – 13.8%
South Australia also ranked a leader in wind and solar energy capacity per capita (1.1kW), a spot it shares with the ACT.
As for the number of postcodes with 50% or more residential solar rooftops, Queensland was the clear winner with 19, followed by South Australia with 4.
State and Territory Renewable Energy Scorecard 2018
The overall rankings/grades for 2018, along with renewable energy percentages (2017):
TAS (A) 87.4%
ACT (A) 46.2%
SA (A) 43.4%
VIC (B) 13.6%
QLD (B) 7.1%
NSW (C) 12.6%
NT (C) 3.0%
WA (C) 7.5%
Commenting on the report, the Climate Council criticised the Federal Government, while generally praising the states and territories.
"The Federal government has failed on energy and climate change policy. In five years there have been no effective policies introduced and Australia's pollution has risen year on year," said Climate Councillor Greg Bourne. "States, territory governments and businesses have stepped into the vacuum and are leading Australia's transition to clean power."
The full report can be downloaded here (PDF).