Swedish manufacturer of big trucks Scania is also getting into big solar, announcing it will cover the rooftop of its Zwolle, Overijssel plant with solar panels.
The company says it will install 22,000 solar modules on the Dutch facility, covering 55,000 square metres and with a collective capacity of six megawatts.
The plant, which is responsible for 60% of Scania's total European production,  has set a target of reaching carbon neutrality by 2020.  Other efforts towards this goal include a partnership that will see three wind turbines of two to three megawatts each constructed by the Zwolle-IJssel canal, two of which to be placed in the Scania factory area.
Should it hit its target,  Zwolle will be the first Scania production facility in the world to become energy-neutral. The company says its efforts aren't confined to the Zwolle plant.
"Scania is committed to reducing its carbon footprint and throughout the organisation we are now taking initiatives similar to those in Zwolle to enhance energy efficiency. We have set ambitious targets and are well on our way to achieving carbon neutrality," said Ruthger de Vries, Scania's Executive Vice President for Production and Logistics.
The company is also making inroads on the carbon emission impacts related to the use of its products; which given their nature are significant. Scania offers engines that can run on alternative fuels including  biodiesel, and is continuing research into hybrid technology, plug-in hybrids and fully electric vehicles.
An article recently published by the company mentions a Scania P320 truck with a hybrid driveline that with the press of a button changes the source of the truck's power from Hydrotreated Vegetable Oil (HVO) to battery power.  Scania says the battery power and HVO combination reduces carbon emissions by more than 90 percent compared to conventional diesel.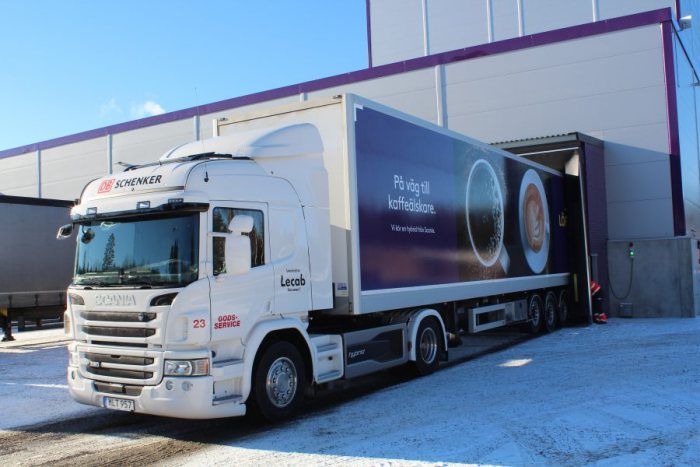 It seems there's no shortage of interest from the company's customers in greener road freight solutions.
"We have gone from treating electrification primarily as a research area to having many discussions with customers who want to make the shift to sustainable transport," says Scania's Nils-Gunnar Vågstedt.
Mr. Vågstedt says development of electrified long-haul transports are lagging a few years behind electrified urban transportation such as buses,  but he believes the same trend will occur in the long-haul sector.
In Australia, heavy vehicles are projected to account for 3% of Australia's greenhouse gas emissions in 2020.
Trivia : What is currently the Netherlands' largest solar farm opened earlier this year. Sunport Delfzijl is rated at 30MW capacity and consists of 123,000 solar panels. A larger PV power station is in the works, which will feature 300,000 solar modules.