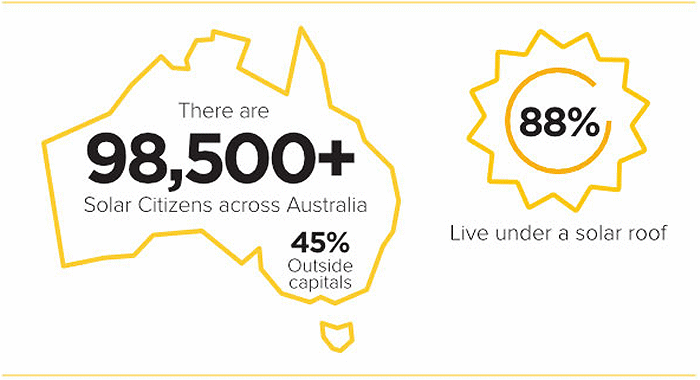 Solar Citizens started bringing together solar power supporters across Australia in 2013 and since that time its membership has swelled to 98,500.
Of that number, 88% have solar panels installed on their rooftops and  45% live outside of capital cities.
Each year, Solar Citizen runs a Supporter Survey to gauge how members are faring with their systems and their thoughts on issues relating to renewable energy in Australia generally.
This year's survey revealed 86% of respondents are satisfied their solar panels are saving them money on power bills and 96% feel their system is making a valuable contribution in terms of helping the environment.
It will come as no surprise that 99% who took the survey think Australia should be powered via more solar energy.
Politicians Put On Notice
There appears to be a high level of mistrust in the Turnbull government on energy issues, with 80% believing its related decisions are mainly in the interests of large electricity companies and party politics.
"This is why Solar Citizens exists," says the group. "By bringing together thousands of solar owners and supporters, we are a powerful voice that can't be ignored."
The survey indicated:
93% are more likely to vote for a party that will mandate a fair price for solar electricity exported to the mains grid.
92% are more likely to vote for a party with a policy to invest more in large scale renewable energy and storage projects.
87% are more likely to vote for a party pledging 100% renewables by 2030.
"Solar Citizens is only four years old — still a whippersnapper really — but we have done so much together already," said National Director, Claire O'Rourke. "There's no question that there's a big job ahead of us to secure a sunny future for every Australian."
Solar Citizens has launched a number of successful campaigns since its inception. A recent action was a petition against suggested changes to National Electricity Rules that could have resulted in solar electricity export charges, which the group called a "sun tax". The Australian Energy Market Commission (AEMC) has ditched the idea (for now) due to the backlash.
Solar Flash Mob – September 8
One of the upcoming events the group is involved with is a "Solar Flash Mob" in Brisbane on September 8.  To be held outside Queensland Parliament House, the event will see a sun-powered pledge signed by nearly 25,000 Queenslanders handed to key environment and energy ministers.
"With the Queensland state election likely just months away, we need to make sure all political parties fully back clean energy from the sun and wind – energy that doesn't damage our climate, bleach our reefs and risk our future," states the event invitation.
Along with Solar Citizens, representatives of Sun-Powered Queensland (who kicked off the pledge campaign), the Australian Youth Climate Coalition, the Queensland Conservation Council, 350.org and the Australian Conservation Foundation will be attending.