In the first half of this year, the Indian solar market added more capacity than it did during all last year – and its appetite for coal is waning.
A recent report from Mercom India Research states installations this year to the end of June came to 4,765 MW, 452 megawatts more than was achieved in 2016.
In the first half of this year, large-scale solar installations represented 90 percent of the total (4,290 MW), with rooftop installations accounting for the remainder (475MW).
Mercom has forecast installations to reach 10.5 GW this year, a 144 percent increase year-over-year.
The solar power push is connected to the Jawaharlal Nehru National Solar Mission, which was initiated by former Prime Minister Manmohan Singh in January 2010, with an original target of 20GW of solar by 2022. This was increased to 100 GW by 2022 by the Narendra Modi government in 2015.
With a forecast total capacity of under 30 GW in place by the end of next year; the pace will need to pick up considerably to meet the target. Even more ambitious is the nation's rooftop solar component of the target – 40GW. Cumulative solar rooftop installations only crossed the 1 GW line at the end of Q2 2017.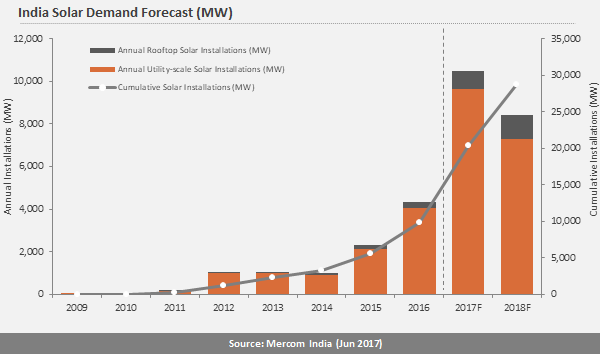 Regardless, India has certainly set a cracking pace this year – but there are some clouds on the horizon that could make achieving targets an even greater challenge. Mercom states issues relating to a lack of clarity surrounding GST, renegotiation of contracts and a looming anti-dumping case could take a significant amount of shine off the market in 2018.
A new investigation into alleged dumping of solar cells and modules from China, Taiwan and Malaysia was initiated last month. A previous investigation determined dumping was occurring and recommended duties, but those didn't eventuate as India's government felt it would negatively impact the growth of the nation's solar industry at the time.
Consulting firm Bridge To India stated last month it believes the government may be more sympathetic to imposing anti-dumping and/or safeguard duties this time around. Preliminary findings of the investigation may be made in as little as two months and if punitive tariffs are imposed, Mercom will be revising its forecasts downward.
With regard to the GST situation;  a rate of five percent was originally announced for all solar components, however, that was then changed to five percent only applying to solar modules; with system components to attract an 18 percent tax.Mercom says the Ministry of New and Renewable Energy (MNRE) is continuing to push for a five percent rate across the board.
More from the Mercom India Research report can be viewed here.
In related news, the Institute for Energy Economics and Financial Analysis reports coal consumption in India has slowed to its lowest level in two decades, even with a booming economy.
"India's future coal demand could actually be near flat," said Tim Buckley, the Institute's energy finance director. "The technology-driven changes are happening faster than predicted."
Mr. Buckley says thermal power plants were operating at only 57 percent of total capacity in June, the lowest level ever.
Someone may want to let Adani and the Australian Government know.