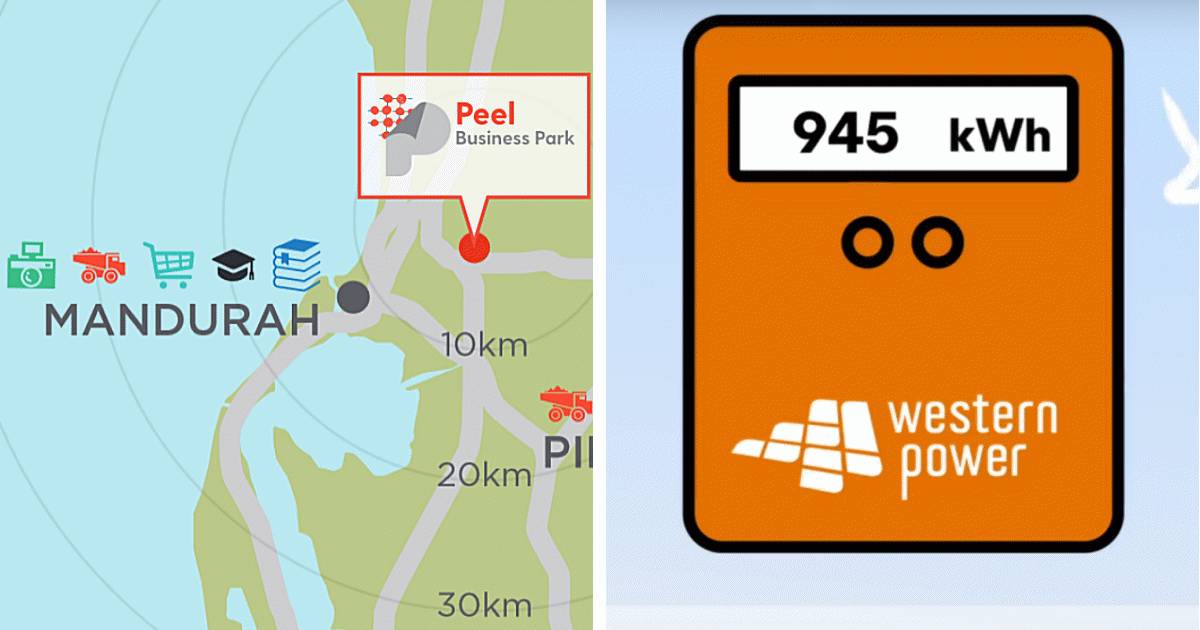 What's been called Australia's first industrial renewable energy microgrid is to be established at the Peel Business Park in Nambeelup, Western Australia. Also in WA, Western Power's big advanced meter rollout has begun.
Peel Business Park Microgrid
Nambeelup is a rural area around 10 kilometres from the regional city of Mandurah, which is approximately 72 kilometres south of Perth. Peel Business Park is an industrial estate that will cover 1,000 hectares and designed with a focus on agri-innovation and sustainability.
It's quite fitting then that solar energy plays a significant role in its future.
Lands Minister Ben Wyatt and Regional Development Minister Alannah MacTiernan yesterday announced a consortium led by Enwave Australia is to develop a solar farm incorporating battery storage to power a 120-hectare section of the site.
"In planning the microgrid project, it has been estimated that the renewable energy mix will help reduce power usage costs to business by around 30 per cent off regulated bundled energy tariffs," said Minister Wyatt. "This is a smart, sustainable solution for a broader project that will be built on innovation."
Unfortunately, solar power and battery capacity details weren't provided, but it was noted electricity will be supplemented from Western Power when required.
The Western Australian Government says the operator will be able to lease roof space from businesses to install more solar panels to feed additional energy into the microgrid and it's expected to also grow through potential uptake from the Park's neighbouring landowners.
Smart Meter Rollout Commences
In other somewhat related news out of Western Australia, Western Power announced yesterday it had started its big rollout of advanced (aka smart) meters for all new and replacement meters across the network. As we reported in April, Western Power will install 238,000 advanced meters in the first phase of the project.
Here's a brief video regarding the rollout and judging by the happy music, WA residents can rest assured everything will work out just fine.
Initially, the smart meters will enable Western Power improve efficiency and reliability of its operations and services.
"In the future, advanced meters will enable WA homes and businesses to have greater visibility and control of their energy use, including managing rooftop solar electricity systems and community batteries," says the utility. "This will help us enable more renewable energy on the network than ever before."
This phase of the rollout is expected to be completed in 2022.