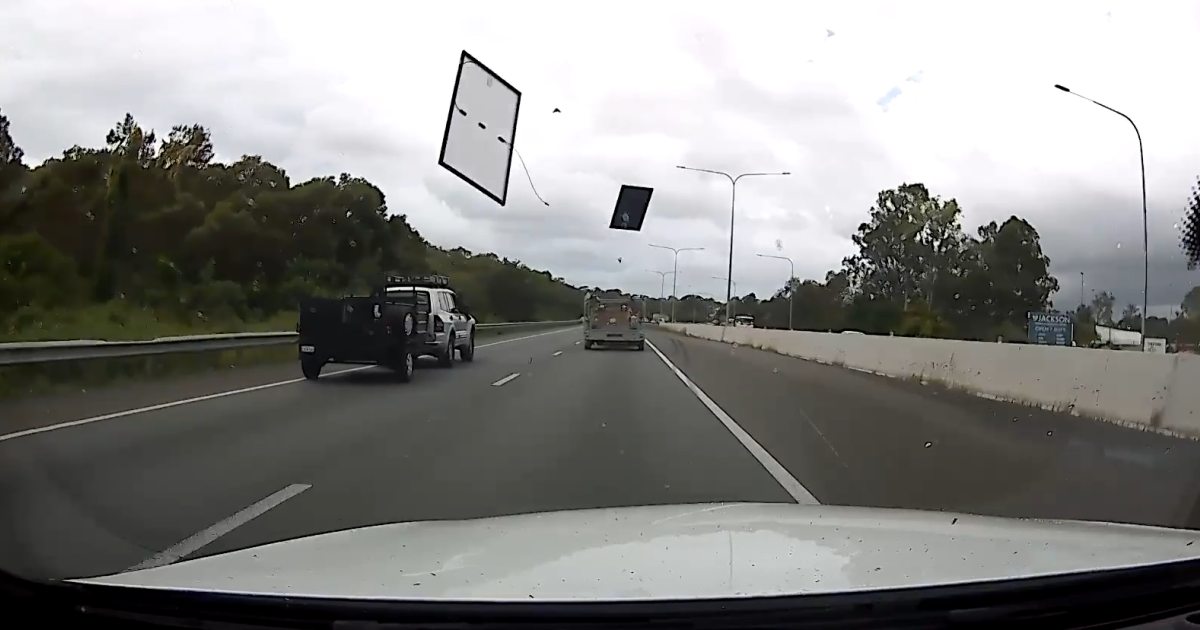 This is something you don't want to see come flying towards you on the road to wherever. It's another case of improperly secured solar panels – but a different scenario.
On Wednesday, Queensland Police reported a ute towing a box trailer was heading south on the Gateway Motorway at Bracken Ridge (a northern suburb of Brisbane) that morning when two solar panels in the trailer came loose, were flung out and one hit a vehicle travelling behind it.
Police say the driver travelling behind the ute escaped injury, but judging by the video it looks like the front of the vehicle may have sustained some damage. This could have turned out a tragedy had that panel gone through the vehicle's window, or if the driver over-steered into the barrier trying to avoid it. There are just so many things that could have gone incredibly wrong in this incident potentially resulting in multiple casualties. But while there were no physical injuries, the victim in this incident might experience lingering negative effects from his/her brush with death.
Police appealed for anyone who witnessed the incident or may have dashcam footage from the area at the time to contact them, but in a subsequent update noted the driver of the vehicle involved has been located. No further details were provided on the driver or circumstances.
And on a related note …
Caravan Solar Panels – A Reminder
This hasn't been the only case of improperly secured solar panels coming loose on our roads – and the outcome in one incident cost lives.
In late December last year, video was released of a narrowly avoided wayward solar panel in an incident near Eastern Creek in Western Sydney. Earlier in the year, three people died and four were hospitalised after a driver lost control near Ross in Tasmania's Midlands when reportedly trying to avoid a solar panel.
Unlike the Bracken Ridge incident on Wednesday that appears to be the result of an unsecured (or improperly secured) load in a trailer, the solar panels in both these instances came off the rooftops of caravans – and this led to revealing what could be a widespread problem.
The incident in Tasmania motivated a local camper trailer owner to check its rooftop solar panels. He was shocked to find the panel mounting brackets were only secured with adhesive, and with a little upward pressure he was able to break the seal. He advised owners of caravans with solar panels to inspect theirs and check to ensure the mounting brackets also have mechanical fixings – and if in doubt about the integrity of the installation, consult a specialist.
It's quite likely the adhesive-only practice is still occurring given chatter on various forums supporting this approach and the number of ads out there still promoting solar panel mounting bracket solutions not requiring mechanical fixing.
Until this is addressed, we may see continued incidents and further tragedies – and there's enough to watch out for on the roads as is.