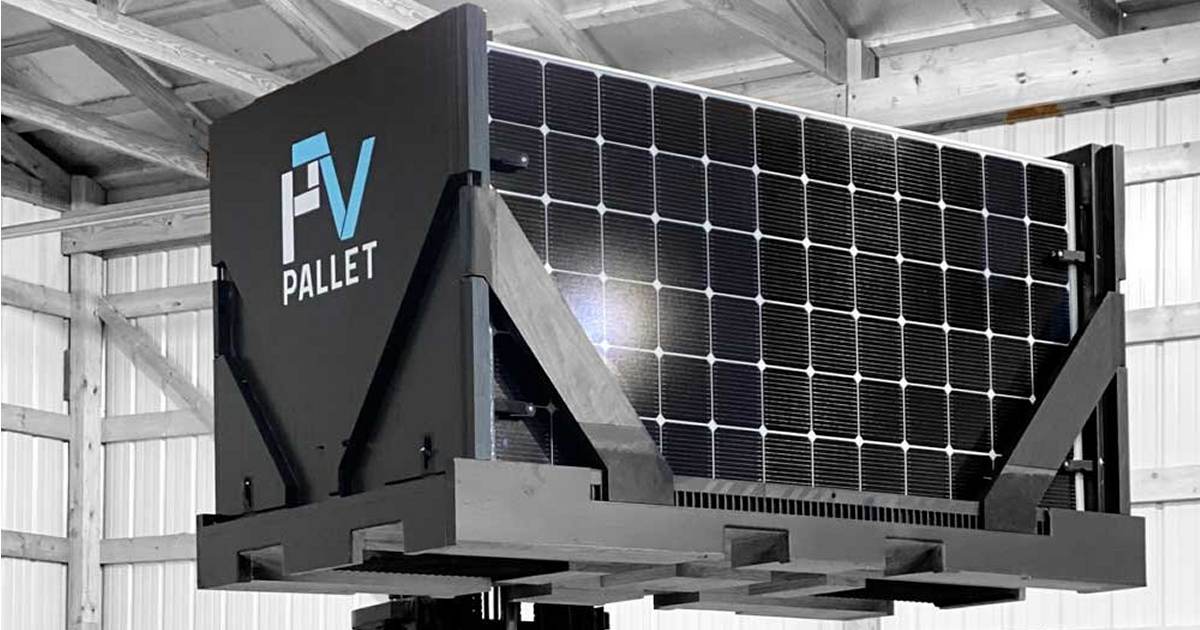 Touted as a sustainable solar panel shipping solution, PVpallet is about to hit prime time.
Brainchild of Luke Phelps, the owner of a U.S solar design and installation company, PVpallet seeks to address the amount of waste, lost time, and expense associated with the single-use wood pallets.
The ubiquitous wooden pallet has a number of advantages, including low initial cost. But among its disadvantages is the waste created. The USA's EPA estimated wood pallet recycling at 3.1 million tons in 2018 for a 17.1 percent recycling rate. By "recycling", it was referring to applications such as chipping for uses such as mulch or bedding material, but excluding wood combusted as fuel. It's assumed pallets treated with methyl bromide aren't used for such purposes1.
"Despite the low initial cost of traditional wood pallets, the lifecycle costs and inefficiencies of this shipping method are monumental," states PVpallet.
Mr Phelps said he saw shipments arriving on site with broken modules, module stacks falling over once banding was removed, and then there was the expense of dealing with the waste after every job.
So, he set about designing a better system with the help of some talent brought on board.
The company's design features high-density plastic sidewalls (HDPE), cross-braces to protect solar panels in transit, and sliding locks and tabs that can also support partial loads.
The exterior walls are adjustable to suit different module sizes and collapse for easy storage and return shipping. A foldable cover (assumed also plastic) protects the face of the first and back of the last module on the pallet; although that wouldn't be much of a match for a forklift blade (but not much would be). Loaded units can be stacked up to 4-high, better utilising warehouse space.
An animation of how the PVpallet system works can be viewed here.
While the pallets can be reused multiple times, when their service life is over they can be recycled into more pallets.
PVpallet Readying For Production
The design of PVpallet has changed multiple times to get to this point. Last month the company announced the fabrication of injection molds had commenced, and this phase is expected to be completed in August. With that done, the company says PVpallet will be ready for production in September.
According to Mr. Phelps, the company is getting interest from "about every single major player in the solar industry at this point".
As for the cost of the solution, the weight of PVpallet and other specifications – those details weren't publicly accessible at the time of writing. The weight would be an interesting detail as one of the other disadvantages of wood pallets is their weight, which can add substantially to freight costs.
Wood isn't the only material used in pallets and plastic ones are already very common. Plastic export pallets, often made from recycled materials, weigh in at around 7kg – 15kg, but of course don't offer the same sort of protection and flexibility that PVpallet does.
Footnotes
Wooden pallets need to be heat or chemically-treated to comply with international import laws. The use of chemicals is becoming less common as aside from issues relating to toxicity, methyl bromide is an ozone depleting gas. Pallets fumigated with methyl bromide should have a stamp with the letters "MB" on them. ↩