A fitness and wellness facility powered entirely by solar energy and electricity generated by the exercise of those who use it has opened in Switzerland.
The facility is located in the NEST research and innovation building operated by Empa (the Swiss Federal Laboratories for Materials Science and Technology) and Eawag (the Swiss Federal Institute of Aquatic Science and Technology).
In addition to usual gym and exercise equipment, the Solar Fitness and Wellness Unit features a Finnish sauna, bio sauna and a steam bath, which would usually consume around 120,000 kWh of electricity annually.
"Our objective is to be able to meet an energy-intensive need such as wellness entirely through renewable energy," said Peter Richner, Deputy Director of Empa and Strategic Manager of NEST.
The energy requirements of the saunas and steam bath are being largely addressed through the use of a special type of heat pump 1. Conventional heat pumps generate temperatures of up to 60°C due to the type of refrigerant used. The fitness centre's heat pump uses transcritical CO2 , enabling temperatures of up to 130°C.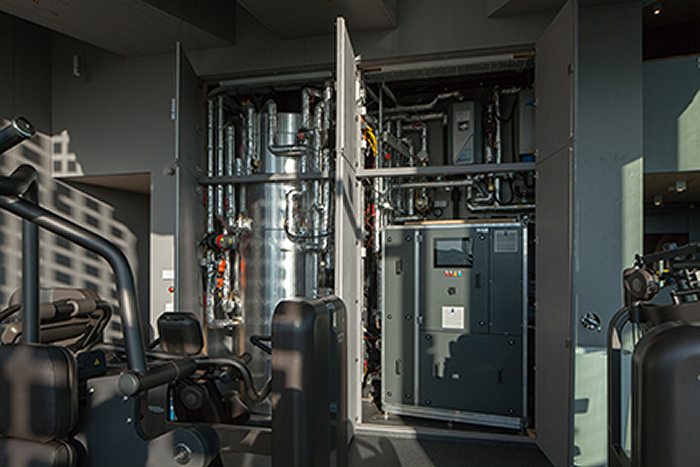 The heated water exists in different layers – 120°C for the Finnish sauna, 90°C for the steam generator in the steam bath, 70°C for the bio sauna and  50°C/30°C for the showers and heating.
The use of the heat pump system will reduce annual electricity consumption from 120,000 kWh to around 20,000 kWh. Remaining electricity requirements are being met primarily by three solar panel installations on the facade and rooftop. Bifacial solar panels are being used, which utilise light entering both sides of the modules.
Heat and moisture recovery processes from the sauna and steam bath reduces ventilation losses by least 50% and insulation helps to further minimise heat loss. To further improve energy efficiency, a control system ensures the saunas and steam bath are only heated in response to bookings.
The center's north facade is fitted quadruple-glazed windows, which Empa says achieves a more favorable heat balance than a highly insulated wall five times thicker, while also providing natural lighting.
The Solar Fitness and Wellness Unit also features a solar hot water system, and users of the facility contribute to energy production via exercise equipment that generates electricity.
"So, after working out hard in a training session, you can relax in the sauna with a clear conscience," says Empa.
Swiss folks keen on trying out the facility may be disappointed as the center appears to be for the use of Empa and Eawag staff. However, lessons learned from the project will be made available for adoption by other centers.
Footnotes
A heat pump is considered a solar energy device as it transfers the heat from the surrounding environment – air heated by the sun – and 'pumps' it into the water ↩