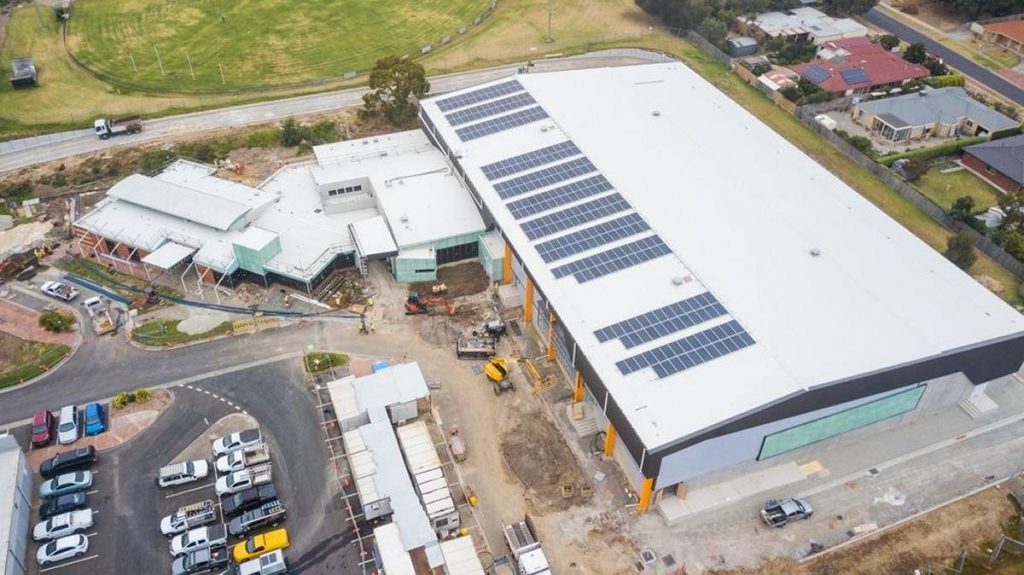 Several of Victoria's Mornington Peninsula Shire's largest buildings are about to become clean power stations harnessing the energy of the sun.
Mornington Peninsula Shire is located south-east of Melbourne and incorporates localities including Rosebud, Rye and Sorrento. It covers an area of 723km2 and is home to around 164,000.
Stage two of Council's solar rollout is about to get underway, which involves installing panels on Rosebud Library, Mornington Peninsula Regional Gallery and Pelican Park. A total of 584 solar panels will be installed across the sites, providing Council (and consequently, ratepayers) savings exceeding $30,000 a year while avoiding 250 tonnes of greenhouse gas emissions annually.
In an update posted to Facebook on Monday, Council also reported a 100kW system has been installed on the Somerville Recreation & Community Centre, which is being reconstructed. It mentions a "40kW Tesla battery" has been connected to the array – I'm assuming that means 3 x Tesla Powerwall 2 units, which each have a capacity of 13.5kWh and a 5kW continuous power rating. Either that or eight Powerwall 2 units – but kW and kWh are often confused.
Stage one of Council's PV program, which was completed last year, saw 822 panels (total capacity 250kW) installed on Rosebud Municipal Office, Civic Reserve Recreation Centre and Hastings Library.
Carbon Neutrality By 2021
By the time the PV rollout program is complete, 2,440 solar panels will be on Shire owned and operated buildings, for a total capacity of 707 kW. Mornington Peninsula Shire Council says this will save it more than $132,000 year in energy costs and reduce its carbon emissions by around 15% – 1,062 tonnes of carbon dioxide equivalent per annum.
"We're working towards Carbon Neutrality in Shire operations by 2021 – installing Solar PV panels on a number of Shire buildings is a major step towards achieving this goal," said Shire Mayor Councillor David Gill.
Council adopted its Carbon Neutral Policy in February 2016 and is a member of the Climate Council's Cities Power Partnership. As part of its CPP pledge, it is also encouraging local businesses and residents to install solar and battery storage. Council is hosting a series of workshops during this month and March, answering questions about choosing solar power and energy storage systems.
Commercial solar installations of significant capacity are also making an appearance elsewhere on the Peninsula. Last year we reported salad grower Hussey and Co. announced it would be installing a 505kW system at its Somerville facility, but it's not clear if that project has been completed yet. At that point a 99kW system had already been installed for the company.