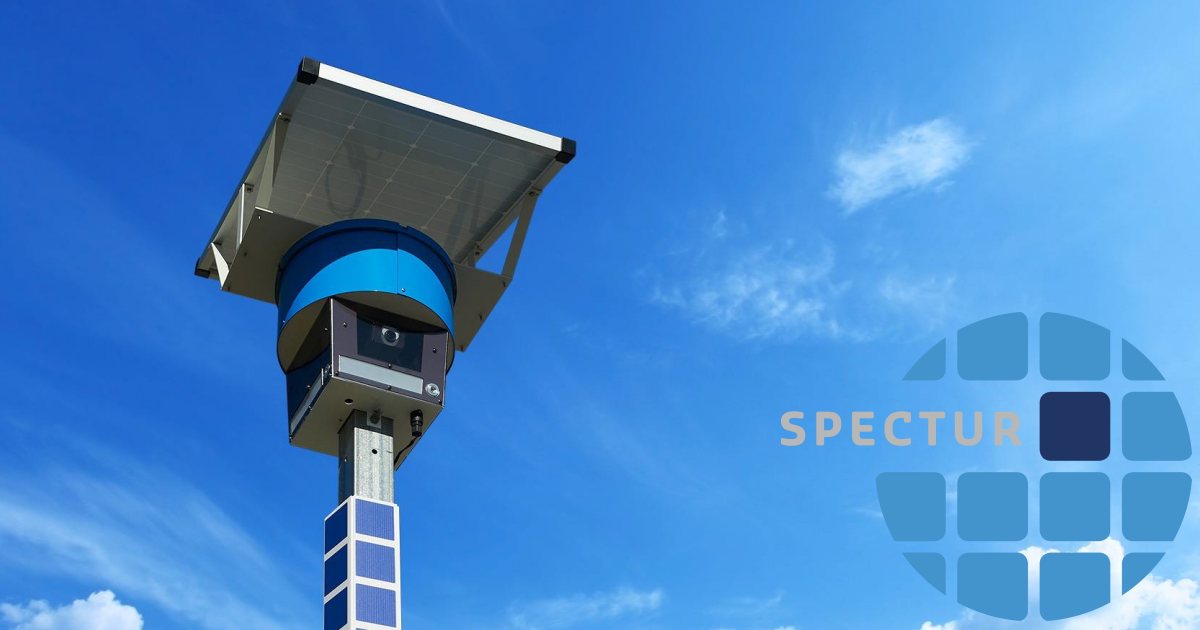 This Australian company is doing some interesting stuff on the security and beach safety scene by combining cameras and AI with solar power.
Spectur provides solar and battery-powered camera surveillance platforms that connect wirelessly to the internet; combining this with cloud-based and/or edge-based AI that can differentiate human and vehicle activity from other movement.
When qualifying movement is detected, an alert is sent out and the event recorded and transmitted for live viewing remotely. The system also engages bright lights and a spoken warning; either live or pre-recorded. All it's lacking is a death-ray, but you'd need a lot of solar panels and battery storage for that.
The top-shelf system is the Spectur STA6 Pro 360 panoramic security camera, which has four integrated 4k ultra low-light cameras that can detect movement in all directions and in all light conditions. Offering up to 200m detection range, footage taken by the cameras are stored in the cloud, so offenders can't just trash the camera in order to destroy data.
But Perhaps Not Theft-Proof?
Among the organisations using the technology are Downer, Stockland and Queensland's Burdekin Shire Council.
I was curious how things were working out for Burdekin. It seems earlier this year Council temporarily closed a waste transfer station following the theft of what were recently-installed solar security cameras and illegal dumping at the site.
Note: it was not stated if this was a Spectur camera setup.
Whether it was a Spectur system or not – while the theft really sucked (and was probably a tad embarrassing), images of the culprits were transmitted before they made off with the gear. Council provided the information to police and how that all worked out isn't clear, but Council seemed pretty confident the offenders would be nabbed.
High spec camera systems are pretty pricey to buy outright, but Spectur also offers short-term and long-term leasing/subscription that I assume means the company would wear the cost of a system getting pinched. Pricing was $84 per day for 6 cameras (length of arrangement unknown) a couple of years ago, which is much cheaper than having a security guard on-site.
Solar Powered Beach Safety
Aside from discouraging would-be offenders and helping to apprehend offenders;  Spectur's solar powered camera solutions can be used for other activities such as monitoring unpatrolled beaches.
The Augusta Margaret River Shire region boasts some of Western Australia's most scenic beaches and many popular surf breaks – and sharks. It previously had a system where if a shark was detected, a text message would be sent to Ranger Services, who could take anywhere from 15 – 45 minutes to attend the beach.
Spectur's shark-focused solution bridges the gap by enabling an authorised party to log into the system via a computer or smartphone app and instantly activate a selection of pre-recorded audio and visual alerts directly to the beach.  It features a 102db speaker system and two red alert lights that swimmers can see and hear from 400m offshore. It's a sound and sight a swimmer 400m offshore would never want to experience; but better that than the potential alternative.
Elsewhere in Western Australia, City of Busselton and Shire of Esperance have similar systems, and recently the Town of Cottesloe put its hand up for two refurbished Spectur Shark Warning Systems gifted by WA's Department of Primary Industry Regional Development (DPIRD).