A 150MW solar thermal power plant to be built near Port Augusta in South Australia will be the largest of its type in the world and supply electricity even when the sun isn't shining.
The South Australian Government has awarded SolarReserve a contract for electricity supply from the facility, named Aurora. SolarReserve offered the lowest-cost option of all short-listed bids, with the cost of electricity to be no more than $78/MWh and expected to be $75/MWh.
Aurora will consist of a vast array of mirrors (heliostats), reflecting and concentrating sunlight onto a receiver on top of a central large tower through which salt is circulated. The salt is heated to between 288⁰C to 566⁰C and is stored in large insulated tanks at ground level.
As electricity is required, the molten salt is pumped through a heat exchanger to create super-heated steam, which then powers a conventional steam turbine. Dry cooling is used for the steam cycle (which is a closed loop system), preserving water.
The molten salt ( sodium nitrate and potassium nitrate) will never need replacing or topping up during the entire life of the plant (30+ years). When it is eventually decommissioned, the salt can be used as a high-grade fertiliser.
1,100 Megawatt-Hours Of Energy Storage
The Aurora facility will deliver 495 gigawatt-hours of clean electricity annually  – the equivalent of around 5% of South Australia's energy needs and enough to power approximately 90,000 homes – and avoid 200,000 tonnes of CO2 each year.
Aurora will incorporate 8 hours of full-load storage (1,100 megawatts-hours), enabling the facility to dispatch electricity during unfavourable daytime conditions and through the night.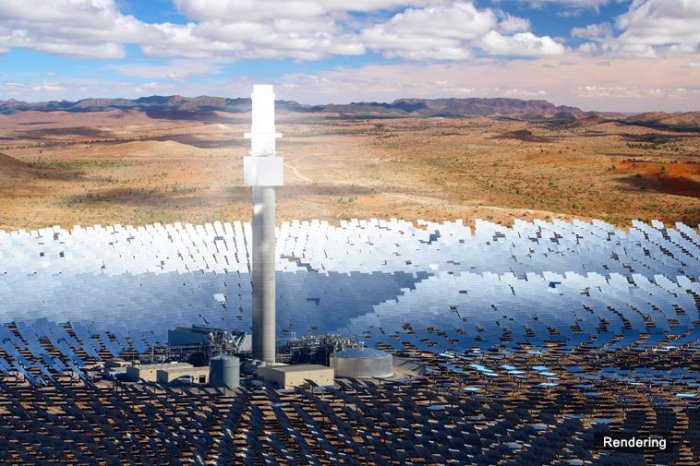 South Australian Premier Jay Weatherill said the project will enhance the state's reputation as a leader in clean, cheap renewable energy.
"We are supporting this nation-leading renewable energy project because it will deliver more competition into our energy market and put downward pressure on power prices for households and businesses," he stated.
A Sweet Victory For Port Augusta
The Repower Port Augusta team were understandably ecstatic with the news – they have campaigned for years for solar thermal in their region and said this development will be "a powerful symbol for the rest of Australia that we can have renewable energy on demand, day and night".
Local support for a solar thermal power station in Port Augusta has been sustained and strong, with Council, businesses and the community getting behind the campaign. The project had its roots in a blueprint developed by Beyond Zero Emissions in 2011.
Solar Citizens applauded the news.
"This is an incredible people powered victory that the local community, people across SA and the whole country have campaigned for over the last five years," said Solar Citizens' Claire O'Rourke.  "This victory shows what we can achieve when people join together behind a common vision and it's an incredible tale of community resilience."
South Australian Treasurer Tom Koutsantonis said after the announcement:
"A shiver has just gone up the coal generation industry's spine."
Construction of the Aurora facility will commence next year, with completion estimated to occur in 2020.  650 local jobs will be created during construction and 50 ongoing full-time positions will be available after the plant is completed.
SolarReserve says it is targeting 60% of the value of sourcing and services to come from South Australia in the construction phase.
The $650 million facility will be partly financed by a Federal Government commitment of up to a $110 million equity investment.