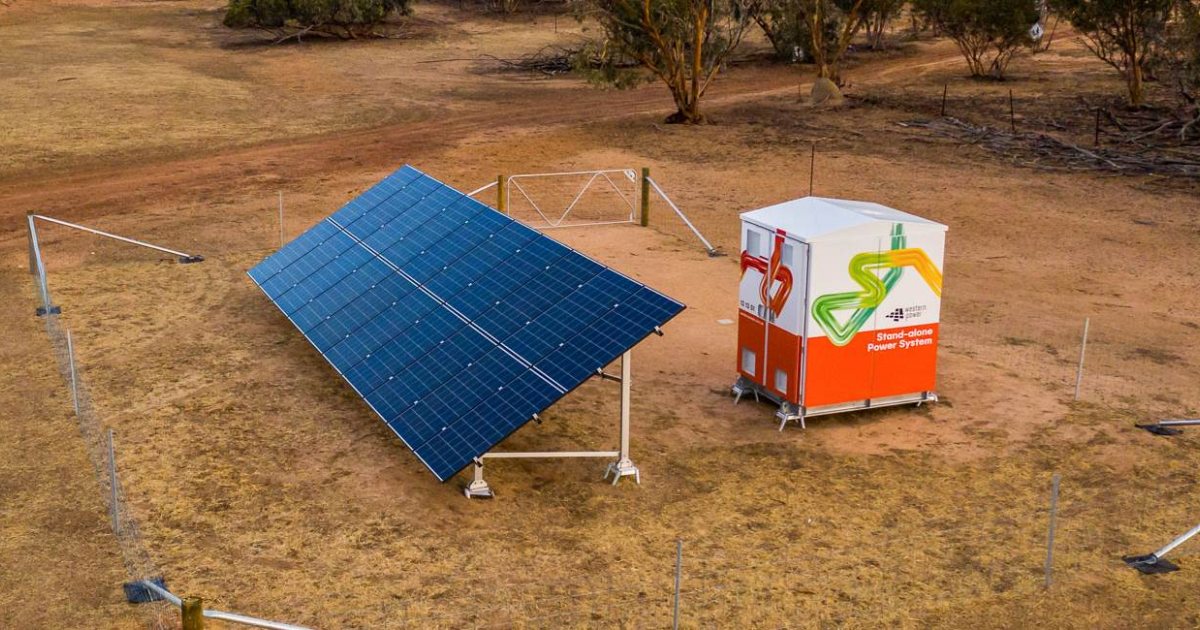 98 more stand-alone power systems will be rolled out across WA's South-West Interconnected System (SWIS) starting from July this year.
Maintaining electricity supply over long stretches of powerlines that service small communities and individual customers is continually challenged by hazards including lightning strikes, falling trees and high winds. Various pilots have shown stand-alone power systems (SPS's)  can be cheaper than maintaining mains grid infrastructure in fringe of grid areas, as well as providing a more reliable and safer electricity supply.
An SPS usually consist of solar panels and battery, along with a backup generator where required, that operate off-grid.
Back in 2016, Western Power kicked off a trial of SPS units at 6 farms, measuring reliability of power supply and customer satisfaction. Three years on and it proved to be a winner, with each customer avoiding more than 200 power interruptions. While backup generators were in place for each of these installations, more than 90% of power generated came from the solar panels.
"Out of 10, customer satisfaction went from less than six pre-trial, to over nine with SPS in place," said Western Power in 2019.
SPS's Replacing Old Powerlines
The Electricity Industry Amendment Bill 2019 passed by WA's Parliament in April last year provided the green light for Western Power to use SPS's more broadly in the South West Interconnected System.
By the end of October last year, 52 stand-alone power systems had been rolled out, which will replace around 230 kilometres of overhead powerlines. In this new phase, 98 systems will replace around 330km of powerlines within areas including Kalbarri, Three Springs, Merredin, Jerramungup and Rocky Gully.
Last Thursday, WA Energy Minister Bill Johnston announced the businesses awarded contracts under the initiative:
Hybrid Systems
BayWa r.e. Solar Systems
Balance Utility Solutions
AGL Energy Services
They'll be working with Bunbury subcontractor Positive Off-Grid Solutions in delivering the project.
"Through the McGowan Government's Energy Transformation Strategy, we're revolutionising the way we deliver and provide energy to Western Australian homes," said Minister Johnston.
This project will also create jobs. Balance CEO Rod Hayes said it will enable his company to employ another six to ten staff.
"The world has been full of pilots and demonstration projects but this is a serious commitment by Western Power to a long term program and their approach is supporting us grow our business locally," said Mr Hayes.
It's likely there will be many more SPS installations to come. Western Power has previously said thousands of customers in its service area could benefit from an SPS, improving their quality of life while saving the state on upgrades and maintenance of poles and wires.
It has plenty of both to look after – Western Power maintains more than 101,000 kilometres of powerlines and around half of its overhead distribution network services less than three per cent of its customers.
Horizon Power, which supplies electricity to around 100,000 residents and 10,000 businesses in regional and remote Western Australia, has also been getting in on the stand-alone power system action, with SPS projects including a trial in the Esperance region.