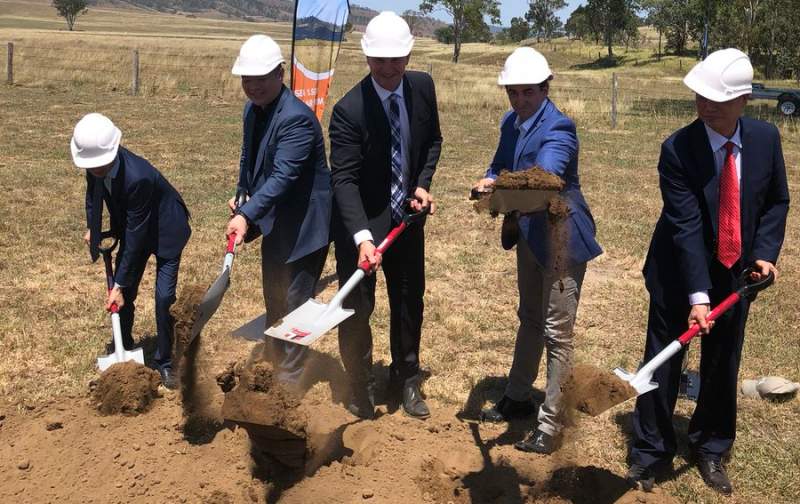 An "early groundbreaking ceremony" for a huge solar power and battery storage facility in Queensland was accompanied by very little fanfare – and probably for good reason.
The Sunshine Energy project is to be constructed on a number of parcels of land located between Harlin and Kilcoy in south-east Queensland. The development application was given the go-ahead by Queensland's Somerset Council in November last year.
The 1,500MW solar energy facility, which is to be built in two stages, may wind up even larger with a subsequent stage as there's provision to expand it to 2GW.
The early groundbreaking ceremony was held last week. Missing was the usual media coverage for what will be such a significant project, both for the area and the state. The image above from the event was sourced from Assistant Treasurer Glenn Butcher's Twitter account. And that was about it. There was no formal announcement from the Queensland Government and nothing from Sunshine Energy.
Perhaps a reason for the low-key event was legal wrangling associated with the development.
Local land owner Anthony Crombie is taking Somerset Council and Sunshine Energy Australia to the Planning and Environment Court in an attempt to see the approval rescinded.
Around 4 months ago, Mr. Crombie also launched a petition regarding the project, stating the development will render the rural landscape "unrecognisable". The petition's aim was to pressure Council to refuse the development or request a substantially reduced capacity – a suggested 200MW. Over the 4 months since the petition was launched, 242 had signed it.
A Laundry List Of Grievances
A notice of appeal filed with the Planning and Environment Court in January cites dozens of reasons why the development application approval should be retracted, mostly in relation to claimed conflicts with provisions of Somerset Regional Planning Scheme Version 3.
Among them, it's claimed the development:
does not maintain and enhance the scenic amenity and landscape values of the Somerset Region.
will have negative environmental impact associated with traffic.
will result in loss, fragmentation alienation and a diminished capacity of agricultural land.
will results in a material increase in the extent or severity of bushfire hazard.
cannot ensure the site can be rehabilitated after the use has been decommissioned.
You can follow the case as it goes through the Planning and Environment Court system here.