News that the Perth-based renewable energy company Hyperion Energy is planning to build a solar tower in mid-west Western Australia sent your correspondent scurrying to the research files this week.
According to the company website, Hyperion have purchased a 127,000 hectare site near the town of Tuckanarra. The site is near mines and an airport and is judged to have a low risk of natural disasters such as earthquakes or cyclones. Chiefly though, the main advantage of the site for the location of a solar tower is the "horizon solar radiation of 2300MJ/m2" (read huge), according to the company.
The theory behind the solar tower technology sounds simple enough. A flat, large expanse of a greenhouse-like material is spread around the base of a tall tower. When the sun heats the air under the material it rises (remember your science?) and as such has only one place where it can go: the central solar tower (see diagram). The hot air is forced through the narrow space of the tower where it causes a wind which turns a number of turbines inside the tower.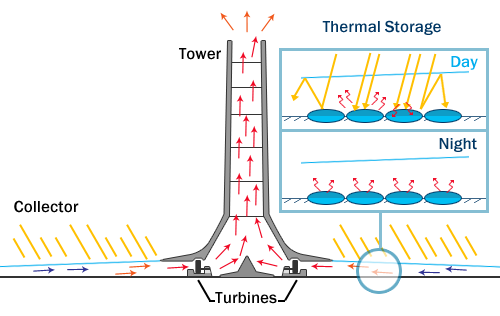 Hyperion points to three key advantages of solar tower technology over other forms of tapping the sun's energy.