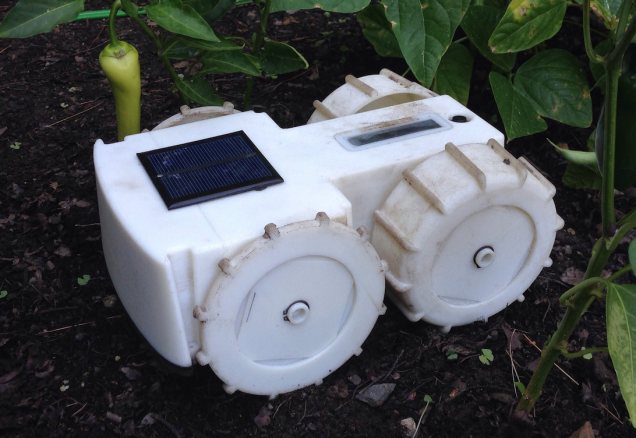 Weeds in your garden getting you down? Franklin Robotics may soon have a solar powered solution to your weed woes that will perhaps help save some time and your back.
Tertill is solar and battery powered robot that weeds your garden. The device is designed to stay outside, even during periods of rain. Sensors in the robot cause it to turn away from (largish) plants and detect when it has run into an obstacle; after which it alters its path.
Tertill can't tell what is a weed and what is a desired plant as such – it operates purely on size, so seedlings need to be protected with a special collar. As it rolls over a small plant, a small whipper snipper beneath the robot cuts the plant off.
The company says Tertill uses proprietary algorithms to ensure that it finds as many weeds as it can.
"Nothing could have inspired or prepared me more for designing a robot to assist gardeners than attempting – and struggling – to maintain my own garden," says roboticist and Franklin Robotics' CTO, Joe Jones. Mr. Jones is probably best known as being the co-inventor of the Roomba vacuuming robot.
"The solution that Tertill would eventually provide is to make gardening easier and more productive for the entire spectrum of home gardeners – novice, experienced, procrastinator, bad back, lazy, or vacationing."
There appears to be a lot of potential challenges with this gadget; such as getting enough sunlight in areas frequently shaded using what looks to be a very small solar panel, garden layout needing to be just so, and knocking the tops off some weeds would just see the weed grow again. It will be interesting to see how this creation looks and operates if it hits prime time.
There's no word as yet as to when Tertill will be available; but you can sign up for updates on the Franklin Robotics web site.
If Tertill isn't your cup of tea and you still want to get your geek on in the garden to eliminate threats, consider Franklin Robotics' SlugTaze – you can download free plans for it here.
Franklin Robotics isn't the only one to be working on solar powered weed terminators. Australia's QUT has developed a much larger device for agriculture called the Agbot II, which can detect and classify weeds and then kill them using either mechanical or chemical means.