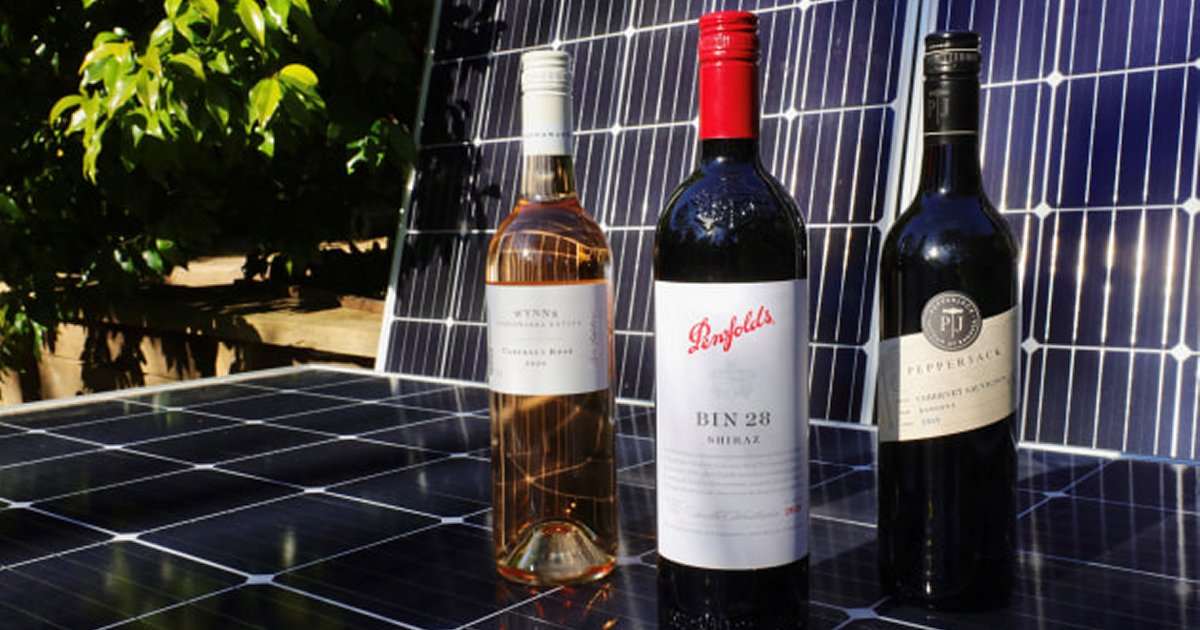 The company behind famous Australian wine brands including Penfolds and Wolf Blass is embracing solar energy in a big way.
ASX-listed Treasury Wine Estates (TWE) is one of the world's largest wine companies and has an ambition to be the "world's most admired premium wine company". A powerful way to win consumer hearts, minds (and wallets) these days is to have a strong focus on sustainability.
As part of its sustainability mission, wines in TWE's portfolio will be produced using 100% renewable electricity by 2024. In a step towards this renewables goal in Australia, approximately 9,500 solar panels will be installed at Barossa Winery and Production Centre in South Australia, and Karadoc Winery in Victoria by the end of this year.
Collectively, the solar panels will generate more than 5,500 megawatt-hours of electricity annually, enough to supply the equivalent of  900 homes. Total capacity wasn't mentioned, but given the annual output, I'd estimate it at around 3.75 MW.
"Electricity makes up about 70% of our Scope 1 and 2 emissions, so switching to renewables is the single biggest and quickest action we can take to reduce emissions," said TWE Chief Sustainability and External Affairs Officer Kirsten Gray. " It paves the way to meet our target of net zero direct emissions by 2030 and forms the foundation for future innovation and resilience."
.. and let's not forget the huge energy cost savings commercial solar brings for businesses large and small. If a business can afford to pay its electricity bills, it can afford and should install solar panels when suitable rooftop or other space is available. Simple payback is usually rapid and the benefits extend for many years beyond that.
But beyond the warm and fuzzies of emission targets and big savings to be had, the wine industry has a strong vested interest in reining in greenhouse gas production. Climate change is already having a significant impact on viticulture, messing with grape phenology and harvest timeframes according to Wine Australia.
Shell Energy Australia Selected For Project
Treasury Wine Estates' choice of partner for its local 100% renewable electricity aim is Shell Energy Australia, which was formerly Trevor St. Baker's ERM Power until Shell acquired ERM in 2019 and re-branded it.
Shell Energy Australia's generation assets include 662 megawatts of gas-fired power stations in Western Australia and Queensland, and the 120 megawatt Gangarri solar farm in Queensland – Shell's first-ever solar farm development.
The company also completed the controversial acquisition of electricity retailer PowerShop in February this year.
The Bigger Solar Energy Picture For TWE
TWE's wider plans on the renewables front are to install more than 29,000 solar panels at its wineries and vineyards across the world, and to purchase more offsite-generated renewable electricity. Last year the company also joined RE100 – a global initiative bringing together major businesses committed to 100% renewable electricity.
"Vineyards have always relied on the sun to produce the grapes for wine," said RE100 Australian Coordinator Jon Dee at the time. "It makes business sense for TWE to go the next step and use the sun to power the facilities that turn their grapes into wines."
According to Treasury Wine Estates' 2021 sustainability report, by that point it had reached 3.3% renewable electricity across its global operations; generated from owned/leased sites or bought via Power Purchase Agreement (PPA) arrangements.