The United Nations' Secretary-General has come out swinging against fossil fuels in a speech delivered at the Pacific Islands Forum in Fiji.
António Guterres said that in the Pacific, sea-level rise in some countries is four times greater than the global average and is an existential threat to some island states. In Fiji, four communities have been relocated so far due to the  effects of climate change, and more than 80 others are being considered for potential future relocation.
While the Pacific region isn't on its own in relation to major negative impacts of climate change, it is considered one of the front lines.
Secretary-General Guterres' main messages to world governments:
Shift taxes from salaries to carbon. "Tax pollution, not people."
End fossil fuel subsidies. "Taxpayer money should not be used to boost hurricanes, spread drought and heatwaves, melt glaciers, and bleach corals"
Stop building new coal fired power plants by 2020. "We need a green economy, not a grey economy."
"We have the blueprints, the frameworks and the plans," he said. "What we need is urgency, political will and ambition."
He relayed the same messages at a youth event hosted by New Zealand's Minister for Climate Change in Auckland a few days ago.
In the Pacific Islands Forum address, the UN Secretary-General said he will be hosting a Climate Action Summit in September in New York.
"The Summit will showcase initiatives in key sectors such as energy, mobility, agriculture and oceans," he said. "It will underscore the need to end subsidies for fossil fuels and shift towards renewable energy, electric vehicles and climate-smart practices."
Earlier this week while in New Zealand, Secretary-General Guterres warned the world is not on track to meet its climate change commitments as defined in the Paris Agreement.
"The paradox is that as things are getting worse on the ground, political will seems to be fading."
However, he praised the New Zealand Government for recently tabling a bill1  setting a target of zero carbon emissions by 2050.
Bill Nye Gets All Fired Up
While on the topic of getting fired up about climate change, Bill Nye "The Science Guy" had some choice words to say in relation to concerns over costs in addressing climate change in a skit on HBO's Last Week Tonight with John Oliver. Bill Nye has always been quite passionate on the issue, but this The Science Guy as you've probably never seen him before.
CO2 Emissions Keep Rising
While solar power and other renewable energy technologies are making a significant contribution towards reining in electricity-related emissions, it's still not enough; and the electricity generation sector is only part of the problem.
Measurements at Mauna Loa Observatory in Hawaii indicate the concentration of carbon dioxide in the atmosphere recently hit 415.50 parts per million (ppm).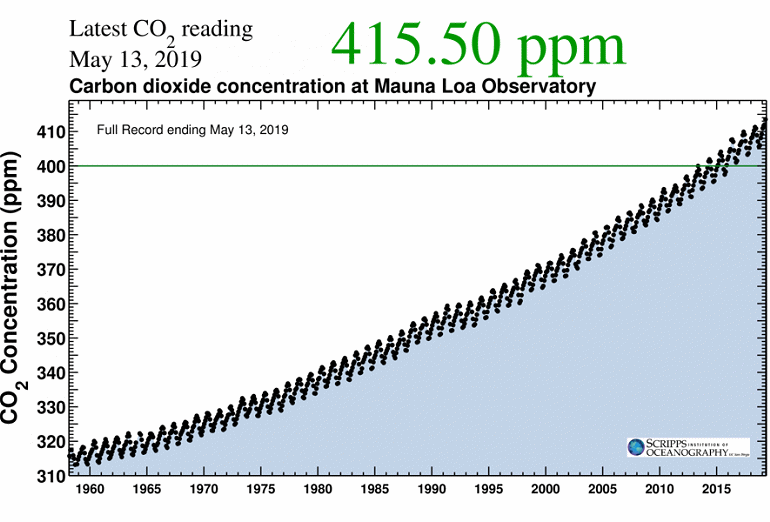 400 ppm was exceeded for the first time in human history in 2013.
"Every year it goes up like this we should be saying 'No, this shouldn't be happening. It's not normal," said Ralph Keeling, director of Scripps CO2 Program. "This increase is just not sustainable in terms of energy use and in terms of what we are doing to the planet."