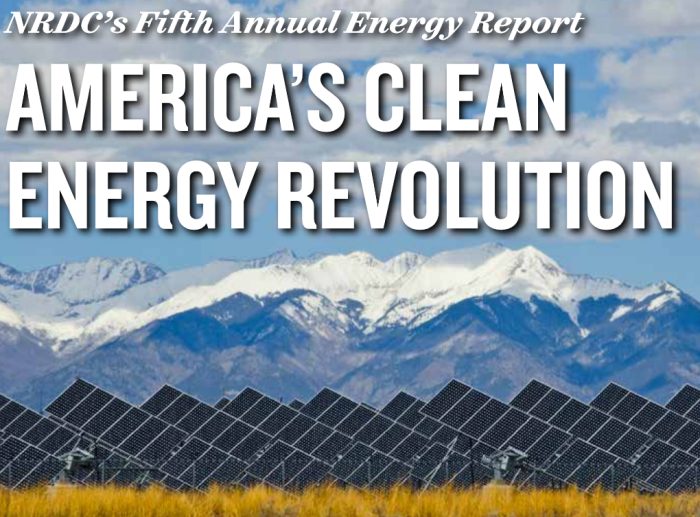 The amount of solar energy capacity in place in the United States by the end of last year was 4,500 percent more than government experts forecast 10 years earlier.
A Natural Resources Defense Council (NRDC) report released last week also states the U.S. wind power forecast a decade ago grossly underestimated capacity.
NRDC says that in 2006, the Energy Information Administration (EIA) forecast less than 1 gigawatt of installed solar energy capacity by the end of 2016 and 18 GW of wind power. However, wind and solar power capacity grew to 82GW and ~45GW respectively.
The report says renewable energy represented 14 percent of total U.S. electricity sales last year, with wind and solar making up more than half that total (8 percent). More than 14 GW of solar capacity was added in 2016, which was close to double the record-breaking new amount in 2015.
"When you look at how clean energy development has exploded beyond official government projections from just 10 years ago, it offers hope that its potential will continue to far surpass expectations and we'll meet our U.S. climate goals," said Amanda Levin, the report's co-author.
There are some issues looming that could impact the pace of solar growth. Among them, the International Trade Commission is considering a petition from two solar manufacturers seeking hefty duties on imported solar panels and cells.
The report also notes the share of coal-fired power generation fell from 52 percent in 2000 to 30 percent in 2016. Approximately 45GW of coal generation capacity has been retired in the last five years and total coal-related emissions fell to their lowest level since 1978 last year.
The NRDC's Fifth Annual Energy Report can be downloaded here (PDF)
Forecasting Solar Uptake – A Tricky Business
The EIA isn't the only body to be caught out in forecasting the impact of the renewables juggernaut. The International Energy Agency (IEA) also has a track record of consistently underestimating the global growth of solar PV.
Last week, the IEA revised its outlook.
"We see renewables growing by about 1,000 GW by 2022, which equals about half of the current global capacity in coal power, which took 80 years to build," said IEA Director, Dr Fatih Birol. "What we are witnessing is the birth of a new era in solar PV. We expect that solar PV capacity growth will be higher than any other renewable technology through 2022."
The IEA says its revision was driven by ongoing technology cost reductions and "unprecedented market dynamics" in China as a consequence of policy changes.