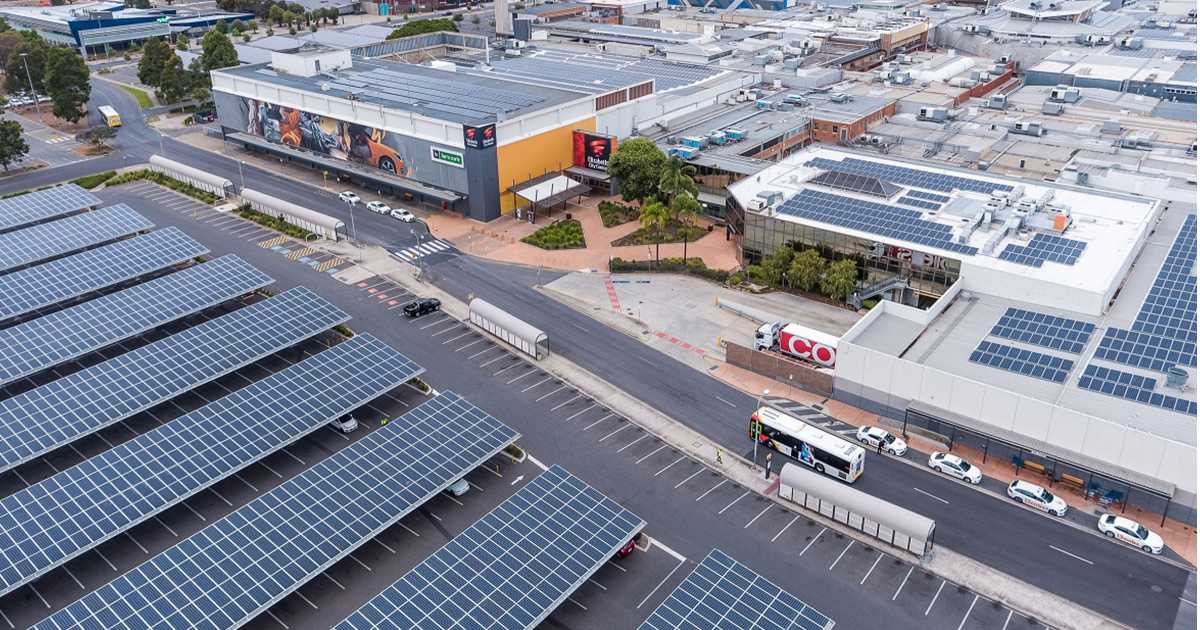 Vicinity Centres has announced Australia's largest car park solar power installation has been completed at Elizabeth City Centre in Adelaide's north.
1,400 car spaces are now shaded by solar panels, adding to 2.7 megawatts of rooftop solar capacity installed at the shopping centre last year. This brings Elizabeth City Centre's total PV capacity to a whopping 5.9MW, which Vicinity says is also the largest single solar system in Australian retail.
Also completed are 430 new solar shaded parking spaces at Castle Plaza in the southern suburb of Edwardstown, adding to 1.3MW of rooftop solar power already in place.
While individual solar panel tallies for the car parks weren't provided, Vicinity states 12,000 modules were used across the two projects.
—-
Update: 20 December: The Castle Plaza web site states 3,000 solar panels were used for its car park project, so assuming that's correct, 9,000 were installed for the Elizabeth City Centre car park.
—-
Vicinity expects more than 11.5 gigawatt hours of clean electricity to be generated from the sites in their first year of full operations.
"While we're keeping cars cool over the summer months, the shades also help power our centres, and we know our customers and communities will welcome the new undercover parking at Elizabeth City Centre and Castle Plaza," said Vicinity Chief Strategy Officer Justin Mills.
The solar car parks will be particularly appreciated by shoppers today, with the temperature in Elizabeth expected to reach 45C and in Edwardstown, 44C – and tomorrow will be even hotter.
At Castle Plaza , an energy storage trial is also under way involving a 548kWh Sungrow-Samsung SDI  battery system. Next year, electric vehicle charging stations will be installed at both Elizabeth City Centre and Castle Plaza.
The Adelaide solar rollouts are part of a $73 million solar energy investment program announced last year by Vicinity, which is approaching completion. Involving 22 shopping centres in six states, the collective capacity of 31.8MW is expected to generate 48.5 gigawatt-hours of electricity annually.
Net Zero Carbon Target
Vicinity Centres isn't stopping there – in July this year it announced a net zero carbon target for its 34 shopping centres across the nation that will be achieved by 2030, with solar power to play a further role. By the end of this financial year it aims to achieve a portfolio energy/carbon intensity reduction target of 3% against a FY19 baseline.
One of Australia's leading retail property groups, Vicinity has already achieved a 4 Star Green Star Performance rating across its managed portfolio.
PV systems have become an increasingly common sight atop shopping centres across Australia. Given the decreasing cost of commercial solar, the decision to install panels isn't just a public relations stunt or an emissions reduction exercise, but a move that can have a significant positive impact on a company's bottom line.
Vicinity has previously projected its solar energy investment will provide internal rate of return (IRR) of approximately 12%, while reducing mains grid electricity use by up to 40%.