Australian Vanadium Limited (AVL) subsidiary VSUN Energy is continuing to chug along towards its goal of developing a residential flow battery system for the Australian market. This battery won't just be big on capacity.
AVL announced yesterday that VSUN has engaged Western Australia's CADDS Group to get stuck into designing a new housing for VSUN's residential vanadium redox flow battery (VRFB) system and to provide potential design changes with view to improving the battery for the Australian market.
VRFBs use a circulating vanadium pentoxide electrolyte solution to store the charge in tanks. They have a lower energy density compared to Li-ion, but among their advantages is the electrolyte is non-flammable and a flow battery offers 100% discharge capability; meaning the battery can be fully discharged without damage. VSUN says the VRFB has a lifespan of more than 20 years, with zero degradation in performance over that time.
The prototype VRFB will be tested at CADDS' premises with the assistance of engineering capability sourced from Curtin University. All going well, VSUN Energy plans to deploy the unit to a residential customer with a solar power system for further testing under real-world conditions.
Currently, the only residential flow battery available in Australia is Redflow's ZCell (3kW/10kWh), which is based on the Redflow ZBM2 (and eventually the new Redflow Gen 3).
A Monster Battery
The yet-to-be-named VSUN Energy VFRB will provide 5kW of power and 30kWh of usable storage capacity. The VSUN flow battery will have three times the storage capacity of the ZCell, and two and a bit times that of the popular lithium-ion home battery, Tesla Powerwall (13.5kWh).
It will also be very big on physical size and weight. The image above provided by AVL show a 5kW/30kWh VRFB package with vanadium electrolyte ready for assembly and testing. That's a lot of electrolyte. The capacity of those intermediate bulk containers (IBCs) is 1,000 litres each. Surely, all of that electrolyte is enough for more than one battery?
Perhaps not. The following is an image of the initial VRFB concept design.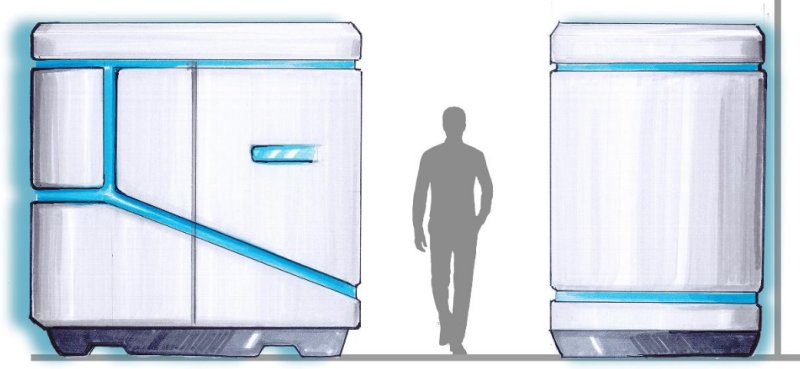 Assuming it's reasonably to scale and even if the person depicted is as short as I am, that's a bloody big home battery. Just as a comparison, the Redflow ZCell's electrolyte volume is 100 litres – but bear in mind that has 10kWh of storage capacity. Still, three times that is only 300 litres.
VSUN inked an agreement with Chinese VRFB manufacturer CEC VRFB Co. Ltd back in September last year, and it's CEC that supplied the above components. VSUN has also recently ordered a couple of 5kW/30kWh VRFBs from Singapore's V-Flow Tech for a residential customer and a caravan park in Western Australia.
Looking at the V-Flow PowerCube 5-30, that's no lightweight either. It's 1 tonne without electrolyte, 3 tonnes with electrolyte added, and is 1.5m long, 1.7m wide and 2 metres high.
AVL Managing Director Vincent Algar says the VSUN residential battery could be a door-opener for bigger things on the VRFB front.
"By initiating market growth in smaller systems we anticipate a knock-on effect for larger VRFB uptake, which in turn will grow the market for vanadium pentoxide in energy storage."
I wasn't able to locate any approximate/anticipated pricing for the VSUN VRFB.
Regardless of how this pans out for VSUN, it's always encouraging to see Australian companies giving things a red-hot go.