Analysis released yesterday by the Australian PV Institute indicates Adelaide's CBD could support 129MW of solar panels on the rooftops of its buildings.
Based on average results of four methods used, the findings suggest 43% of Adelaide CBD's total roof area could accommodate 516,000 solar panels (based on 250W modules), generating 174 gigawatt-hours of clean electricity annually and meeting 26% of the CBD's electricity demand.
Prepared by UNSW researchers, the analysis says in addition to avoiding 77,000 tonnes of CO2 emissions a year, CBD electricity customers could save up to an estimated $54 million annually from such a deployment.
Commercial solar installations in the CBD could include 350kW of solar capacity on the Centrepoint Building, 840 kW on the Central Market, and 1.3 MW on the central building of the Adelaide Convention Centre. Here's how those buildings might look decked out with solar panels.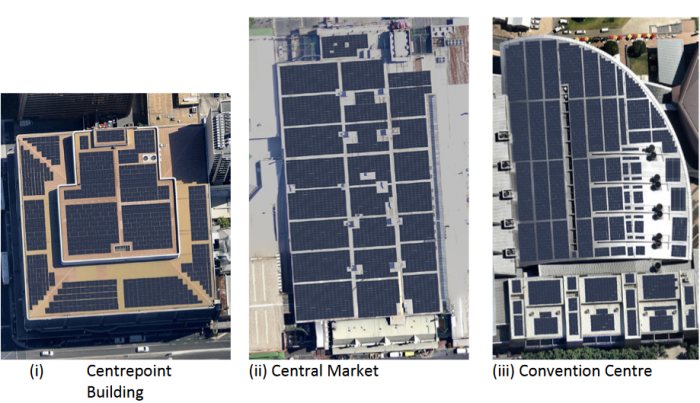 Currently, an estimated 4.0MW of PV capacity1 is installed on Adelaide CBD rooftops – just 3% of its estimated potential capacity. Current Adelaide CBD solar installations include 1,397 kilowatts of capacity in systems below 10kW capacity, 2,492kW in systems ranging from 10-100kW and 151kW in the 100kW+ range.
The assessments are based on data and methodologies behind the APVI Solar Potential Tool, (SunSPoT), an online application developed by UNSW researchers that estimates the potential for PV-based electricity generation from building rooftops.
Capital City CBD Solar Potential Compared
The analysis also contains a summary of results from the CBDs of other Australian capital cities. While it suggests Adelaide comes out on top in terms of having potentially the greatest proportion of electricity supplied from solar on CBD rooftops, it cautions about making direct comparisons due to data availability.
| | | | | |
| --- | --- | --- | --- | --- |
| | Usable rooftop area | Potential Installed Capacity (MW) | Potential Annual Generation (GWh) | Estimated % |
| Brisbane | 45% | 188 | 241 | 11% |
| Melbourne | 38% | 461 | 548 | 11% |
| Sydney | 40% | 619 | 777 | 22% |
| Canberra | 50% | 68 | 98 | 17% |
| Adelaide | 43% | 129 | 174 | 26% |
The Spatial Analysis of Solar Potential in Adelaide can be downloaded here (PDF).
There is significant financial support for Adelaide CBD businesses to go solar. In addition to Australia's major solar subsidy, the City of Adelaide is offering incentives including up to $5,000 for PV system installations and up to $5,000 for solar battery systems. Various finance options are also available.
Whether you're a business owner in Adelaide or anywhere else in Australia, if you're considering using solar to slash your electricity bills and emissions, check out  SQ's commercial solar guide.
Footnotes
A case study of an Adelaide CBD business that installed solar and saw a simple payback period of just three years can be viewed here. ↩