Another crack at demolishing Victoria's Anglesea Power Station will proceed as planned this week, weather permitting.
Anglesea Power Station is a brown coal-fired power plant located just outside the town of Anglesea, which is on the Great Ocean Road in the Surf Coast Shire; around 114km from Melbourne.
The 150MW plant was operated by Alcoa and supplied the Point Henry Aluminum smelter. The power station was fueled by coal dug up from an adjacent mine.
According to a 2015 report, the National Pollutant Inventory website indicated PM10 emissions from the plant jumped from 140 tonnes in 2012-2013 to 240 tonnes in 2013-2014. Sulphur dioxide (SO2) emissions increased from 39,000 tonnes in 2012-2013 to 43,000 tonnes in 2013-2014.
With the smelter's closure in 2014, some groups argued there was no justification for its continued operations or that of the mine, particularly given the environmental damage both created. After being unsuccessful in finding a buyer, Alcoa announced the 46 year old coal-fired-clunker and mine would close at the end of August 2015.
The demolition is expected to occur tomorrow morning or Thursday, with preparations in the lead-up including an asbestos removal program. What's left is predominantly steel says Alcoa, which will be recycled. However, the industrial stack will remain in place.
"We are very confident in the work undertaken to ensure the safe demolition of the remaining power station structure," said Alcoa Site Manager Warren Sharp.
This isn't the first time an attempt has been made to demolish it, the last being in late May. That attempt was described by Surf Coast Air Action as "botched" and the group has concerns over this week's exercise.
Solar Power Proposed For Anglesea Power Station Site
Anglesea Community Energy (ACE) wanted to see the site used for renewable energy (PowerPoint) and storage going forward, such as a floating solar farm with pumped hydro energy storage. It said preliminary analysis suggested the potential to cover Anglesea's electricity needs.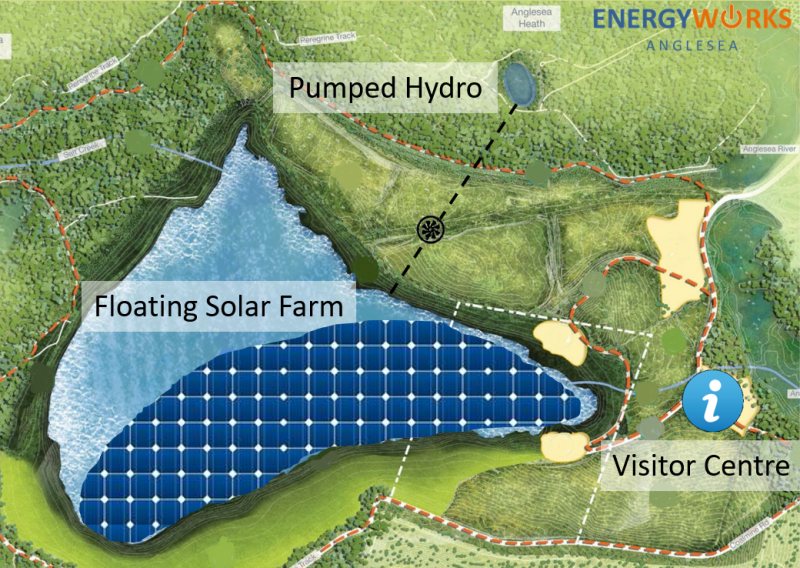 However, a draft land use plan published late last year had no provision for stand-alone renewable energy generation – only that it may be incorporated on buildings.
"Renewable energy facilities that utilise the proposed water body and banks are not considered feasible as they present risks to the stability of the sloping banks, may interfere with biological processes and water quality and may be susceptible to acidic erosion. This applies to the concepts of floating solar panels and renewable hydro."
The draft plan envisioned renewables being implemented in such a way that it would not exclude areas from other uses.
A summary of feedback on the draft plan still noted a few suggestions relating to renewable energy, including a ground-mounted solar farm with battery storage.
A final strategic land use plan for the site is yet to be released.