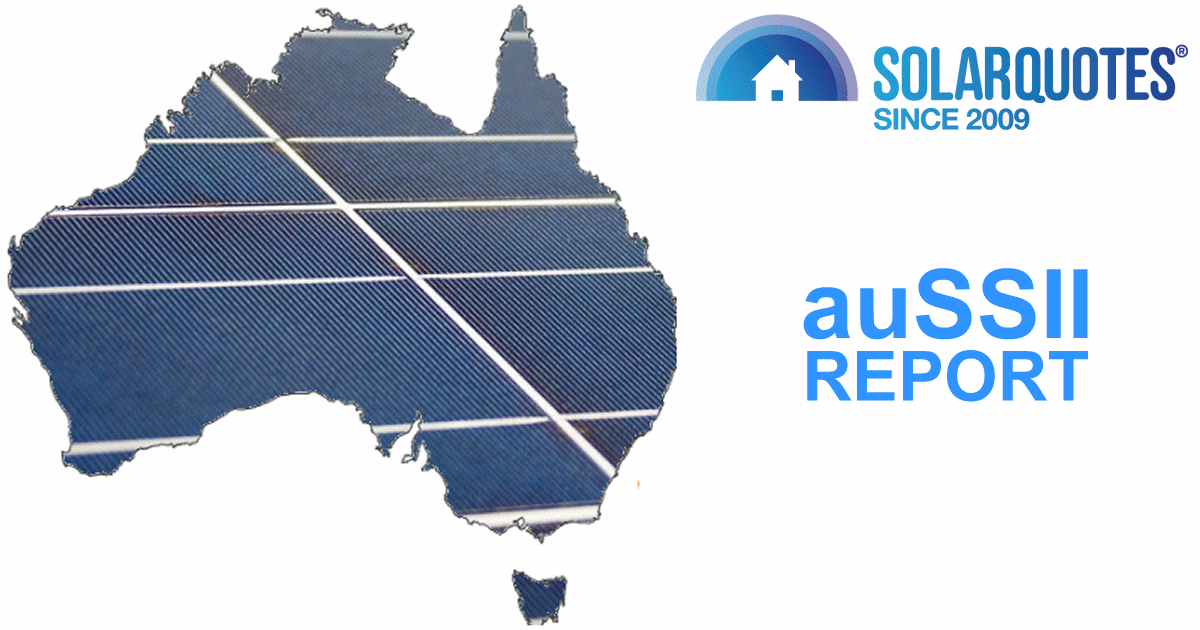 A greater proportion of Australians using the SolarQuotes service were interested in installing bigger PV systems last month, and getting their solar panels installed sooner.
Solar System Sizing
After sitting at nearly 83% in June, July and August, interest in 6kW or larger systems (where capacity was specified) rose to nearly 85% in September. 6kW+ also took the lead in September – 7% higher than 6kW.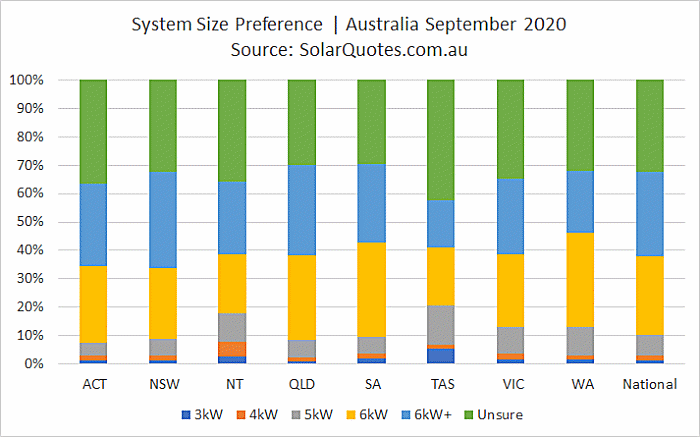 Solar Power Purchase Decision
Interest in purchasing a system immediately started climbing again in September – nearly 23% compared to 20% in August and 22% in July. As in August and July, 97% of Australians using SolarQuotes in September were contemplating a solar power purchase decision any time from right now to within 3 months.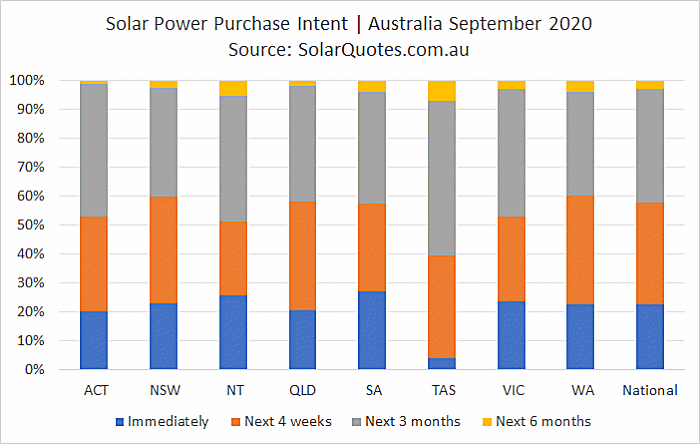 Price And Quality Considerations
Around 12% of prospective buyers were wanting pricing on a "top quality" (most expensive) system, compared to approximately 13% in August. Just on 80% wanted a solar energy package offering a good balance of quality and cost, and interest in a good quality budget system was nudging 8%.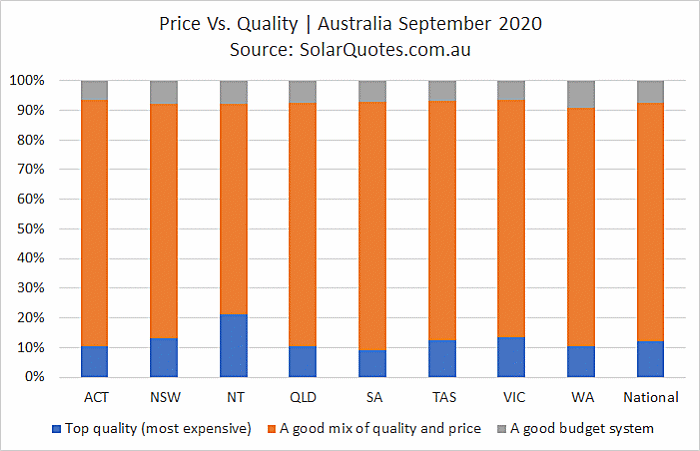 Advanced Solar System Monitoring
Interest in advanced monitoring fell off a cliff in September to just 49%, following on from drops in August (63%) and July (69%).  This optional extra offers a number of benefits – learn more about advanced solar monitoring.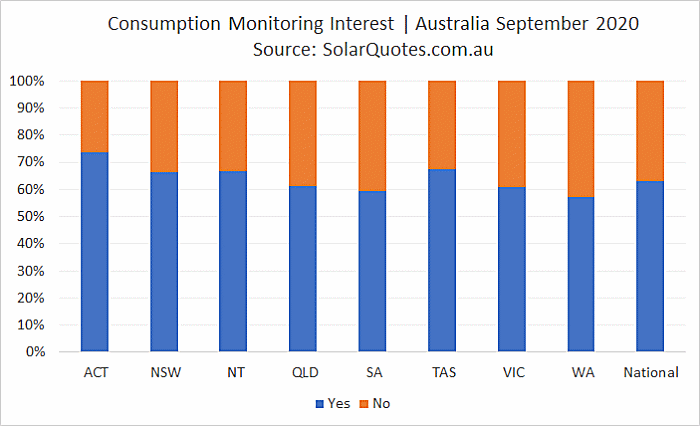 Microinverter Interest
As in August, July and June, microinverter interest was at 14% in September. For those unaware of what this little box of tricks is, a microinverter is a miniaturised inverter installed with each solar panel that performs the same role as a conventional single string solar inverter. Among various advantages, microinverters can be particularly handy if a system will be partially shaded – but they will add to the cost of a system.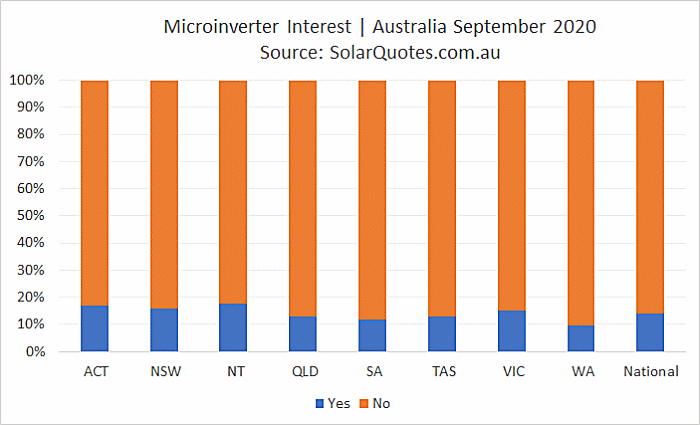 "Battery-Ready" Solar
Not much interest again in battery-ready systems, with only around 5% indicating this in September. While a home battery can be added to just about any existing PV system, specifying storage may be wanted at a later date can assist with system design.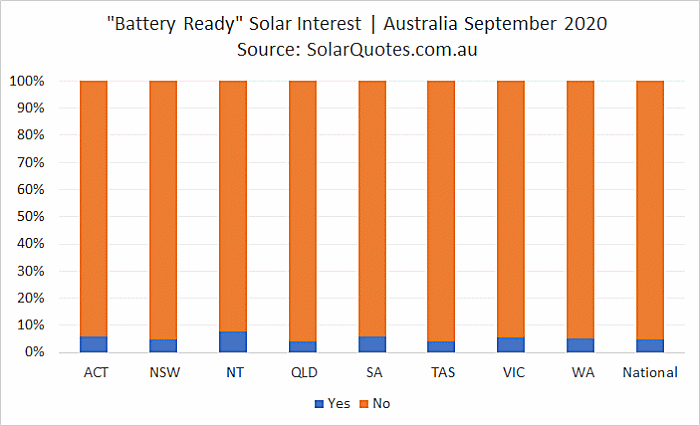 Concurrent Solar + Battery Installation
Interest in installing a home battery system at the same time as solar panels dropped back just a touch in September to a little under 13% – it was 13.5% in August. September's result was still far greater than back before May when it was usually sitting in the mid to high single digits.
If you're considering installing a battery along with a PV system, give SQ's solar and battery calculator a whirl. It will indicate how savings are impacted by energy storage and solar panels separately.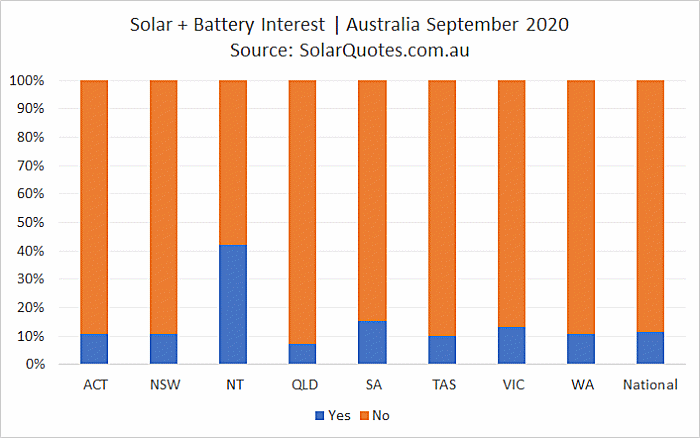 Battery System Size (Capacity)
Where a capacity was noted, here's what battery shoppers were wanting pricing and further details on in September:
1 – 5 kWh: ~14% (August 14%, July: 15%)
5 – 10 kWh: ~51% (August 50%, July: 50%)
10 kWh +: ~35% (August 35%, July: 34%)
55% of those interested in buying batteries requested advice on battery system sizing, same as in August.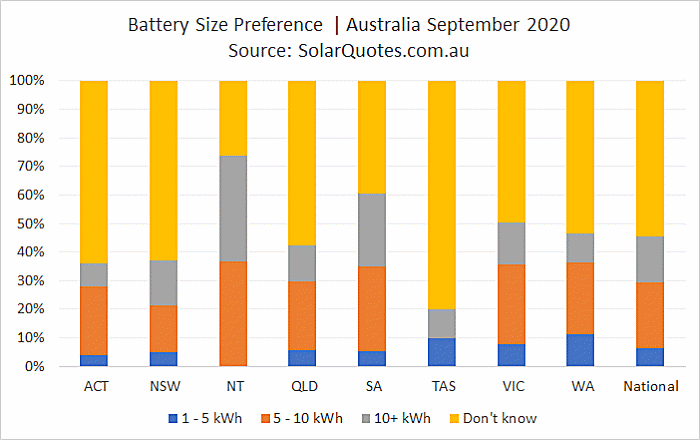 Intended Primary Battery Application
6% indicated the primary application for their battery will be backup – this is usually in the range of 3 – 6%, so no surprises there.  40% noted minimising mains electricity consumption as the primary use (42% in August), while 53% intended to use it for both applications (54% in August).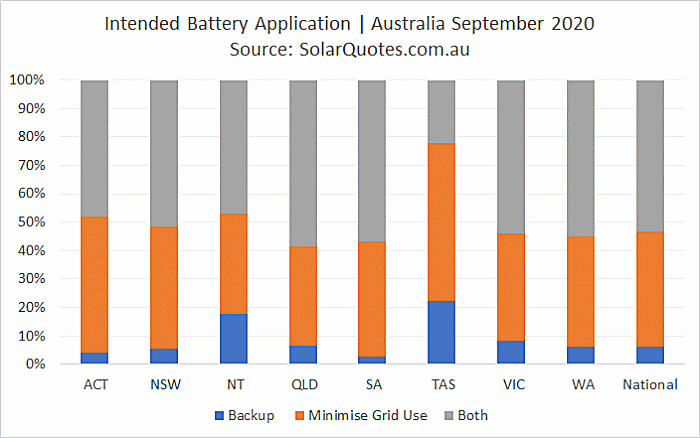 Electricity Bills (Pre-Solar Installation)
In September, a whisker over 50% of Australians requesting quotes who knew what they paying for mains electricity noted between $500 and $1,000 a quarter – there hasn't been much change there in the last few months.  But just a little under 13% were paying over $1,000 a quarter – the highest proportion for at least four months.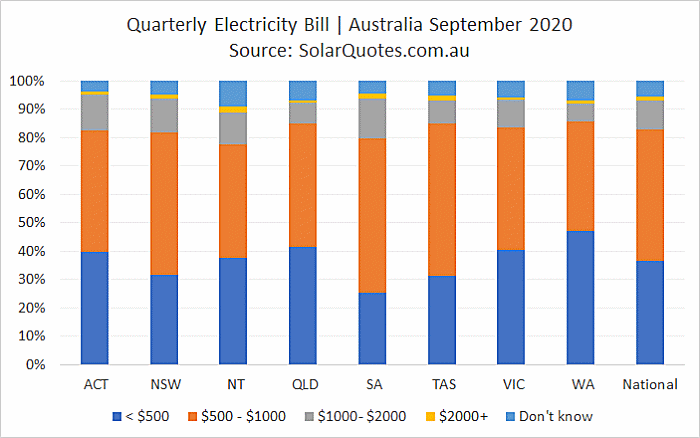 About auSSII Reports
The information above is drawn from the SolarQuotes quoting service that matches Australian solar buyers with up to three pre-vetted installers part of the SQ network.
SolarQuotes Sales Leads
For more than a decade, Solar Quotes has been supplying quality sales leads to quality Australian installers – find out what makes SQ so different to other lead services.
Republishing auSSII Report Content
If you wish to reproduce graphs or other content from auSSII reports, attribution to SolarQuotes and the page from which the content was sourced must be included.