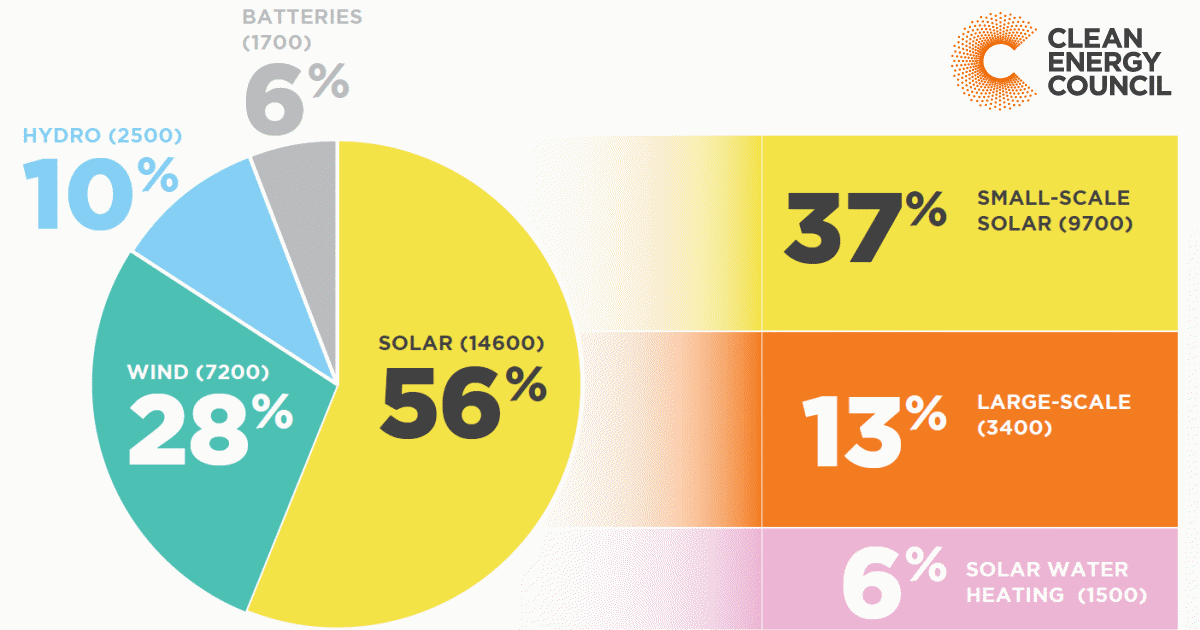 A new report published by the Clean Energy Council states small scale solar power employed around 37% of Australia's clean energy workforce last year.
Clean Energy At Work highlights the findings of what is claimed to be the largest study of current and projected employment in Australia's renewable energy industry; covering our wind, solar, hydro and battery sectors. The report draws on research carried out by the Institute for Sustainable Futures, University of Technology Sydney.
In 2019, Australia's renewables sector employed more than 25,0001 says the CEC, with small scale solar workers accounting for around 9,700 of that total. The report notes a large chunk of the businesses installing small-scale solar power systems are businesses employing fewer than 20 people.
As for large-scale solar, it employed 13 per cent of the clean energy workforce.
44,000 Renewables Jobs By 2025 – Maybe
The Australian Energy Market Operator's (AEMO's) draft 2020 scenarios were adopted for the study:
Central Scenario: business-as usual.
Step Change Scenario: assumes policy commitments towards decarbonisation in Australia in line with the Paris agreement.
High Distributed Energy Resources (DER) Scenario: a consumer-led transition of Australia's energy sector to more decentralised systems.
Looking ahead, renewables could employ as many as 44,000 people by 2025 under the AEMO's step-change scenario with appropriate regulatory reform and policies in place – and with 70% of those jobs in regional and rural Australia.
"It's clear that these renewable energy jobs can have an enormous positive impact on regional communities and should be a clear priority for government as part of the COVID-19 economic response," said Clean Energy Council Chief Executive, Kane Thornton.
In May, the CEC published its "A Clean Recovery" report, outlining a plan to leverage Australia's renewable energy and energy storage potential to jump-start the country's economic rebound.
The nature of jobs could also change significantly – while construction and installation jobs currently dominate (72 per cent), by 2035 as many as half of renewable energy jobs could be ongoing jobs in operation and maintenance, particularly in the wind power sector.
Rooftop Solar Jobs Under Step-Change Scenario
Under this scenario, rooftop solar employment jumps next year, then tapers off and bounces around a bit – with job levels in 2035 not much different to today.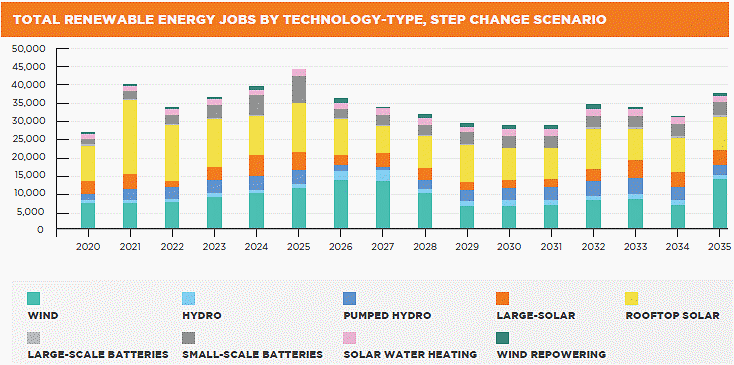 Skills Shortage Challenge
The CEC  report also identifies skills shortages existing within the renewable energy labour market, which result in a variety of issues such as project delays that drive up costs. In particular, the high demand for electrical and grid engineers, and construction managers across wind power and large solar energy projects posed challenges last year.
For small-scale solar, electricians, roofers and accredited PV designers appeared to be the positions hardest to fill.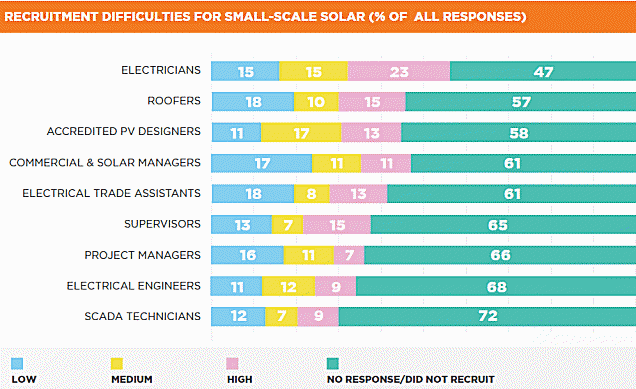 "This is why a review of the structure and suitability of relevant training systems across the renewable energy industry is necessary to respond to the growing needs of the industry and deliver credible career pathways for Australians," states the report.
The full Clean Energy At Work can be downloaded here.
Footnotes
Pie chart above adds up to 26,000 ↩