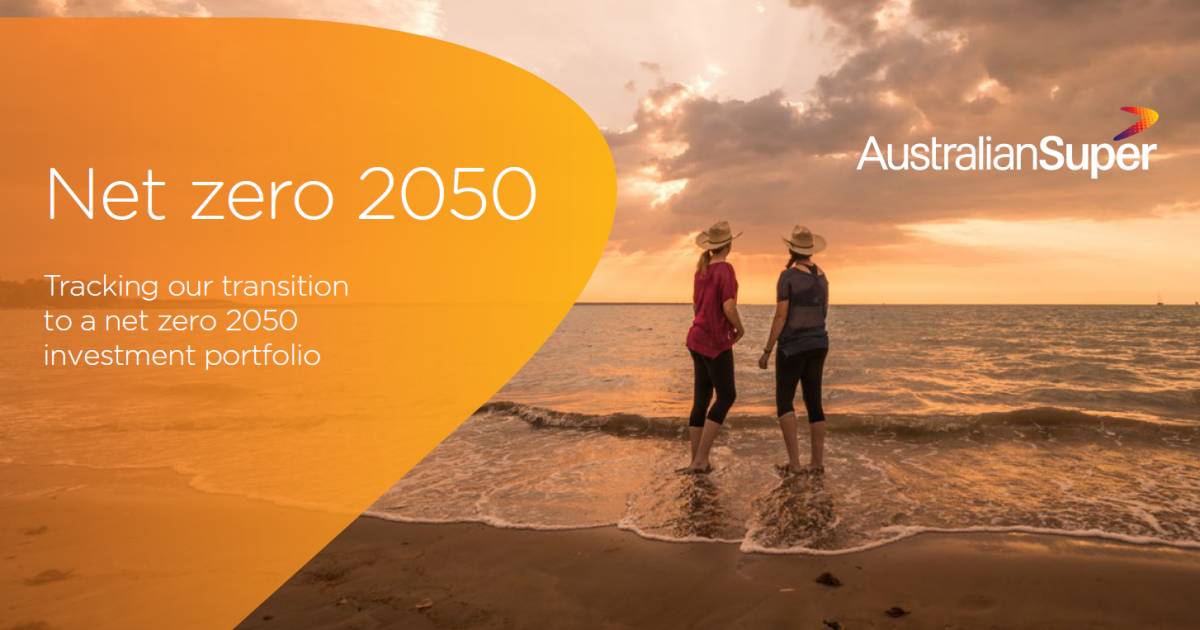 Superannuation fund AustralianSuper announced yesterday it has committed to achieving net-zero carbon emissions for its investment portfolio by 2050, stating that it was in members' interests to do so.
AustralianSuper is an industry super fund managing $180+ billion on behalf of more than 2.3 million members as at June 30 this year.
Back in 2016, it consolidated three "sustainable" member investment options and created a new option called "Socially Aware", excluding investment in companies that, among other activities, directly own reserves of fossil fuels. But in terms of investment, this was a drop in the bucket – with combined assets of around $2 billion at the time.
4 years on and the fund has significantly upped its game and aim.
'In making the Net Zero 2050 commitment, we have undertaken significant analysis to understand the sources of emissions in the portfolio and the progress we've already achieved to reduce these," said AustralianSuper Director ESG and Stewardship, Andrew Gray. "This will enable us to take a measured and structured approach in achieving Net Zero 2050, including reporting our progress."
Realising the risks climate change present to its long-term investment performance, the fund says the move is in line with global market expectations and consistent with AustralianSuper's goal of maximising members' long-term investment returns.
Climate Efforts To Date
In terms of progress prior to this announcement, AustralianSuper says the carbon intensity of its Australian and international share portfolios had reduced 44% between 2013 and 2019, and it had already committed to having $1 billion invested in renewables by the end of 2022.
Its current renewables investments include:
Quinbrook Investment Partners – an infrastructure manager focused on US, UK and Australian renewable energy.
National Infrastructure Investment Fund – focuses on investing equity in India's core infrastructure sectors including renewables and in particular wind and solar power.
AustralianSuper was one of the five founding members of Climate Action 100+, which has more than 500 investor signatories globally representing around US $47 trillion in assets under management. Among its activities, Climate Action 100+ puts pressure on the world's largest corporate greenhouse gas emitters to take necessary action on climate change.
AustralianSuper has also joined Climate League 2030, an investor initiative supporting a goal of reducing Australia's expected annual emissions in 2030 by an additional 230 million tonnes.
More on AustralianSuper's Net Zero 2050 Plan can be viewed here.
Funds Increasingly Shunning Fossil Fuels
A recent report noted that of 20 major super funds in Australia, 4 at that point had targets or aspirations to achieve net zero emissions for their investment portfolios by 2050. Fund members have been a really important driver in this happening.
The other funds that have set targets are:
HESTA (set June 2020) – 870,000 members
Cbus (set August 2020) – 774,000 members
UniSuper (set September 2020) –  450,000 members
Aware Super has expressed an aspiration to transition its portfolio towards net zero by 2050.
With the addition of AustralianSuper, the number has now grown to 5 and between the 4 that have committed to targets, this represents a total of just under 4.4 million members (although some members may be in multiple funds).
While there's a fixation on 2050 for climate related efforts, there is a strong argument that given climate change and its impacts are accelerating, net-zero targets for whatever need to be reached well before then. Until this is more widely understood and accepted, 2050 is better than no targets set at all – and once in place, targets can be brought forward. In terms of superannuation funds, pressure from members will again be important in this happening.