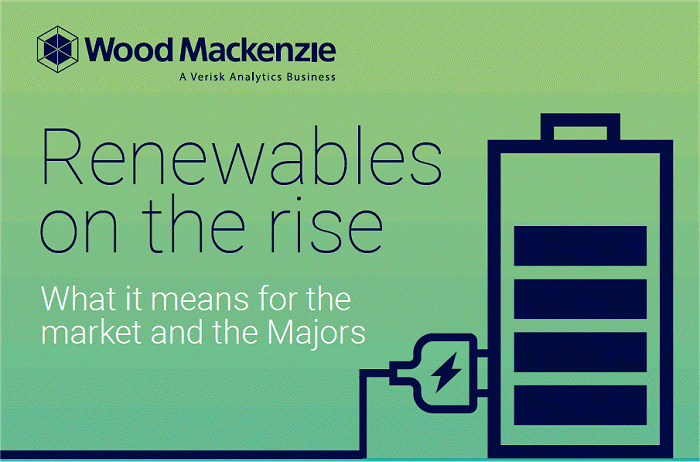 Renewables present a significant threat to legacy oil and gas operations, but also an opportunity that cannot be ignored says research firm Wood Mackenzie; which specialises in energy, metals and mining sectors.
With renewables being the fastest-growing primary energy source globally over the next twenty years, it's time for oil and gas majors that are yet to jump on the clean energy bandwagon to consider doing so as the case for building a position is becoming increasingly compelling.
"A potential tipping point for the shift into wind and solar could be an anticipated decline in the Majors' hydrocarbon production," says the firm. " With new resources needed to sustain volumes beyond 2025, wind and solar could step in to the breach if discovered resource commercialisation, M&A and exploration fail to deliver, or economics weigh against continued development."
The company forecasts average annual growth rates of 6% for wind and 11% for solar power for the next 20 years. Total primary energy demand for oil is expected to grow only 0.5% annually.
Currently, global oil and gas revenue is thirty-three times that of renewables, but in 2035 will only be thirteen times greater. If renewable energy penetration accelerates even more than predicted, revenues from renewables in 2035 could equal that of US unconventional sources.
In Wood Mackenzie's "carbon-constrained scenario", wind and solar power combined secure a 23% share of the global power market and 6% of the total market for all energy forms by 2035.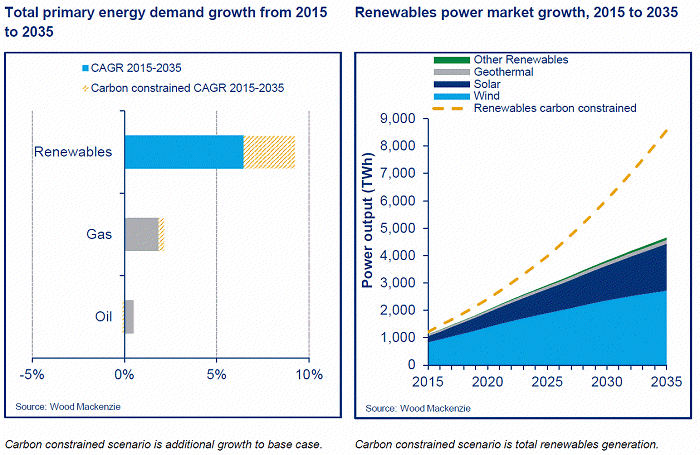 In an interview with The Guardian, Wood Mackenzie's director of research said the momentum behind renewable technologies is unstoppable and oil companies are now recognising this is a megatrend rather than a fad.
"There is definitely a risk to their core business," said Valentina Kretzschmar.
Wood Mackenzie estimates a spend of US$350 billion out to 2035 on wind and solar power  is needed for the oil and gas majors to achieve the 12% market share they currently hold in the fossil fuels. While this seems an unlikely scenario, it expects costs associated with developing renewable energy projects to drop sharply over the period.
Renewables could account for over twenty percent of total capital allocation for the most active oil and gas majors after 2030 says the company.
Wood Mackenzie's report, "Could Renewables Be The Majors' Next Big Thing?" was prepared in partnership with GTM Research.