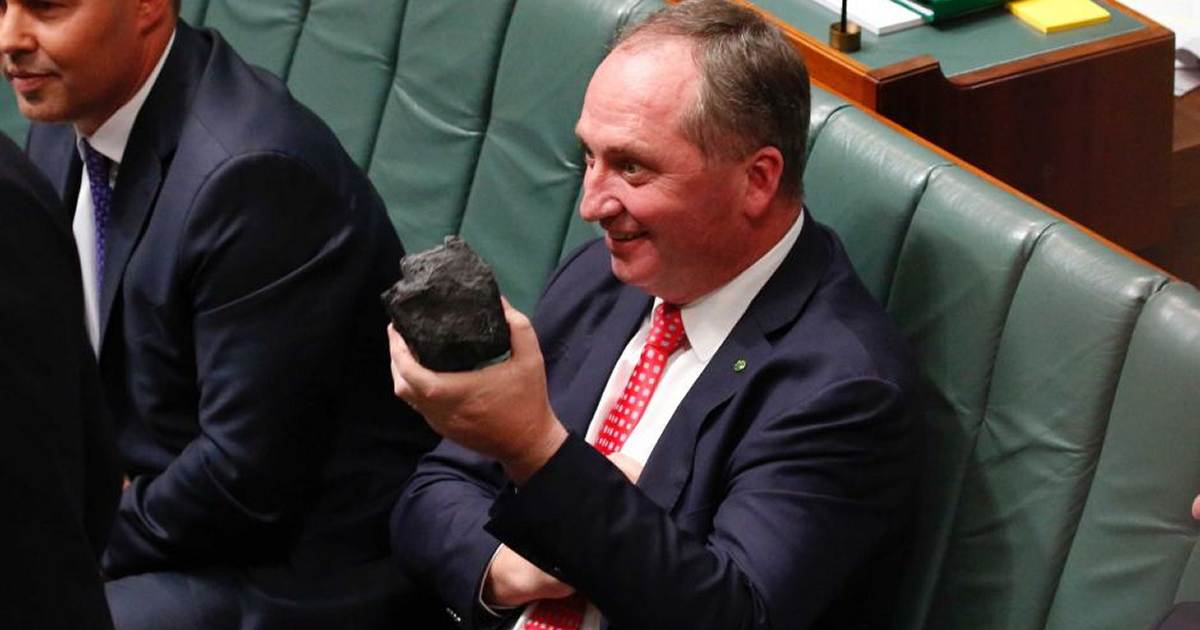 During a House of Representatives debate yesterday on proposed changes to how the Clean Energy Finance Corporation (CEFC) can invest, Barnaby Joyce stated his case for coal power to be included.
Being debated was the Clean Energy Finance Corporation Amendment (Grid Reliability Fund) Bill 2020. It would amend the Clean Energy Finance Corporation Act 2012 to establish the $1 billion Grid Reliability Fund. The Fund will support investments in new energy generation, storage and transmission infrastructure, including eligible projects shortlisted under the controversial Underwriting New Generation Investments (UNGI) program.
Part of UNGI's controversial nature is that includes gas projects – but Barnaby Joyce wants the CEFC to be able to go even further into supporting fossil fuels.
"I will be moving an amendment for high-intensity low-emission coal-fired power," stated Mr. Joyce.
By "high intensity", which he mentioned three times, it's assumed he meant "high efficiency".
About HELE Coal
High Efficiency Low Emission (HELE) coal power is a rather misleading term.
The Finkel Review report from a few years back noted the following estimated operating emissions (kg CO2-e/ MWh) for various types of coal power:
Subcritical (conventional) brown coal – 1,140
Supercritical brown coal (HELE) – 960
Subcritical (conventional) black coal – 940
Supercritical black coal (HELE) – 860
Ultra-supercritical brown coal (HELE) – 845
Ultra-supercritical black coal (HELE) – 700
Lower emissions, yes – low emissions – certainly not.
Added to that are the various toxins spewed into the atmosphere by burning the stuff, HELE or non-HELE, and the millions of tonnes of coal ash (also toxic) created as a waste product. Carbon and toxic emissions and waste aside, the following shows the differences between conventional and HELE coal in terms sourcing the problematic black rock.
HELE coal power is also more expensive than renewables. As recently mentioned after Senator Matt Canavan's push for more coal and gas power, CSIRO's GenCost report released in December showed wind and solar power continue to be the cheapest source of energy in Australia. This remains the case even when taking into account additional system integration costs such as energy storage and added transmission expenditure.
Just Because Your Peers Do It…
Barnaby Joyce mentions other countries are still using coal for power generation, and on that basis, so should we – and to show them how it's done. Aside from the fact that for the most part the world *is* transitioning away from coal power, I think many of us when growing up were counselled by our parents that just because our peers are doing something stupid, it doesn't mean we should too. It was pretty solid advice I wish I heeded more often.
Barnaby's speech contained a number of inaccuracies and non sequiturs – for example mentions of blackouts that had nothing to do with a lack of electricity generation. He also refers to high electricity prices, but fails to mention the downwards pressure on wholesale electricity prices thank to renewables.
But a very valid point Mr. Joyce made was:
"If we keep driving this agenda where we can't even discuss high-intensity low-emission coal-fired power but in the same breath out of the other side of your mouth say, 'But I believe in the coal industry', it looks like complete and utter hypocrisy. It looks like you're completely and utterly dodgy, and you're not philosophically correct. You can't say you support the coal industry but you don't support the usage of coal."
He's spot on there. But the only support the coal industry needs is transitioning away from it.