A recently released report states a "business-as-usual" approach by the City of Greater Bendigo in Victoria won't be enough to achieve Council's emissions targets.
The City of Greater Bendigo released its Environment Matters – Environmental Activities Report 2016/2017 last week. While it shows a drop in overall emissions from 2015/16 – 2016/17, it's not on track to achieving a reduction of  50 per cent by 2020 based on 2010/2011 emissions.
"Significant investment is required for more energy efficiency, more on-site solar, development of solar farms, more initiatives across light and heavy fleet, as well as a shift toward purchasing renewable energy instead of coal-fired electricity and natural gas," states the report (PDF).
The report shows electricity related emissions associated with City buildings and facilities had been dropping each year from 2010/11, but in 2016/17 there was a slight increase due to new facilities being opened and increased use of community buildings.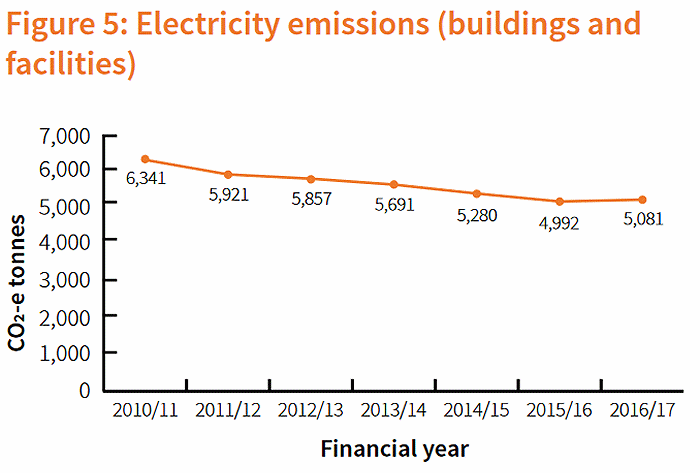 Regional Sustainable Development Manager Trevor Budge says Council acknowledges the challenge and will rise to it.
"The report highlights that while we have been doing some great work there is still much that needs to be done," Mr Budge says. "In particular the City's energy consumption needs to be reduced in order for us to meet our carbon reduction targets.
Council has already installed 220kW of solar panels on the rooftops its buildings. It is also conducting a feasibility study on the viability of a local, large-scale solar farm and exploring the potential of incorporating renewable energy purchases within its electricity supply contract.
Outside of Council, Bendigo has been a hotbed of activity for small scale solar power systems, thanks in part to the efforts of Bendigo Sustainability Group (BSG).
One the initiatives BSG was involved with was the "Goldfields Solar Hubs", a bulk buy solar program running between 2010 and 2012 that resulted in the installation of 650 systems. It was this project that really kickstarted solar power in Bendigo.
"Almost 2MW of solar PV was installed through the Goldfields Solar Hubs program resulting in Bendigo now being well above state and national averages for the installation rates of solar PV systems," says the group.
Other BSG efforts include crowdfunding $17,000 for 11 kW of solar on the Discovery Centre in 2016 and a 30kW community solar power system installed on the council-owned Bendigo Archive Centre. BSG was also the project manager for the installation of a 50kW solar power system on the Bendigo Tramways Depot.