Update 8th May 2019:  Flex has stated they are leaving the wholesale and retail solar market in Australia but they will honor their commitments.
Flex solar panels are now sold in Australia and there is one thing I want to be very clear about.  Despite their name, you should not flex these panels.  They are not the flexible sort you might put on the roof of your caravan or, at a suitable level of insanity, your cat.  They are the normal sort that go on top of homes and if you flex them too much they will splinter and break. 
You shouldn't even flex them a little, no matter how much you may want to, as it can cause microcracks in the solar cells that can degrade a panel's performance and cause problems further down the line1.
The panels get their name from the company that makes them, Flex, which sounds like it should be an exercise equipment manufacturer, but is actually a massive engineering firm that produces a vast array of products and used to go by the slightly more sensible name of Flextronics.
According to the information given to me by Flex2, their PowerPlay solar panels only come in two versions that are almost identical.  A 290 watt panel and a 295 watt one.  They're made with monocrystalline solar cells that are a little more efficient than cheaper polycrystalline ones and use PERC technology.  If you don't know what PERC is, don't worry.  All you need to know is it perks up their efficiency.  As you may have guessed, the efficiency of Flex solar panels is a little above average and comes in at 17.8% and 18.1%.
The panels have a 12 year product warranty.  They also have a 25 year performance warranty that promises they will still produce at least 82% of their original output by the end of that time.  You may be wondering what's the difference between a product warranty and a performance warranty.  Well, according to Australian consumer law, not much — or at least that's my opinion.  But in general, the longer the product warranty the more confident the manufacturer is its reliability.  Flex's warranty is better than the 10 year minimum tier one panels have, but by the standards of premium panels a 12 year warranty doesn't even loosen my socks, let alone knock them off.
Some companies selling Flex panels are quoting stupid prices
Flex has had plenty of practice producing solar panels for other companies, so I expect their accumulated experience means their panels will be reliable and unlikely to have problems.  But I have no evidence there is anything miraculous about these panels.  I mention this because we offer free advice here at SolarQuotes® so members of the public like to send us their quotes to look at. And we've seen plenty of examples now of people getting quoted ridiculous amounts3 for systems with Flex panels.  Some people have been charged so much they could easily have bought high quality premium panels with a far superior warranty and had plenty of money left over.  So don't get caught by fast talking salespeople. Especially door knocking ones. Don't buy solar from door knockers. Just don't. If you are not sure an offer is fair either leave a comment or send me an email.
Flex — A Massive Maker Of All Kinds Of Stuff
Flex is a massive American-ish engineering company headquartered in Singapore.  According to their brochure they have locations in over 30 countries in 12 different industries, but if you count the ones listed on their website it's actually 134.  They have 200,000 employees and are one of the largest Original Equipment Manufactuers or OEMs in the world.  This means they make stuff for other companies, and boy do they make a lot of stuff.  
Flex, or Flextronics, as it was known before 2015, made my original Xbox.  They also used to make the Redflow ZCell in Mexico.  They make coffee makers, the Chromecast doodad from Google, smart meters, fitbits, electric motorcycles, TVs, LEDs, solar trackers, dongles, car parts… they even used to make Lego.
One interesting thing is they say they've made over 10 million microinverters.  Enphase is the world's largest microinverter company and they list Flex as one of their "Global Partners", so it seems pretty clear to me they are in bed together and making little baby inverters.
One thing they have made a lot of for other companies is solar panels.  I know this because they say it right here:
Unfortunately they don't tell us what these top brands are.  They usually stay in the background and let the company that paid them to make the stuff hog all the credit.  But it is possible to poke around and see who they are partnered with.  For example this press release here makes it clear they were producing panels with SunPower — a company well known for premium, high quality panels.  This article mentions Flex made panels for the US renewable energy company SunEdison which went bankrupt last year.  And this press release mentions they made panels for QCells.
One thing is certain and that is Flex has made a lot of solar panels:

Over 8 million solar panels would total more than 2 gigawatts over the years.  This means they are far from being a large manufacturer by today's standards, but they've made more than enough to know what they are doing.  Since they've worked with companies like SunPower they should definitely have the ability to produce high quality panels if they put their minds too it.
Because they are now putting their own name on a product, which is unusual for Flex, I find it very hard to believe their panels won't be reliable, but only time will tell if they are selling a better product than other reliable panel manufacturers out there.
A Picture Is Worth A Thousand Insults
I'll tell you what I think about Flex — I think they're a trusted manufacturer of a vast range of products and they do high quality engineering.  But what does Flex think of Australians?  That's a tough question to answer, but  maybe we can get an idea by examining the imagery they use in their advertising.  I think this may provide a kind of window into their soul.  For example, take a good hard look at this picture they thought would make a good illustration for their solar panel datasheet: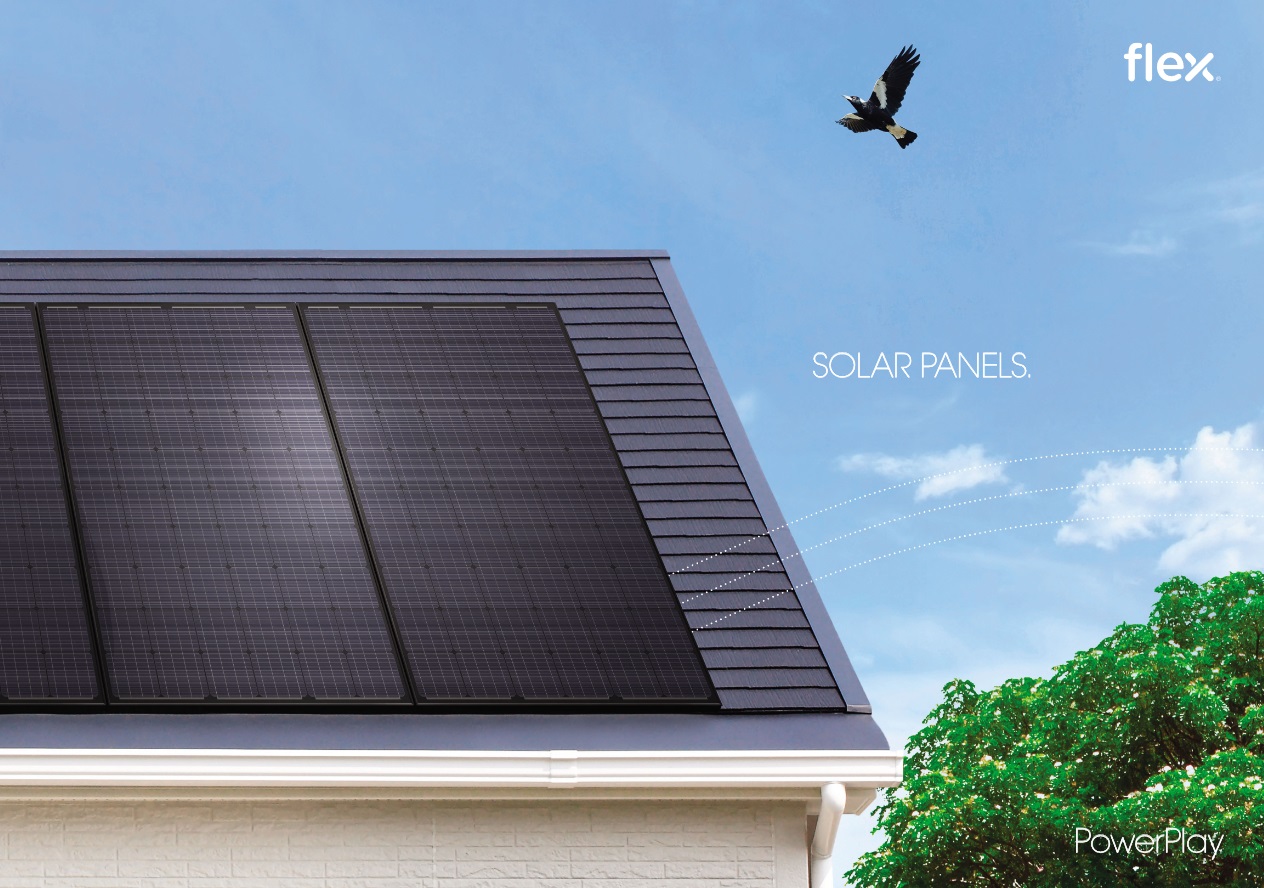 Here we see Flex solar panels mounted on a roof.  Because there's no sign of racks or clamps they appear to be glued on.  Because the panels are 1.64 m in length I can work out that the roof is 1.97 m from its gutter to its crest.  So clearly this house is located in Munchkin Land.  Attached to the roof is a drainpipe and, by comparing it to the solar panels, I can calculate that it is only 8 cm wide, which is a special gauge they only sell at Munchkin Bunnings.
Above all this flies an Australian magpie that, from its odd angle, is either stalling out or flying backwards in a strong headwind.  Because it doesn't have white tipped wings, we can tell it's not an American magpie, which is a creature so stupid it doesn't even brutally attack human beings.  An Australian magpie makes sense in this situation since Munchkin Land is of course located in Oz5.
But wait a minute!  There are horizontal stripes on that roof and munchkins never have them because they don't want to make their roofs look fat.  There is something very strange about this picture and I'm starting to think it may not actually be normal sized panels glued to a tiny house or even giant sized panels glued to a normal house.  I think this entire picture might be some kind of photoshop screwjob and and faker than Donald Trump's tan.  Clearly Flex thinks we're idiots and I resemble that insinuation.
Below is a picture I took from an actual brochure that was physically handed to me6: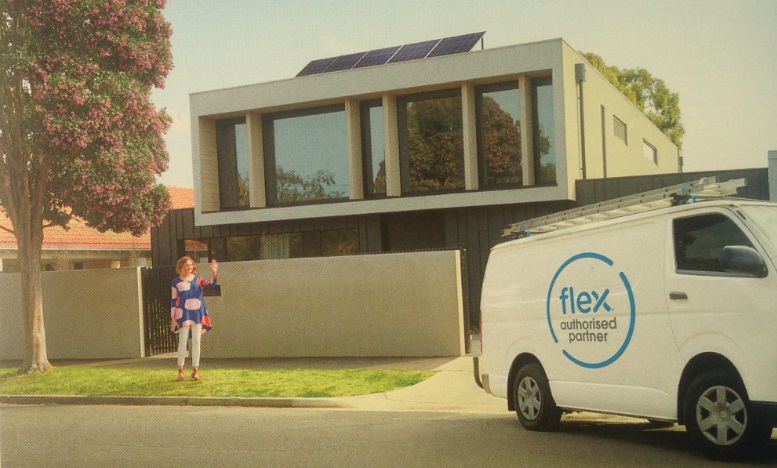 Looking at the direction in which the shadows are falling, the Flex solar panels would perform significantly better if they were facing in exactly the opposite direction.  Personally, I know I would prefer to have my solar panels face towards the sun.  Especially if I only had five of them, as may be the case here.
But perhaps the position of the solar panels is fine and things only look strange because the woman is holding her hand up that way in order to use her mutant shadow bending powers.  It looks like she's already eliminated the shadow the van should be casting.
Hopefully Flex will soon learn we prefer not to glue solar panels to roofs and we prefer our mutant powers to be more along the lines of being able to open a stubbie with our toes.
They Should Be Reliable Panels — But Don't Get Ripped Off
I think it is very likely that Flex will make good quality panels, so if you get them installed on your roof you should be very unlikely to have problems with them.  But make sure you don't get overcharged for them by the installer as some people have.  This advice goes for any panel, but anecdotally the ratio of rip-offs with Flex solar panels appears to be particularly high at time of writing, so beware.
If you've had these modules installed, you can leave your thoughts about them on our Flex solar panels reviews page.
Footnotes
Installers accredited on Arrakis will of course remember their litany:  I must not flex.  Flexing is the panel killer.  Flexing causes microcracks that bring total obliteration… ↩
It sounds like I am talking about my gym instructor, doesn't it? ↩
over $2 per watt ↩
Maybe they suffer from a little triskaidekaphobia which is a fear of triskaidekas, the deadliest of all pokemon. ↩
Specifically, Munchkin Land was built in the Adelaide Hills by German immigrants in the 19th Century and locally is known by its German name, Hahndorf.  Tragically, many munchkins who remained in Germany were worked to death in Wilhelm Wonka's chocolate factory. ↩
Given the atrocious state of Australia's internet, this innovation could revolutionize data transfer rates. ↩