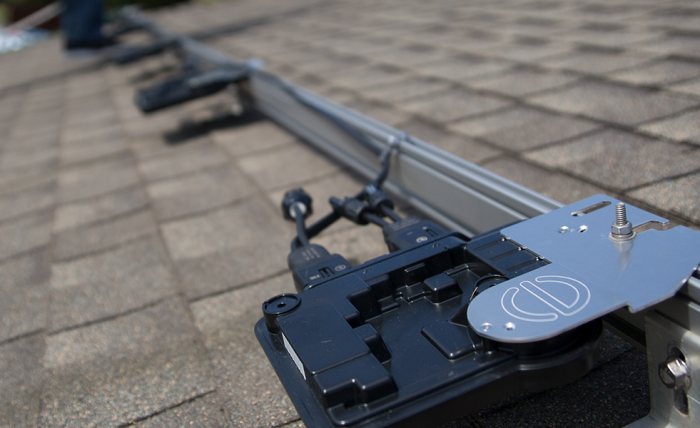 Enphase Energy has announced the largest installation to date in the Asia-Pacific region of its microinverters, and one of the largest globally.
2,858 Enphase microinverters feature in the 1MW commercial solar power installation constructed for a fast-moving consumer goods (FMCG) company in Bangalore, India.
A microinverter is a miniature inverter fitted to the back of, under or alongside each solar panel that takes the place of a single large inverter used with a string of panels. You can learn more about the some of the advantages of microinverters here.
The installation was performed by RenXSol Ecotech.
"When dealing with a challenging system design across multiple rooftops, it's essential to select the right components to avoid detrimental power losses," said RenXSol Ecotech's Srinivas Kumar. "The Enphase Microinverter System's resilience to shading and panel mismatch, its robust design, reliability, and remote diagnostic capabilities makes it perfect for this complex rooftop, and perfect for India in general."
The announcement from Enphase says the 1MW system is expected to generate more than 15,000 MWh of clean electricity annually, but that is probably a typo – 1,500 MWh is more likely.
As for larger Enphase microinverter based systems, back in 2013 more than 9,000 units were paired with JinkoSolar modules for a project in Canada.
Enphase says it has shipped approximately 16 million of its microinverters to date, and more than 700,000 Enphase systems have been deployed in 100+ countries. As well as microinverters, the company also produces a solar energy storage solution – the Enphase AC Battery.
In other recent news from Enphase, the company announced the opening of its first R&D center in Bangalore; part of its strategic expansion plan.
"We are bullish about the region's growth potential due to its ever-increasing demand for clean energy, and look forward to working with our customers, partners and module manufacturers to deliver innovative solutions," said Badri Kothandaraman , Enphase Energy's president and CEO.
Mr. Kothandaraman took the reins of Enphase in September, succeeding Paul Nahi who resigned in August. An engineer by training, Mr. Kothandaraman spent 21-years with Cypress Semiconductor prior to joining Enphase in April this year.
Enphase has been experiencing challenging times in recent years, but its hoped under new leadership things will turn around for the company.
In November, the company reported total revenue for the third quarter of 2017 of  USD $77.0 million, up 3 percent on Q2. During the third quarter, Enphase sold approximately 790,000 microinverters.