If you own an unshaded roof in Australia, filling your roof with solar is probably the best investment you can make. That sounds like a smarmy sales pitch, but the numbers are there for everyone to see.
Yet over 75% of Australian roofs still don't have panels.
So how can the solar industry get the message out to non-solar homeowners that they really need to at least run the numbers on getting panels installed?
One way is by writing about it on blogs like this one, then promoting that content far and wide. A small percentage of readers will decide to get quotes and invite an installer or three to either come to their home, or quote them over the phone.
In the industry that's known as 'pull prospecting'. A potential customer is 'pulled' in by content they see online and then decides to take the next step and get quotes.
The alternative is known as 'push prospecting'. When a salesperson knocks on your door unexpectedly, and tries to 'push' you into buying solar, that's 'push prospecting' at work.
Because most homeowners are at least considering solar, a persuasive salesperson who is selling solar can often have a lot of success simply walking the streets and knocking on doors of homes without solar. They come to your home uninvited and present information and deals that have been cleverly designed to sound hard to resist.
Not only are you under pressure from the surprise visit, but this deal is usually 'only available right now', and if you don't already have solar panels on your roof the anxiety manifests as 'fear of missing out' as you begin to feel you might miss some great opportunity. These feelings set the cogs in your brain into overdrive thinking about all the money you've been promised you will save by installing some panels, and why on earth don't you already have any – have you been hiding under a rock while everyone else is saving thousands on their bills?
If this happens to you, it is important to realise that this is all part of the selling strategy to bamboozle you to agree and sign up with them then and there without the benefit of other quotes to compare. Don't be pressured in to signing anything.
Don't get me wrong, solar panels are fantastic, and you should really consider installing them, just get quotes from reputable suppliers. I personally would avoid signing or agreeing to anything that a door-to-door salesperson has pitched to me, but let's say I did. The contract/agreement would be an unsolicited consumer agreement or uninvited contract/agreement, as I have not asked for them to visit me and sell me something. Under the Australian Consumer Law, the unsolicited consumer agreement/contract must be accompanied by a cooling off period or notice that may terminate the agreement. Each State/Territory has the same 10 business day cooling off period. However, extended cooling off periods from 3 to 6 months can apply to violations made by the salesperson.
Let's have a quick look at the rules door-to-door salespeople are expected to follow if they pay you an unsolicited visit:
Visit within the hours of 9am-6pm weekdays, 9am-5pm Saturdays, and prohibited on Sundays and public holidays.
Must be up front, and clearly explain the reason for their visit.
Provide identification/ identify themselves.
A salesperson must stipulate that upon request by you they are to leave your property, and leave immediately if you ask them to.
A breach of one or all of the above can result in an extended cooling off period.
If you are having doubts about a breach, check the table below for specific violations relevant to your State/Territory. The link will provide more detailed information about your rights.
Specific Cooling Off Laws By State / Territory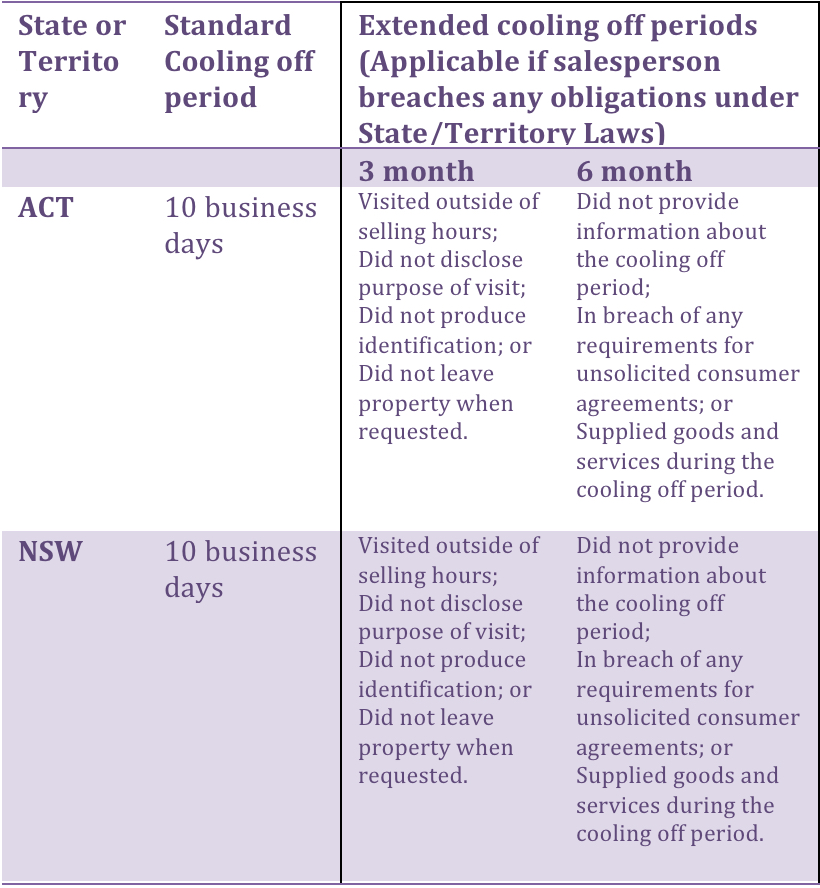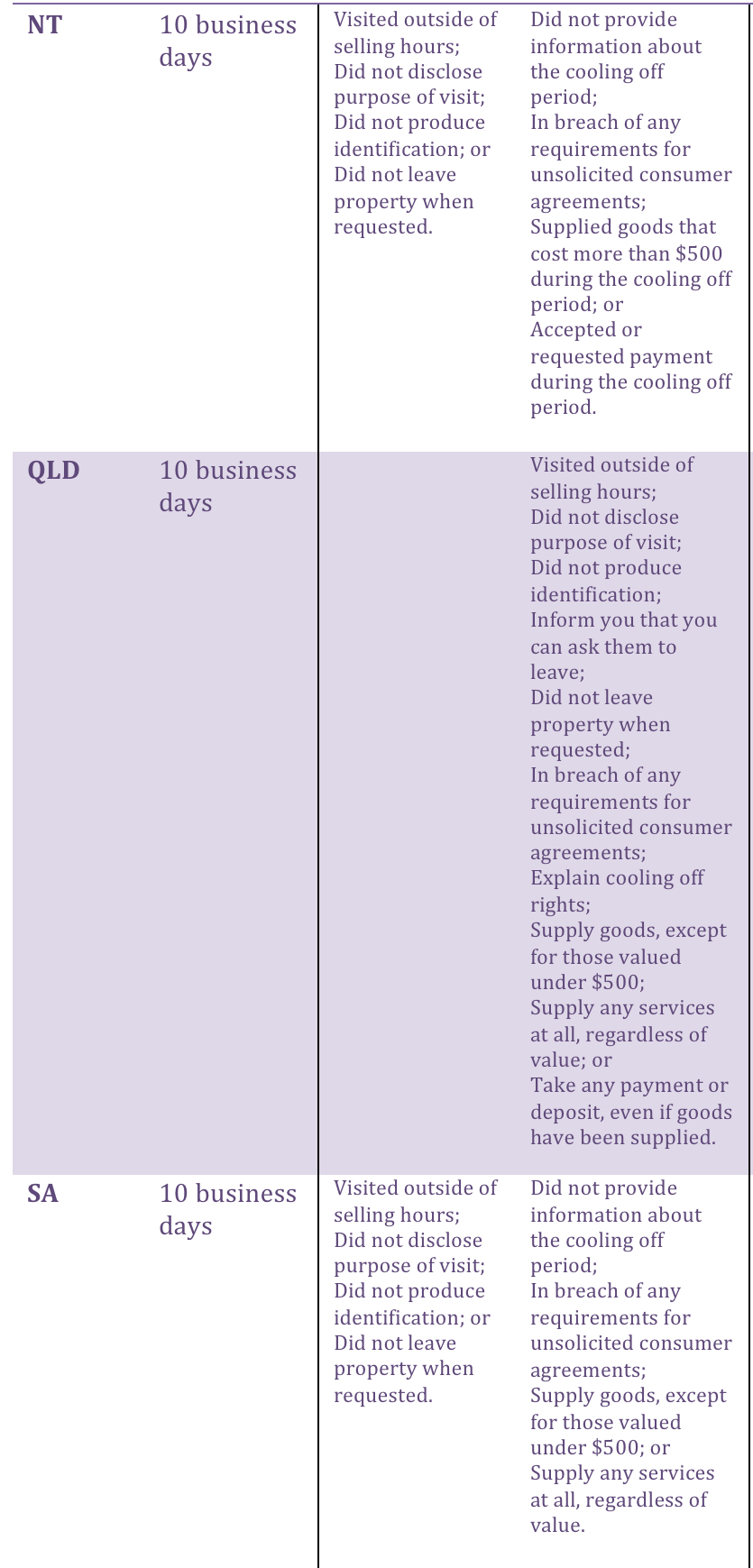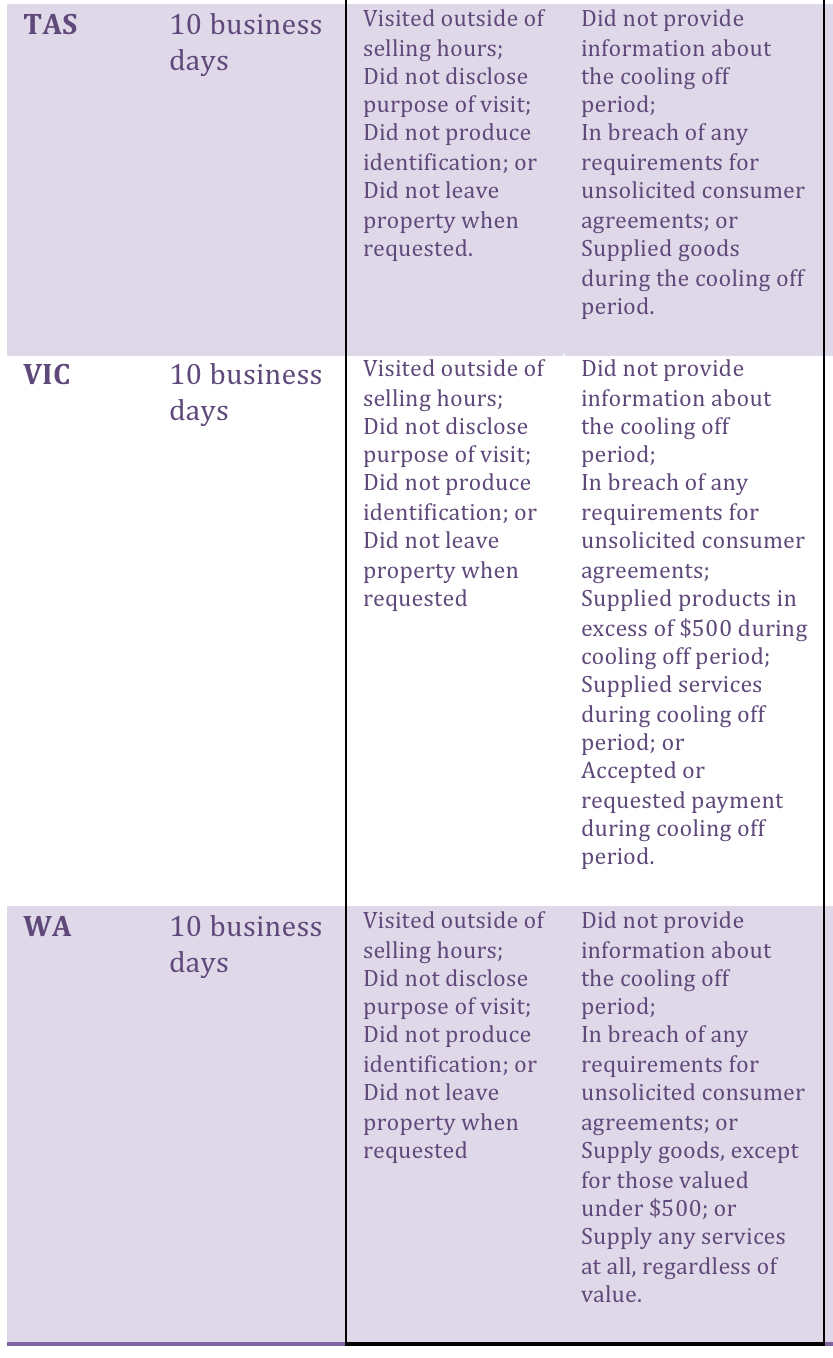 Unsolicited Agreement Links
If you have been bamboozled by a door to door salesperson, then here are the direct links for for your state or territory so you can see what your rights are:
ACT: Access Canberra
Unsolicited Agreements
NSW Fair Trading
Cooling off and termination requirements
NT Consumer Affairs
Door to door trading
QLD Office of Fair Trading Queensland
Rules Door to door salespeople must follow
SA Office of Consumer and Business Services (CBS)
Sales Practices
TAS Tasmanian Consumer Affairs & Fair Trading
Ininvited Agreements & Cooling Off
VIC Consumer Affairs Victoria (CAV)
Door to door sales
WA Consumer Protection –Department of Mines, Industry Regulations and Safety
Cooling Off
Note – unsolicited salespeople: If you ask the unsolicited door knocker for information or a quote and you at a later date contact that door-to-door salesperson to agree or sign a contract it no longer is an unsolicited or uninvited contract/agreement, as you are the one who has now made contact. Consequently, the cooling off period may no longer be applicable or a shorter time frame may apply, but check your State/Territory's regulations.
Note – invited salespeople: Even if a salesperson comes to your home because you invited them these rules can still apply. For example, if you request quotes, and agree for company representatives to visit, unless you have agreed otherwise, you are inviting them to provide quotes, not to sell you a system there and then. So if you do sign up on the spot – then these cooling off periods, and other rules, also apply. If you sensibly take the quote to consider and compare it, accepting it at a later time, the rules above do not apply.
Always get more than one quote
Unless you know exactly what you want and how much it should cost, then buying from a random door knocker is a bad idea. Without comparing products, terms and conditions, and offers you could very well be buying a lemon. Ask for a copy of the specifications for you to peruse over at a later time, without them present. Use this information to obtain accurate comparisons to that particular product. Three quotes is a good idea. With unsolicited door knockers, you will most likely find there are better solar products out there at a better price, compared to their deal you have been so adeptly persuaded as being the bee's knees.
If you are absolutely convinced that there are no better deals, then make sure you research the company who has come knocking on your door. Check the company registration at ASIC to see if they exist, read online product reviews and testimonies,  check their licences, memberships, and is there any other information that can be found on the company which authenticates them?
BEFORE signing any contract/agreement check the following, including, but not limited to:
Research the brand of panels, inverter, and battery storage; are they reputable? Shonky brands really do exist.
If the panels have a German sounding name, where are the products actually made? A door knocker's favourite trick is selling 'German' panels which are anything but German.
Read the supplier's policy on repairs. If they claim you have to bear any cost of claiming a warranty or have other tricky warranty caveats they may well be breaching Australian Consumer Law before they've even sold anything.
Make sure you understand if you are purchasing or leasing the solar panels.
Make sure they disclose any rebates included in the pricing.
Read the terms and conditions of the offer.
Read the warranties of the offer.
Is there a 'cooling off period' notification included in the contract/ agreement, which clearly provides the organisation's name and contact information (not a post office box number).
How much is the deposit, and when is it required. No payments are to occur during the 'cooling off period'.
What is the total price payable, and how is this calculated.
When is the installation date, and their policy if this date is not met. There are strict laws about supplying goods within the cooling off period, check your State/Territory's specific laws.
Ask the company to guide you on how best to reduce your energy consumption, which could possibly reduce the size of your solar system requirements. Otherwise, ask how best to change your energy consumption behaviour to get the best results from your system. A company willing, and able to do this would be a good indication to me of the virtues instilled in the company.
REMEMBER – If you have signed an agreement and feel as though you signed under pressure, are not happy with how the salesperson behaved, have doubts about the contract/agreement or simply changed your mind then check the above table, read the appropriate link or ring your State/Territory's Consumer Protection Agency for advice. After all, these laws are in place to protect you from high-pressured selling strategies.
I do want to finish by saying how important it is to allow yourself time to process an offer provided by a door-to-door salesperson. You have the right to obtain other quotes, regardless of the protest by the salesperson. You also have an opportunity to terminate a contract/agreement if you have been unfortunate enough to have signed under coercion or a convincing sales pitch. If I have scared you into thinking you will say yes even if your brain says no to door-to-door sales then familiarise yourself with your rights pertaining to door-to-door salespeople before they come a-knockin'. If all else fails, download a printable 'Do Not Knock' sign place it in a prominent location, and the sign will say NO for you!