There is one main way solar panels are attached to roofs in Australia and I'm hoping you won't be surprised to learn it's not glue.  If you've got panels, they are almost certainly fastened to your roof with clamps and held tight in the loving embrace of metal brackets.
When solar is installed on a typical roof, whether it is tin or tile, rails, also known as racks, are securely fastened to roof rafters.  Panels are laid on top of these rails and held firmly in place with clamps.  While there are other ways of attaching solar panels, including directly bolting them on, clamps are by far the most common method.  Convenience is the main reason, but it is effective and I expect the large majority of correctly clamped panels will still be in place 40 years from now.
Properly clamping panels so they meet the manufacturer's instructions (and therefore the Australian Standards for installation) involves using the right number of clamps in the right places.  The areas on a panel where clamps can be clenched are known as zones and panels can have more than one type.  If you are interested in learning about clamping zones, what you should check to see if your panels are properly clamped, and what you can do if they're not, then please read on.
Bolts On Roofs Is Nuts
Solar panels can be directly bolted into place and panels will generally come with either four or eight mounting holes for bolts to be placed through.   This method is often used in solar farms to attach panels to ground mounted racks or to solar trackers that follow the sun through the day.  It is possible to use bolts because on a ground mount or a tracker there is plenty of room to get behind the panels and attach them.  But on a roof where panels are laid flat this is not at all easy.
Australian standards require a gap of at least 5 cm between roofs and solar panels.  However, in urban areas, panels are generally not allowed to extend more than 10 cm from the surface.  As a typical solar panel is around 4 cm thick, this only leaves a 5 to 6 cm space in which to work.  So directly bolting panels on would require either fancy tools or magic hands to get the job done.
Clamps Rule and Clamp Rules
Because bolts are so bothersome, by far the most common method for permanently perching solar panels upon people's household canopies of tin or tile is for them to be firmly clenched in the clasp of clamps.
Clenched clamps are clearly the most common category of connector chosen when it comes to cohering panels to racks and roofs and are capable of doing their duty for decades.
But in order for clamps to be effective in holding panels in place in all kinds of weather, there are certain rules that must be followed about where they can go.  These rules involve clamping zones.
Clamping Zones
Clamping zones can vary from panel to panel.  Many panels only have one type of clamping zone, which will be located around its mounting holes.  Other panels can have multiple zones which will give an installer options on where to install clamps, depending on what wind conditions are like at a location.
You can find information on your panels' clamping zones by searching for the brand's installation manual or installation guide.
Clamping Zone Examples
This kind of dull-looking diagram is from LG Solar's installation instructions: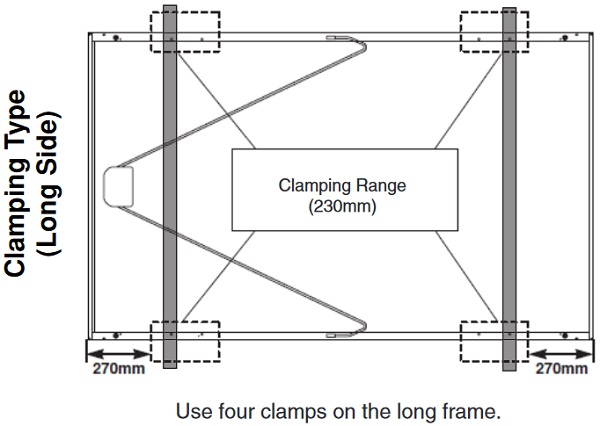 As you can see, LG's panels only have one type of clamping zone, which is located around its four sets of two mounting holes.  The mounting holes are, quite sensibly, located in the best positions to anchor a panel.
The more colourful diagram below shows a solar panel with three different clamping zones and is from the Yingli Solar PV Modules Mounting Guide.  Yingli Solar was the world's largest manufacturer of solar panels and now it's not.  (If you are going to follow the ups and downs of solar panel manufacturing, make popcorn.  It's a real soap opera.)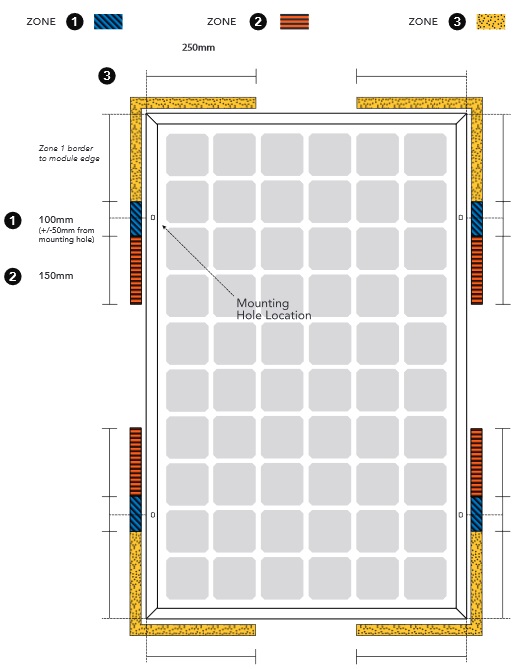 As you can see there are three clamping zones numbered in order of effectiveness.
Zone 1 = The best

Zone 2 = The not so best

Zone 3 = The least best
In addition, in the middle of each side, there is an area that is not part of any clamping zone.
Zone 1 is centered on each of the four mounting holes and is 10 cm long.
Zone 2 is the second-best place to clamp a panel.  They are located next to zone 1 on the side closest to the center of the panel and are 15 cm long.
Zone 3 is located around the corners of the panel and is the least secure of all three clamping zones, but it is better than the "no zone" areas in the center of the panel's edges.
This table from the Yingli Mounting Manual lays out the effects of applying clamps in different zones on their standard-sized 60 cell panels: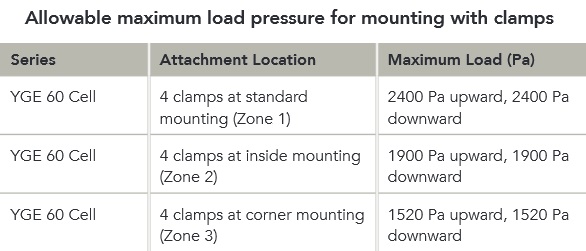 The upward loads under "Maximum Load (Pa)" are caused by the wind trying to blow the panels off the roof, while downward loads are caused by snow piling up on panels — a problem we rarely have in Australia.  According to the table, a panel with clamps in each of its 4 zone 1s can withstand 26% more powerful winds than a panel with its four-zone 2s clamped, and 58% more powerful winds than a panel with its zone 3s clamped.
Clamps Needs To Be Symmetrically Arranged
Clamps used to secure solar panels should be positioned symmetrically.  To use a technical term, the position of clamps should not make a panel appear "wonky".  Once again, I turn to the Yingli Mounting Manual for assistance: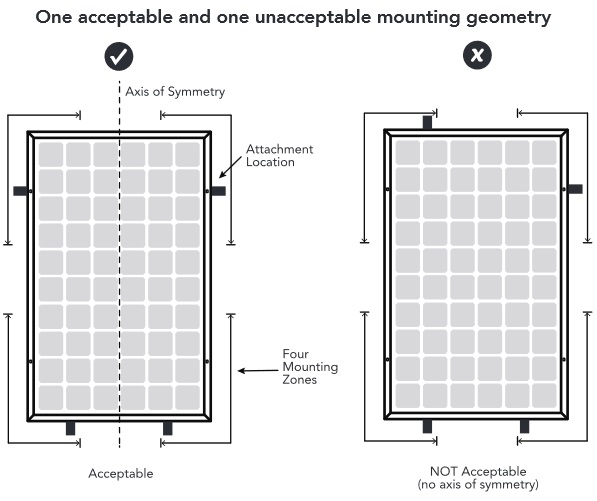 Help!  There Are Clamps In My "No Zone" Areas!
If you look at your panels and see there are clamps located outside of clamping zones, there is no need to panic.
Not yet, anyway.
Look at your panel and see if there are four clamps symmetrically arranged in valid clamping zones.  If so, then you have nothing to worry about.  The clamps in the "no zone" areas are doing no harm and are providing extra anchoring for your panel.
If there aren't four clamps properly located in clamping zones, then if you want to panic, feel free to do so for a little while, just to get it out of your system.
If there are less than four clamps properly placed in clamping zones then any placed in the "no zone" areas will result in stress being placed on weaker parts of the panel.   This can cause the panel to flex in the wind, which is bad as it can cause microfractures to form in the solar cells and degrade their performance.  Given enough time, or just one really bad storm, it could result in clamps failing and the panel being blown off the roof.
If your installer hasn't properly clamped your panels you need to get them to fix the problem as soon as reasonably possible.  It doesn't matter if their workmanship guarantee is over or how much time has passed.  In Australia you are protected by consumer guarantees that require products be:
Safe and lasting, with no faults.
Suitable for the purpose it was sold for.
Solar panels that are inadequately clamped are neither.  While I am no lawyer, I am certain a consumer tribunal would require the installer to rectify the situation.
Happy Clampers
Ideally, you will want each panel in your system to have a clamp in each of its four zones, or four most secure zones if it has more than one type, and additional clamps as well.  These extra clamps can be located outside of clamping zones without a problem.  The next best situation would be one clamp in each of a panel's four most secure zones.
If your panels have multiple clamping zones and your clamps are located outside the best zone, then that is sub-optimal.  Whether or not this should concern you depends upon where you live.  This map, which I stole from the Shark Bay Shire site, shows Australia's wind zones: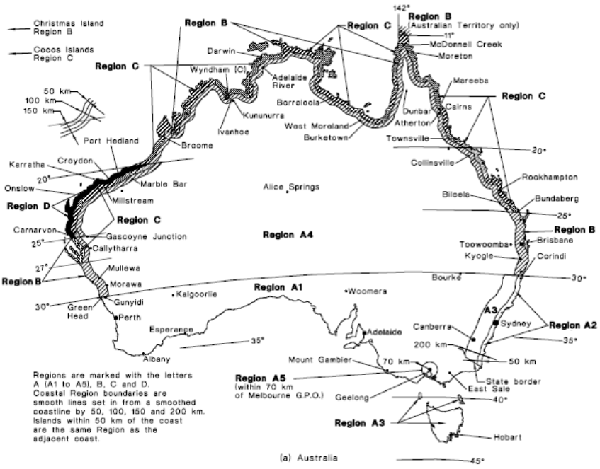 As you can see — provided you have good eyes — there are 4 regions from A to D.  Personally, I think of them as:
A for All Right
B for Beware
C for Cyclones
And D for you are going to Die
If I was living in Region A, I wouldn't be too worried.  Especially if my home was surrounded by trees or houses which will reduce wind speeds.  Wind loads are also worse near the crest and edges of roofs, so a set of panels with a meter of spare roof space around them will suffer less wind force than those that just have the 20 cm minimum.
If I was in region B I would want a clamp in the most secure zone of each panel.  This is because I've been on the receiving end of some very wild and woolly weather in the eastern zone B.  (In one storm, my horse, Tonto 4, was killed by a grapefruit the size of a hailstone.)
In actual cyclone zones, very high standards have to be met for securing the rails that panels are clamped to.  But provided the clamps are rated for cyclonic conditions, only four are required in a panel's most secure clamping zones in wind Regions C and D.  But extra clamps can be used for increased peace of mind.
If the climate becomes more unstable and crazier than it already is, we may all have to prepare for more powerful storms.  Except for people in Region D.  I don't think things can get any worse there.  If it did, they might have to start installing their solar panels underground.
There's plenty more I could write about clamps.  I could go into the different types and brands, but I'm not going to do that now.  I have other things on my mind.  When it comes to mounting, I used to think of myself as an expert.  There are many books that touch upon the subject on my shelf.  But I am so excited by what I've learned so far from Yingli Solar's Mounting Guide I am inspired to see if there is anything in it I can try out with my good friend, Tonto 23.