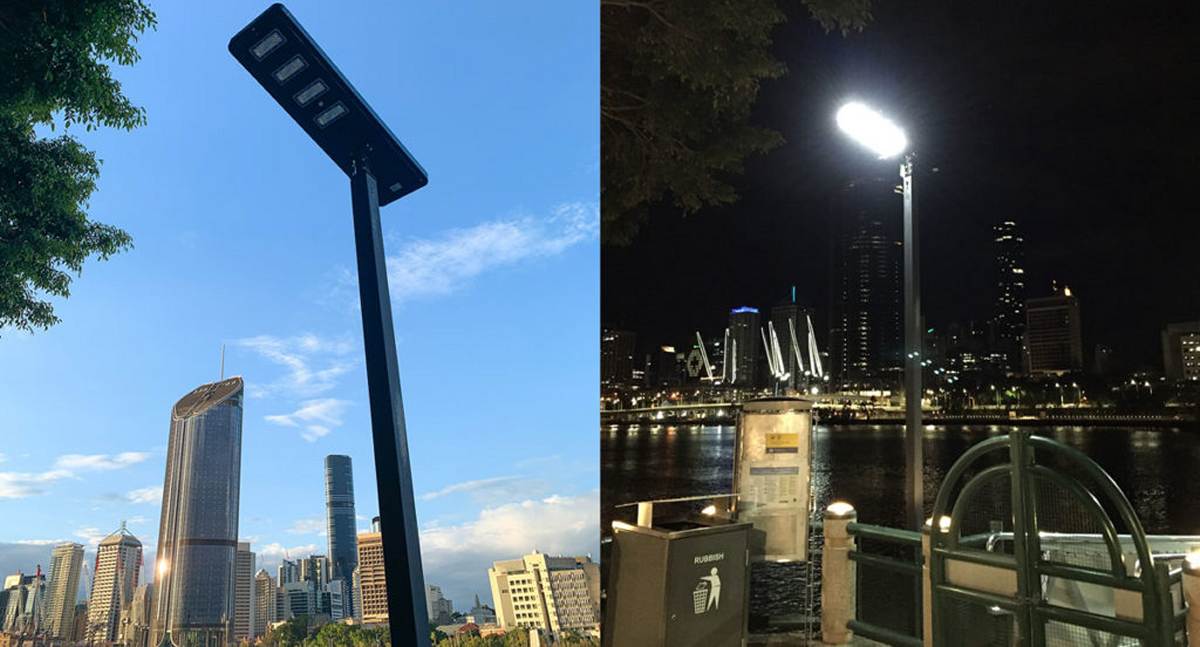 A fully solar powered light is now operating at Brisbane's South Bank Promenade as a test installation.
According to the Federal Government's EnergyRating web site, there are around 2.3 million street lighting lamps in service in Australia – and then there's the lighting of public areas.
"The annual energy cost of public lighting in Australia exceeds $125 million," states the site. "Street lighting is the single largest source of carbon emissions from local government, typically accounting for 30–60% of their total emissions."
However, those figures were taken from a 2011 report – and a lot has changed since then. Given the costs involved with street and public area lighting, there's been plenty of motivation for switching to more energy efficient technology. LED-based lighting has become an increasingly common sight throughout the nation, with LED lamps offering energy savings of around 60%.
Solar Powered Smart Lighting
By combining LEDs with solar panels and smart lighting controls, the long term savings can be even more – and solar lights can continue to operate in a blackout.
Brisbane City Council is giving solar lighting a whirl, with view to perhaps a broader rollout. Powered by a lithium-ion battery charged by a solar panel on top of the light, when fully charged the South Bank Promenade light has enough capacity to run for four nights without charging input. Given Brisbane has around 126 sunny days and 134 partly sunny days annually; chances are the light won't run out of juice.
The cost of the light wasn't mentioned, but CitySmart1 says:
"Cost wise, the feature-rich technology provides excellent value for money, with required expenditure not much more than a standard LED light fitting connected to the grid"
… and there's the added bonus of no ongoing costs for electricity, and little in the way of maintenance.
CitySmart says the light can also make use of  "scan mode", where the light dims when there's nobody about and then brightens when pedestrians are detected.
"City Parklands will monitor the progress of the technology which, if deemed successful, will be installed in other areas of the Parklands that have sufficient exposure to sunlight."
This isn't Brisbane City Council's first dabbling in LED lighting, although it may be in terms of solar powered lights. In 2016, Council partnered with Energex in trial of 10 different types of LED lights at 17 locations across the city. The final report from the trial was published last year and given the trial LED light products still in place are performing satisfactorily, they will remain for now.
Other local governments across Australia rolling out solar lighting or that already have it in place we've recently mentioned are Armidale Regional (NSW),  Douglas Shire (QLD) and Moreland City (VIC) Councils.
Footnotes
CitySmart is Brisbane City Council's sustainability agency; which has been operating as a wholly owned subsidiary of Council since 2009 ↩