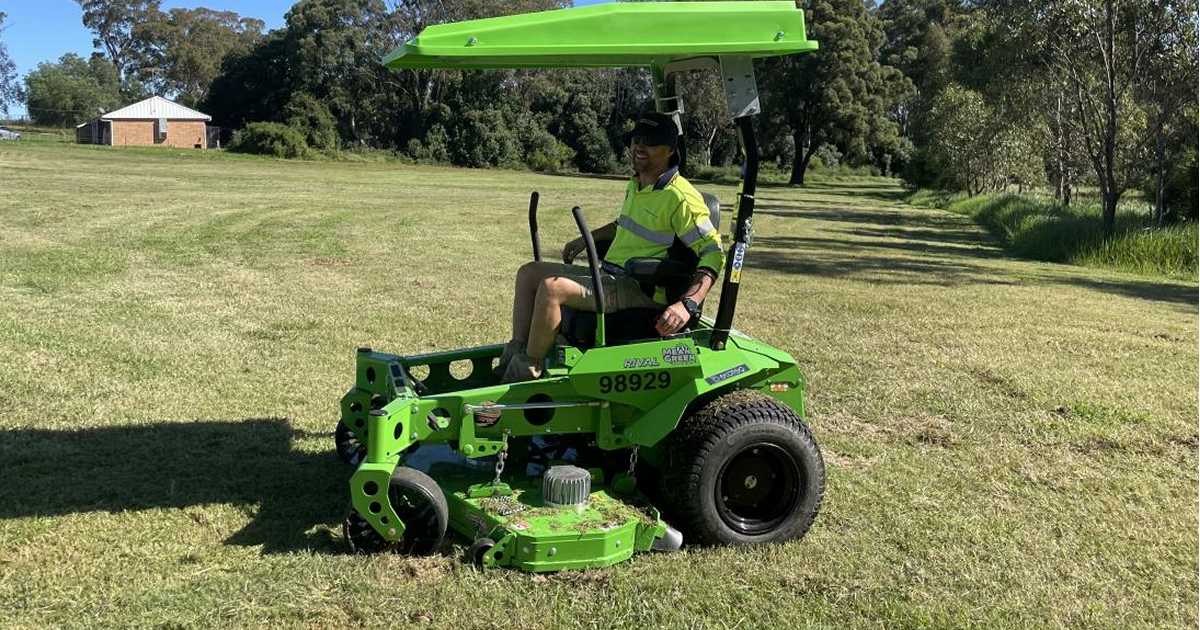 Sydney's Camden Council recently acquired a new EV of sorts – an electric ride-on lawnmower.
I'm not a fan of petrol mowers and swear they contributed to my tinnitus (well, that and Metallica). They are noisy, stinking, filthy things. I switched over to a manual reel mower around 2012, which was fine for a while until I moved to a place with a bigger yard and that soon got old (and very tiring).
I then switched to cordless electric mowers, currently a Ryobi  18V ONE+ model. It's a really handy setup as the removable batteries can be used in a swag of other Ryobi tools, including a drill I've had for over a decade. Ryobi make pretty good gear – I also have a couple of ONE+ batteries from back then that are still useful today.
Probably the only drawback with the electric mower is it doesn't have as much grunt as a petrol version. It just means staying on top of the "lawn" (more accurately, grass mixed with weeds). But given how quiet and light the mower is, mowing is an (almost) enjoyable experience.
Anyhoo, my interest in electric mowers meant a recent announcement from Camden Council caught my eye. The organisation says it's one of the first local governments in Greater Sydney to introduce an electric commercial lawn mower to its fleet.
"Electric mowers are a much better alternative to the traditional petrol-powered versions for our environment," said a pretty chuffed Mayor of Camden, Cr Therese Fedeli. "They are quieter and cleaner and don't use any fossil fuels such as hydraulics or oils."
Of course, fossil fuels can be involved with charging1 and that side of things isn't mentioned. Council has installed solar panels on its Oran Park Administration building, Mount Annan Leisure Centre, Narellan and Camden Libraries, and the Narellan Child, Family and Community Centre – but nothing about the depot or wherever the mower is housed, or about the status of Council's mains supply.
However, the organisation notes there will be further installation of solar panels on suitable Council facilities in the time ahead.
About The Electric Mower
There also wasn't much mentioned by Council about the mower in terms of specs, but it's a Rival from US company Mean Green Mowers. There are a couple of Rival models boasting the following features:
52″ (132 cm) or 60″ (152 cm) cutting width
Battery Options: 14.5 kWh, 22 kWh
36 HP petrol mower equivalent
Up to 7.25 hours per charge – pretty impressive
Speeds up to 11.5 mph (just under 18 kilometres per hour). For the speed freaks: 0-11.5 MPH in 1.3 seconds.
Interactive touch screen display
Beverage holder standard – w00t!
There are also a bunch off accessories available, such solar charging ability with Mean Green's 200W solar panel. That only adds up to twenty extra minutes of mowing time per day.
Here's the Mean Green Rival in action:
The Mean Green Rival isn't cheap, ranging from around USD $27,000 (around AUD $38,670 at current exchange rates)  to USD $30,600 (AUD ~$43,830). Add to that whatever accessories such as the solar canopy for close to two grand USD (youch); plus significant shipping and other costs there may be getting it to Australia.
I haven't looked at how that stacks up to good quality fossil fuel powered equivalents and assume it could be significantly pricier, but Council will be saving on fuel and maintenance costs  – and doing the planet a favour. That's got to be worth something.