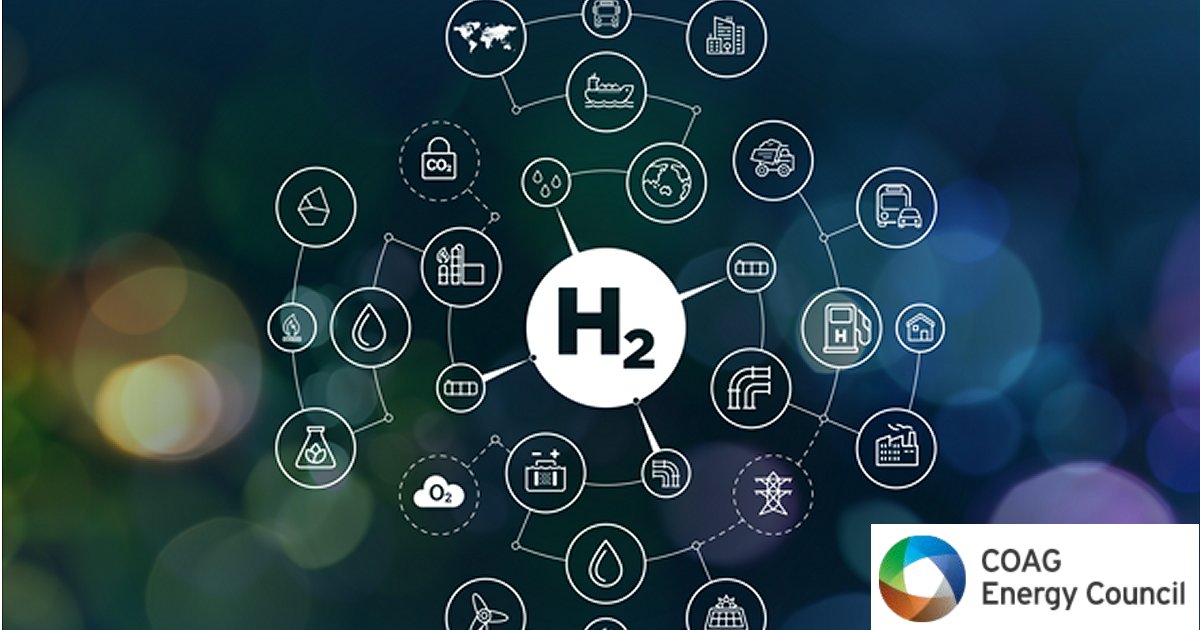 Energy Ministers met in Perth on Friday for the first COAG Energy Council meeting in more than 11 months. Here's some of what happened.
First up, it won't be quite so long between COAG Energy Council drinks next time around – another meeting has been scheduled for March next year.
"Technology-Neutral" Hydrogen Plan Adopted
Ministers backed  the National Hydrogen Strategy, supporting the development of a "clean, innovative, competitive, technology-neutral and safe hydrogen industry" and established a the Hydrogen Working Group to develop it.
The "technology-neutral" bit is a worry. While hydrogen can be produced using renewables such as wind and solar energy (green hydrogen), it can also be produced with fossil fuels such as gas (blue hydrogen) and filthy brown coal (brown hydrogen).
The excitement over hydrogen, particularly Australia's potential for exports, may not justified. Back in January this year, SQ's Ronald detailed why he believed  there won't be strong demand for Australian hydrogen and even if there was, it won't be highly profitable.
Last Friday, The Australia Institute said potential export demand as cited by various corners including the Federal Government may be overstated by a factor of up to 11.
"Prematurely establishing a hydrogen export industry based on highly inflated demand figures may lock out the cleanest form of hydrogen, using renewable energy and electrolysis, because the technology isn't cost competitive at this stage," stated Richie Merzian, Climate & Energy Program Director at TAI.
Mr. Merzian says rushing into hydrogen production could result locking in of fossil fuels for decades more.
COGATI
COGATI stands for the Coordination of Generation and Transmission Investment. It's the brain/bastard child of the Australian Energy Market Commission (AEMC).
According to the Smart Energy Council, it's possibly the worst from a long list of stupid energy policy ideas we've seen in Australia over the last decade.
The Council explains COGATI as:
"Where transmission is constrained, charge (or tax) any newcomers (read renewables), for the fact the existing generators (read coal fired power stations), will be constrained further and make the newcomers pay the existing generators to compensate them for that loss."
The Clean Energy Council is also unimpressed with COGATI, writing to all Ministers ahead of the meeting advising they should not endorse the AEMC's approach. The CEC's response to the discussion paper on the COGATI  proposed access model can be found here.
The COAG Energy Council meeting communique doesn't go into any great detail on COGATI discussions, but mentions Ministers agreed the AEMC should present its work for consideration by Council by March 2020. So, they've got some time to get it sorted.
Energy Security Board
The Energy Security Board (ESB) has been tasked with undertaking an immediate review of the NEM electricity reliability standard to ensure that it is fit for purpose, plus to gauge its benefits and costs to consumers.
The ESB is to provide advice for decision in March next year on immediate measures to ensure reliability and security of the electricity system.  It has also been asked to accelerate its work on short term actions to progress renewable energy zone connections.
According to a Victorian Government release, Ministers were also eager to see AEMO's Integrated System Plan (ISP) actioned sooner rather than later. ESB has been told to get cracking on draft rules to help fast-track the Plan and provide these for discussion and agreement at the next COAG Energy Council meeting in March.
More from the COAG meeting can be found here.