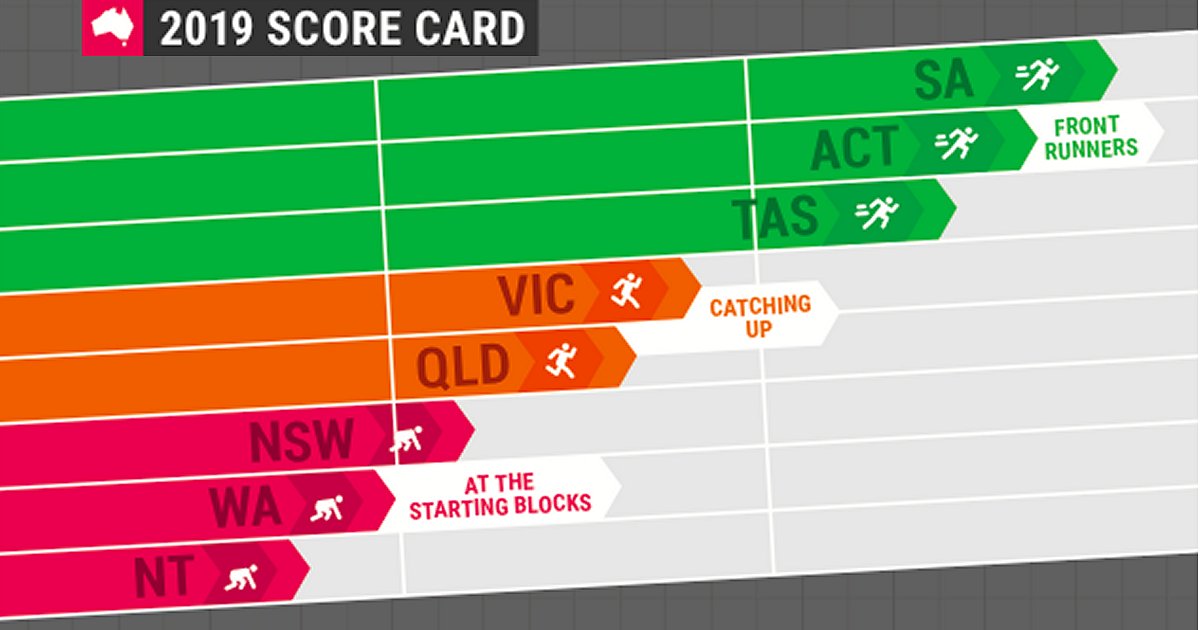 The Climate Council's latest renewable energy scorecard will be released this morning. Here's a look at some of the facts and figures that will be included in the report.
This will be the fifth annual report card from the Climate Council examining how Australia's states and territories are faring in making the transition to renewables. This year's report is titled "State of Play: Renewable Energy Leaders and Losers".
Overall Rankings And Grades
South Australia has been declared the overall winner, with the ACT and Tasmania not far behind.
South Australia – A
ACT – A
Tasmania – A
Victoria – B
Queensland – B
New South Wales – C
Western Australia – C
Northern Territory – C
Wind And Solar Energy Capacity Per Capita (March 2019) Rankings
ACT – 1.27kW
South Australia – 1.25kW
Tasmania – 600W
Queensland – 380W
Victoria – 340W
Western Australia – 280W
New South Wales – 250W
Northern Territory – 120W
Percentage Of Households With Solar Panels (Oct 2019) Rankings
Queensland – 35.7%
South Australia – 35.0%
Western Australia – 28.8%
New South Wales – 20.4%
Northern Territory – 18.1%
Victoria – 17.9%
ACT – 16.1%
Tasmania – 15.1%
Last year's scorecard showed the two front-runners Queensland and South Australia with 33% and 32% of households having solar panels installed respectively.
Renewable Electricity (2018) Rankings
Tasmania – 94.6%
ACT – 54.1%
South Australia – 51.2%
Victoria – 17.3%
New South Wales – 17.3%
Queensland – 8.8%
Western Australia – 8.2%
Northern Territory – 4.0%
While indicating 54.1% for 2018, the report will note the ACT is on track to achieve 100 percent renewable energy on January 1, 2020.
Renewable Energy Lifters And Leaners
The Climate Council has praised the collective efforts of states and territories while condemning the Federal Government, stating the lack of effective national energy policy has undermined investor confidence in renewable energy.
"States and territories are driving the transition to a renewable energy future, in the face of the Federal Government's lack of leadership. As a result, several states and territories have declared the intention to go it alone on renewable energy policy," said Climate Councillor Greg Bourne. "It is time for all states and territories to create their own forums for coordination and move on without the Federal Government."
Mr. Bourne also accused the Federal Government of going out of its way to attack states working to increase renewable energy uptake.
The figures noted above are only a part of how overall rankings and grades were assigned. This post will be updated with a link to the full "State of Play: Renewable Energy Leaders and Losers" once the report is available today.
UPDATE 10.30AM – The report can be downloaded here.