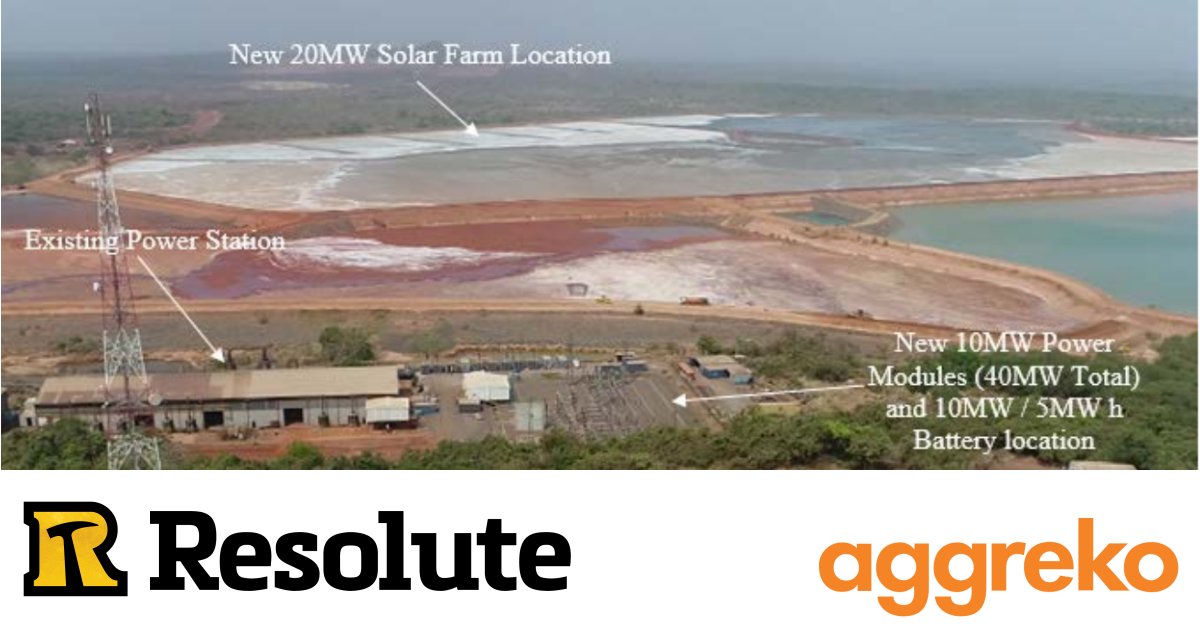 Australia's Resolute Mining Limited is partnering with Aggreko on a new hybrid modular power station project at Resolute's Syama Gold Mine in Mali, West Africa that is expected to slash Syama's electricity costs by approximately 40%.
Resolute announced yesterday it had signed a Heads of Terms Agreement for the project – basically an agreement about an agreement – which will be funded and operated by Aggreko.
Stage 1, expected to be completed next year, will be comprised of 3 Modular Block generators (30MW capacity total) and a 10MW/5MWh Y.Cube battery storage system.
The new generators will run on intermediate fuel oil (IFO 180), a blend of distillate and residual fuels that Resolute says will increase efficiency by 30%.
The second stage in 2022 will consist of another 10MW Modular Block and construction of a 20MW solar farm. So, in total – 40MW thermal generation, 20MW solar energy generation and 10MW/5MWh of battery storage.
What About Emissions?
IFO 180 apparently generates a similar level of carbon emissions as diesel (but is higher in sulphur) when used for electricity generation, but Resolute says the new system will reduce carbon emissions compared to current levels by approximately 20%. Resolute is currently running a 28MW diesel power station at Syama.
Y.Cube Battery Storage
The Y.Cube is a "plug and play" lithium-ion battery system developed by Younicos, which was acquired by Aggreko a couple of years ago. The Y.Cube is 1MW capacity and housed within a standard sized shipping container.
Australian Miners/Mining Operations Turning To Renewables
There's been plenty of activity on the off-grid renewables front over the last couple of years as mining companies discover the cost savings renewable energy can provide. Emissions reduction is a nice bonus for them (and for everyone); particularly with shareholders becoming more concerned about climate change.
Just last week, a 23MW hybrid generation project consisting of a 4MW solar farm, 16MW of gas and 3MW diesel generation capacity commenced operations at Gold Fields'1 Agnew Gold Mine in Western Australia. The second stage, expected to be completed around the middle of next year, will see 18MW of wind generation, a 13MW battery and an advanced micro-grid control system integrated. After completion, renewables are expected to provide 50% of the Agnew gold mine's power requirements.
Aggreko is currently constructing a hybrid power station at Gold Fields' Granny Smith mine in Western Australia that will feature 8MW of solar power generation, along with a 2MW / 1MWh battery energy storage system and 24MW of gas generation.
Footnotes
Gold Fields is headquartered in Johannesburg, South Africa. ↩