Solar energy projects funded by Bendigo's local community were officially opened last week in an event attended by Victorian Minister for Energy, Environment and Climate Change Lily D'Ambrosio.
A 31kW solar power system has been installed at Eaglehawk Badminton and Table Tennis Stadium and close to 100 solar panels have been added to social housing units in Bendigo.
The projects were carried out via Bendigo Sustainability Group (BSG) under the Bendigo Community Hub initiative, which was funded through the Victorian Labor Government's $900,000 Community Power Hubs Program. Both projects were made possible through the generosity of a total of 120 community members.
"The community has come together to fund a project that will deliver benefits for years to come – people in Bendigo recognise the huge benefits solar can deliver," said Member for Bendigo West Maree Edwards.
While the press releases states the stadium installation is expected to save the facility more than $5,500 each year and the social housing projects will save each residence around $550 annually, the project pages notes these figures a little differently.
As we previously reported, the annual benefit for the stadium project is split between the facility ($3,320) and Bendigo Sustainability Group ($2,214), with BSG providing project establishment, management, monitoring, reporting, insurance, maintenance and warranty oversight. The agreement with the facility is set for a period of 10 years.
For the social housing project, which is under a similar arrangement, the annual benefit is split between Community Housing Limited ($2,650) and Bendigo Sustainability Group ($1,760). BSG notes savings are estimated at about $25 per month per tenant or approximately $300 per year each.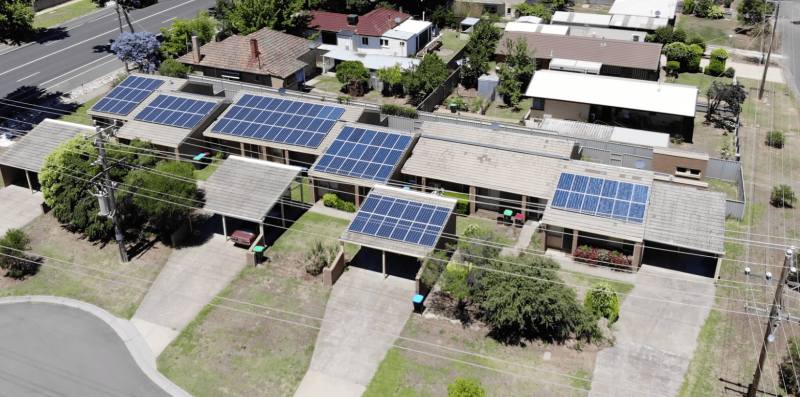 "We are extremely proud to be a partner in this exciting project," stated Community Housing Limited. "Over the next 25 years these two systems will keep almost $300,000 within the local community and will save 2,500 tonnes of CO2 greenhouse gases."
The revenue received by BSG will cover maintaining the systems, but also contribute towards more community-owned renewables. While these projects involved tax-deductible donations, financial contributions for future installations will be based on an investment model.
The Community Power Hubs Program, which is being trialled for two years in Ballarat, Bendigo and Latrobe Valley, aims to assist communities in taking control over energy costs through supporting investment in renewables and energy efficiency upgrades.
"We're helping communities use the skills and expertise they already have to develop renewable energy projects," said Minister for Energy, Environment and Climate Change Lily D'Ambrosio. "The community-owned and operated power hubs are driving investment into regional Victoria, creating jobs and helping to reduce electricity bills.
Further information on the Community Power Hubs Program can be viewed here.