I've been writing a lot about hot water lately and how to use the energy of the sun to get it.  In fact, I've been concentrating on it so much I've neglected my other duties and gotten into hot water as a result.  Mind you, this may have all been part of my cunning plan, as I do enjoy a hot spa.  And if it is heated by people's hot tears of rage and frustration over my failure to do as I have promised, well that's just me being energy efficient.
Because that's the kind of guy I am — efficient.
This article is all about energy efficiency.  Specifically, hot water conservation.  Before spending $1,000 or more on a solar hot water diverter, a hot water relay, or a heat pump hot water system to reduce the amount of grid electricity or natural gas used for water heating, I think it is worthwhile to see if hot water use can first be cut by taking a few simple steps. This is because simple conservation can provide a far better return on investment than anything else.
I'm afraid I don't have any brilliant new ideas for cutting hot water use and it's quite likely you've heard all my suggestions before.  So if you already know all you need to about:
Water saving shower heads and water saving discs.
Using cold water for clothes washing.
Insulating pipes, and..
Hunting down and destroying hot water leaks.
Then feel free to skip this article.  Go read this 12 year old piece on North Korea that appears to have been written by President Trump1 or something instead.
Water Saving Shower Heads

Water saving shower heads are not a new thing.  They have been around a long time and chances are you have them already.  I was going to look up what exactly what Australia's building codes require for shower head efficiency, but the site I was using wanted to charge me money to download them and I decided that while ignorance may not be bliss, it is at least affordable.
According to the Australian government an old fashioned, non-water saving, profligate shower head uses 15 to 25 liters of water a minute.  Any shower head you can buy these days normally has a three star rating, which means it will provide approximately 9 liters of water per minute or less.
I went to a local branch of a large hardware chain store to see what they had on offer.  I don't want to give them free advertising, so I'll just name them after my favorite anti-social activity and call them Punnings.
The majority of shower heads at Punnings stated on their packaging they would provide 9 liters of water per minute, but the cheapest one available said it would provide 8 liters a minute for the low price of only $15.  Unfortunately there was a huge price jump to the next most efficient shower head, which was 7.5 liters a minute for $89.
Ultra Low Flow Shower Heads
Those who want the smallest amount possible spurted on them in the shower can invest in something along the lines of the Methven Kiri Satinjet Ultra Low Flow shower head:
Which is the self proclaimed lowest flow shower head available in Australia, providing only 4.5 liters per minute .  The word kiri in its name is Japanese for fog or mist.  It also means "cutting", as in hara-kiri, but I'm pretty sure that's not the connotation they were going for.  Otherwise it would be called the Methven Kiri Satanjet Ultra Low Blow.
This type of shower head costs around $150.  Unfortunately, not everyone will be satisfied with only only being sprayed with 4.5 liters a minute.  So before you get one, you may want to first try out the cheap water saving discs I describe further down.  If you find the 6 liters a minute they can provide is fine, then you may be happy with only 4.5 liters.
Personally, I'm happy with only being dribbled on, but that's just the kind of guy I am — dribble happy.
Savings From Water Saving Shower Heads
If you don't have water saving shower heads already, they make a lot of sense.  Not only will you save on energy, you'll also reduce water bills.
My parents pay 17.4 cents a kilowatt-hour to heat water using tariff 31 in Queensland.  If they run their shower for an average of 10 minutes a day at the usual shower temperature of 41 degrees2, then each 1 liter reduction in shower flow per minute will reduce their hot water use by 1,700 liters a year.  This is enough to save them $15.50 a year.  So if their shower head went from 9 liters a minute to 4.5 their annual savings would be $70.
Also, because they pay 0.15 cents a liter for water, changing to an ultra low flow shower head would save them $25 on their water bills for a total annual saving of almost $100.  If they ran their shower for a total of 20 minutes a day, as many larger households do, they would save close to $200 a year.  This is a far better return than any solar hot water diverter, hot water relay, or heat pump hot water system can offer.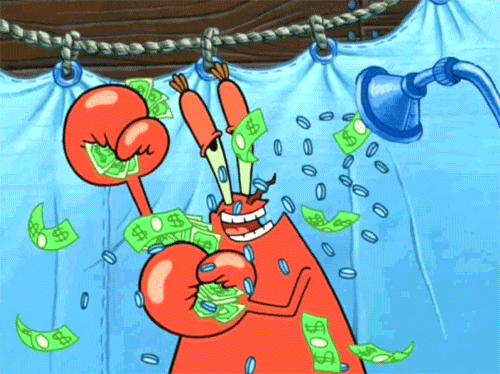 In Perth the savings would be even higher for people using standard electric hot water systems, due to the lack of cheaper controlled load tariffs used for heating water.  The savings are likely to be less in the rest of Australia, where controlled load tariffs are generally cheaper than in Queensland.
Water Saving Disks For Showers
Shower heads are rated for a certain number of liters per minute, but it's only an approximation.  What really determines the flow is the water pressure.  If it's low then changing to a water saving shower head can reduce a spray to a dribble.  If being dribbled on is not your thing, then getting a low flow shower head may not be for you3.  But provided your water pressure is high enough, you can use a water saving disc to reduce the flow at very low cost without needing to replace your shower head.
Water saving discs look like this:
The red ones reduce your flow down to 9 liters a minute and the blue ones 6 — depending on your water pressure.  To install them, remove the shower head and put a disk in the pipe that connects to the shower head.  There is a video here showing how to do it by an organization with a name very similar to Punnings.  (Maybe Punnings should sue.)  There will probably already be a disk in there, so how much of a reduction in water flow results depends on how it compares to its replacement.
Also, if the water flow in your shower is too low for you, the disc that is already there can be removed and either replaced by one with larger holes or not replaced at all.
At $5.84 at Punnings for a packet of four, it is probably the cheapest way to cut your hot water use.  There are other methods for reducing shower water flow, but trying this first makes a lot of sense.
Free Shower Head Swaps For Victorians!
Victorians can trade in their old shower heads for water efficient ones, free of charge.  Personally I'd rather just pick up a new water saving shower head from Punnings, or water saving disks, but that's just the kind of guy I am — incredibly rich.
Shower Timers
If you are a masochist, you can pay hundreds of dollars to have an automatic shower cutoff timer installed that will stop your shower operating after 5 minutes or whatever period of time you program into it.  It will then prevent you from turning the shower back on again.
Personally, I'd rather spend my money on increasing the amount of hot water I have rather than paying money to be punished by a machine for using too much of it, but that's just the kind of guy I am — not completely stupid.
Fortunately, you can get a water proof timer for your shower that will just beep at you and remind you to get a wriggle on.  Which is only mildly annoying rather than being a mechanical device with a heart of pure evil.
Use Cold Water For Washing Clothes
Modern laundry powders and liquids are amazing.  I don't even bother using a washing machine anymore.  I just soak my clothes overnight and they are ready to go.
My children are less enthused about the wonders of modern chemistry.  Rather than celebrate our new found freedom from mechanical washing, they describe this behavior as, "Daddy broke the washing machine trying to fix the squeak and he's too cheap to buy a new one."
But that's kids for you.
And that's just the kind of guy I am — cheap4.
For those of you who are still shackled to conventional notions of clothes washing and insist on using a machine, there is no real need to use hot water.  For most people and most loads of washing cold water will do fine.
I am no expert on clothes washing and if you want to tell me that warm or hot water is better for removing some kinds of stains I'm not going to argue with you.  I'll just I'll take your word for it.  But Choice magazine says there is little difference, so if you haven't tried cold water I'd suggest at least giving it a go.
A front loading washing machine will use around 7 to 10 liters of hot water for a warm wash.  If it averages 8 liters and you do three loads a week, that will come to 1,248 liters of hot water a year.  If you pay 17.4 cents per kilowatt-hour of electricity to heat it, using cold water will save you around $11 a year.  A top loading washing machine is less efficient and so may cost you twice as much.  This means switching to cold water won't save a large amount of money, but if you can't notice any difference with your clothes, it's still worthwhile.
Insulating Pipes
When I went to Punnings I spoke to a man there about insulating hot water pipes.  He didn't seem to think it was necessary in Australia's climate.  But for people who want to give it a go, they had plenty of foam rubber insulation tubes, at a few dollars per meter, for different diameters of pipes:

My Punnings advisor was probably correct that pipe insulation won't make a large difference for most Australian homes.  Unfortunately, I don't know enough to estimate how cost effective it may be.  The general consensus appears to be that it's not worth paying someone to do it for you, but if you are happy enough to do it yourself, it may save you a few dollars a year and eventually pay for itself.
It is also possible to get a valvecosy, which is an insulating cover for the valve on your hot water system.  It costs around $20 and will probably take a very long time to pay for itself.  But it does have a drainage channel, which is important, and will probably look a lot better than a valve hood you fashion yourself out of foam rubber5.
If you want far more detail about the effects of pipe insulation than you probably want, you can get it here.
Eliminate Hot Leaks
According to the Victorian Government, a leaking tap can ooze over 20,000 liters a year.  All I can say is, that's one hell of a leak.  More of a trickle really.  But such hot water leaks can exist and I'm afraid some homes leak hot stuff like a British cabinet during a sex scandal.
If you did have a 20,000 liter a year leak in a hot water tap and you pay 17.4 cents a kilowatt-hour to heat water, which is what is typically paid in Queensland, then it would cost you $180 a year in electricity.  Most tap leaks aren't going to be nearly that bad, but it is still definitely worthwhile to replace the washer as soon as a drip starts.  If you don't know how to do that, my brother knows, so get him to do it for you.  (Tell him I sent you.)
But while leaking taps can be bad, a leaking hot water system is potentially much worse.  A friend of mine, a beautiful Scottish lass with flaming red hair on account of how she strongly believes in stereotypes6, had a leaking outdoor hot water system and it ended up costing her hundreds of dollars per quarter before she worked out it was because the hot water system had been leaking all that time.  The reason her electricity bills were so high was definitely not because I had been secretly living in the roof space of her home, as she had long suspected.
Small Steps Can Have A Large Payoff
Reducing water flow from your shower heads or fixing taps as soon as they start dripping doesn't seem as exciting as installing a hot water diverter or relay or a fancy new heat pump hot water system, but that's only because it isn't.  It's not new, it's not exciting, and you can't really boast to your friends about how you're really conscientious about fixing drips as soon as they start.
Well, I do.  But that's just the kind of guy I am — a big drip.
But what these changes can do is provide a better return on money invested than any of the above methods. By all means invest in an efficient water heating system, but make sure you invest in hot water efficiency first.  Because simply changing to an ultra low flow shower head can provide a rate of return of over 100% per year and, since it costs nothing at all, washing clothes with cold water can provide infinite return.
While you may fear creating an infinite return will destroy the world's economy, I say go ahead, do it!  Because that's just the kind of guy I am — utterly reckless.
Or mildly economically literate.  Either one.