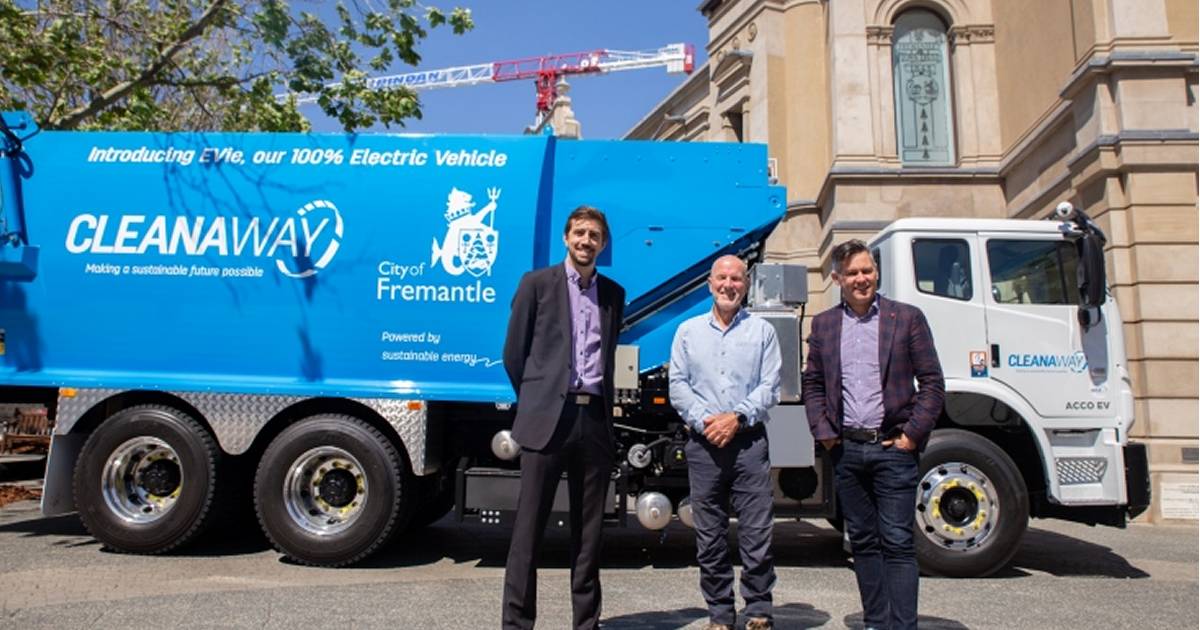 In Western Australia, the City of Fremantle is trialling a fully electric waste collection truck provided by national waste management firm Cleanaway.
Cleanaway's "EVie" will be working the Fremantle area for the next few weeks to assess its suitability to local conditions. If the trial is a success, it could result in the City of Fremantle's entire fleet of garbage trucks being switched to electric vehicles.
Fremantle Mayor Brad Pettitt says standard rubbish trucks chew through approximately 500 litres of diesel fuel a week; which generates more than 1.3 tonnes of carbon dioxide.
"The electric trucks are also cheaper to run – which will deliver savings for ratepayers – and they're much quieter, which is great news for people who like a morning sleep in," said Mayor Pettitt.
Little in the way of specs were provided about EVie, but Cleanaway states it has a range of around 120 kilometres in active duty. However, range will depend on factors such as terrain, number of stops and driving style. It is expected to be able to put in a full eight hour day and charging takes about 10 hours. Evie is based on SEA Electric's ACCO EV.
"With almost 5000 vehicles on the road each day servicing homes and businesses all over Australia, we're really excited to be working with the City of Fremantle to explore ways of doing things more sustainably," said Cleanaway State Municipal Manager Daniel Le Provost.
This isn't Cleanaway's first trial of electric garbage trucks – two commenced trials in the Melbourne region earlier this year.
100% Electric – But What About Charging Emissions?
Some will point out emissions aren't just about what comes out the tailpipe – or the fact a vehicle doesn't have one. How it's charged needs to be taken into account.
While Evie will be charged from mains grid power1  at the Southern Metropolitan Regional Council's resource recovery centre in Canning Vale during the trial, it could be charged via renewables or charging emissions offset if it finds a permanent home with City of Fremantle.
The City of Fremantle currently operates under a policy of carbon neutrality, with emissions from City operations and facilities offset through the purchase of carbon credits. It also aims to have all its buildings powered by 100% renewable energy by 2025. Some of that electricity, or the equivalent of it, could come from solar energy; specifically South Fremantle Solar Farm.
The latest update on that project indicates details of the lease for the site – the former South Fremantle tip – are still being negotiated with Council. At this stage and assuming all goes well, construction activity is likely to commence in the first half of next year, with completion in the second half of 2020.
Footnotes
In 2017, around 7.5% of Western Australia's electricity was renewables based ↩