South Australia's standing as a renewable energy powerhouse will soon be matched by its reputation for energy storage uptake, boosted by news of more major projects announced today.
Just days after SA's 50,000 solar + battery system strong virtual power plant project was announced, developer Tilt Renewables has unveiled plans for a 300MW/1350MWh pumped hydro energy storage project at Highbury, 14km north of Adelaide's CBD.
The facility will make use of the old Highbury Quarry, which ceased operations in 2009. The existing reservoir, road infrastructure and proximity to grid connection make it an ideal location for such a project says Tilt. Here's what the area looked like in 2011.
The project, which has moved to the approvals phase, will involve pumping water into an upper reservoir when demand for and cost of electricity is low1 , then releasing the water back to a lower reservoir, spinning turbines to generate electricity along the way, when demand is high.
The facility will do more than just store energy says the company.
""We see this project as a real winner for the South Australian community," said Tilt Renewables' Deion Campbell. " Not only will we be able to support energy security and contribute to reducing power price volatility, we'll also have the option to open up some of the 350 hectare site for public recreational use with potential for walking trails, picnic areas and outdoor activities."
Highbury Quarry is one of 22,000 potential pumped hydro sites identified across Australia.
SA Energy Minister Tom Koutsantonis seemed particularly excited about the project.
"It could be the first Hydro scheme in 40yrs!" he tweeted.
Snowtown North Solar Farm Gets Funding
Another project moving along for Tilt Renewables is the $90 million Snowtown North Solar Farm, which we mentioned last year.
To be situated adjacent to Tilt Renewables' existing wind farms, the project has scored $7.125 million from the SA Renewable Technology Fund to support development of the 44MW facility, which will feature up to 180,000 solar panels and a 21 MW/26 MWh battery storage system.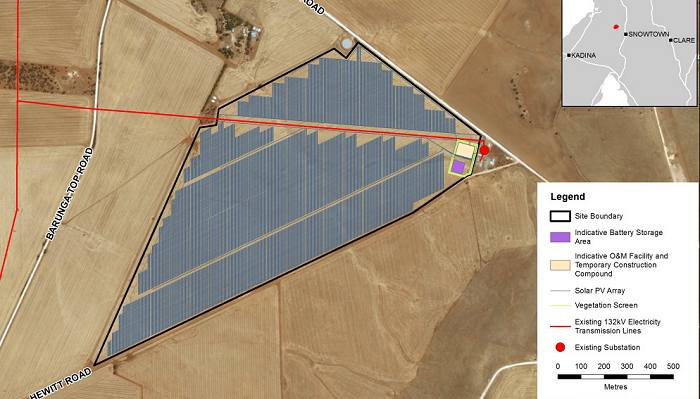 The company says the attributes of the site – wind peaking in the evening and solar energy during the day – means the resources can be better matched to daily electricity demands.
Tilt says Snowtown North will be Australasia's largest co-located wind, solar power and battery facility.
Hundreds Of Green Collar Jobs
Both projects will employ a significant number of workers during their construction phases – 200 site staff at Snowtown for 12 months and up to 300 at the Highbury Pumped Hydro Energy Storage Project over 30 months.
Tilt Renewables says it has injected close to a billion dollars of investment into South Australia to date.