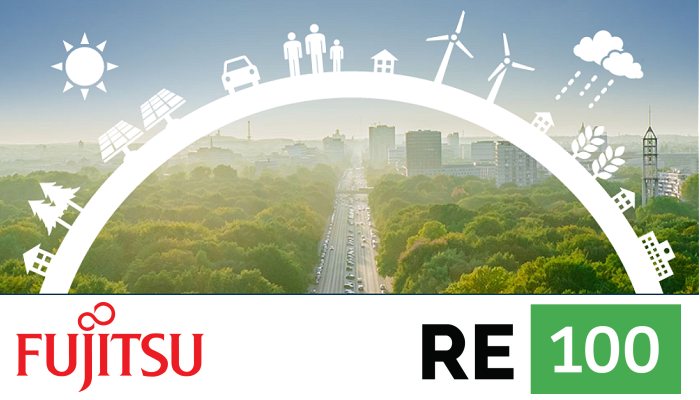 Fujitsu has become the tenth Japanese company to join the RE100, an initiative encouraging the world's most influential firms to commit to 100% renewable power. It's a particularly significant announcement given the state of energy in Japan.
Fujitsu joins around 130 major companies around the world that have joined the RE100, including IKEA, Adobe, Bloomberg, eBay, Facebook, Google and ING.
Fujitsu has set an interim target of 40% by 2030 and attaining the 100% renewables goal by 2050.
The firm will commence working towards its goals by procuring renewable electricity to run its data centers in Japan and elsewhere not already sourcing a 100% renewable energy based supply.
Fujitsu will source renewables through various mechanisms, such as certificates, power purchase agreements and on-site generation including solar panels and storage.
"Their commitment comes at a crucial time, sending a clear message to the world that Japanese companies are committed, alongside their global peers, to using 100% renewable power," said Sam Kimmins, Head of RE100, The Climate Group.
Japan's Coal Power Addiction Strengthens
This message is particularly important in Japan as there are approximately 45 new coal plants at various stages of planning and development in the country. This has been a result of the 2011 Fukushima nuclear accident, which saw all the nation's nuclear capacity taken offline for compliance checks and few have been restarted. Nuclear power had been intended to increasingly replace coal, but the situation was reversed after the Fukushima disaster.
The new coal generators will be so-called high-efficiency, low-emissions (HELE) plants, a term that's not really appropriate. Depending on the HELE technology used, emissions range from 670 – 880 grams of carbon dioxide per kilowatt hour, compared to standard black coal power generation of around 950g/CO2/kWh.
"For a country leading the world in technology and innovation, this is remarkable – the commercial equivalent of commissioning 45 new kodak film factories in the age of the digital camera," states Mr. Kimmins.
Solar Energy Struggles
Electricity from solar power is still more expensive in Japan than elsewhere – an odd situation given Japan produces a lot of solar panels. Mr. Kimmins says market design, inappropriate levies, and system inefficiency are the major barriers to solar uptake in the country. The lack of suitable available land for large solar farms doesn't help matters, but floating solar and dual use projects can go some way to addressing this issue, as can commercial solar installations.
While Japan intends to increase the share of PV power in its mix of electricity production from 4.5% currently to 12% by 2030, reductions in feed-in tariffs and limited grid access for new projects saw demand reduce by 23% year-over-year in 2016 and another 10% in 2017 (Source).
With local heavyweights such as Fujitsu committing to 100% renewables, it will hopefully increase pressure on Japan's government to address issues holding back solar and other renewable energy technologies in the country.