A new solar PV project in Japan is combining electricity generation and agriculture, making the most of what was abandoned farmland.
One of the concerns raised about some large-scale solar farms is the amount of viable agricultural land they can take up. It's certainly a valid concern – particularly when there's still so many rooftops around the world that don't have solar panels on them. These "naked" rooftops could be generating electricity very close to the point of consumption, minimising infrastructure requirements and line losses.
In some countries such as Japan, agricultural land is in particularly short supply. At one stage, solar electricity generation on farmland was prohibited under Japan's Agricultural Land Act. In 2013, Japan's Ministry of Agriculture, Forestry and Fisheries began allowing solar power on existing crop-producing farmland in situations where cropping could continue. This practice is called "solar sharing".
Tokyo Based Sustainergy recently teamed up with Hitachi Capital and Daiwa House to extract the most value from a pair of solar farms while supporting agriculture (or more accurately in this case, fungiculture).
The solar power stations, constructed in Japan's north-eastern region, are due to start exporting electricity this month; all of which will be sold to Tohoku Electric Power. What makes this project stand out is adding to that revenue is a project to cultivate a delicacy, kikurage, beneath the solar panels.
Kikurage (a much more appealing sounding name than wood ear fungus) is an edible jelly fungus that grows naturally with little sunlight in moist-deciduous to wet evergreen forests; occurring in clusters on rotting trees.
It's expected the land beneath the panels will  yield 40 tonnes of kikurage annually if it is fully utilised. While a dollar-figure hasn't been put on that yield, dried kikurage mushroom is a high value product. The project will also address kikurage supply issues, as 90% of the fungus available on the local market is imported into Japan from China.
"We will continue to tackle social reform through the effective use of abandoned farmland like this solar sharing business and the creation of local employment by implementing energy projects that can contribute to the region," says Sustainergy (translated).
This isn't the first time mushrooms/edible fungi have been grown under the shade of solar panels in Japan.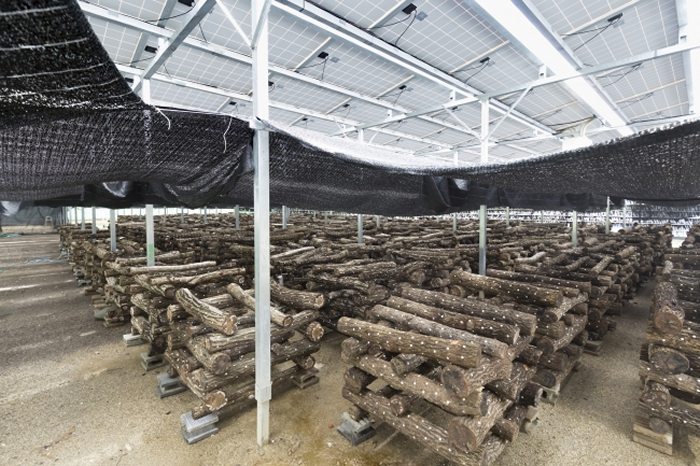 Last year, Sanki Kohmuten started a project growing shiitake mushrooms at a 290kW solar facility in Komaki City, Aichi Prefecture. Originally starting out with 5,000 logs, the project has been deemed a success and has grown to 12,000 logs hosting the prized fungus.
On a somewhat related note, mushroom farmers are taking advantage of solar energy in other ways – to power their facilities. In May this year, we mentioned Australia's largest mushroom producer, Costa, was expanding operations and considering using solar panels to help meet its electricity requirements.