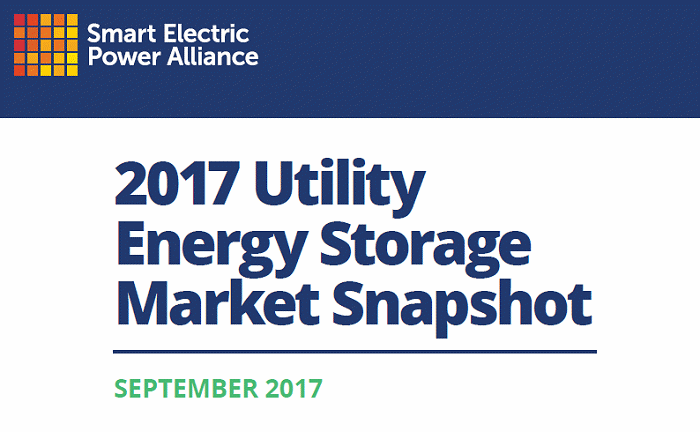 Energy storage in the USA is a small but growing market according to SEPA's 2017 Utility Energy Storage Market Snapshot – and many utilities have residential customers in their sights.
The new publication from the Smart Electric Power Alliance details results from information submitted by 115 utilities; representing around 58 percent of the 130 million customer accounts in the USA.
The report states utilities that responded added 207 MW/ 257 MWh of energy storage to the grid in 2016, across a total of 829 systems; bringing total installed capacity to 622 MW/661 MWh.
The state with the most energy storage installed last year was California, with 120.5 MW/ 176.6 MWh.
Residential deployments were still very much in their infancy – 557 installations took place in 2016, representing 4.5 MW/7.5 MWh capacity. The average battery system size installed last year was 8.1 kW/13.5 kWh. At the end of 2016, the total number of home battery systems stood at 1,762; with a collective capacity of 11.2 MW/20.2 MWh and an average size of 6.3 kW/11.4 kWh.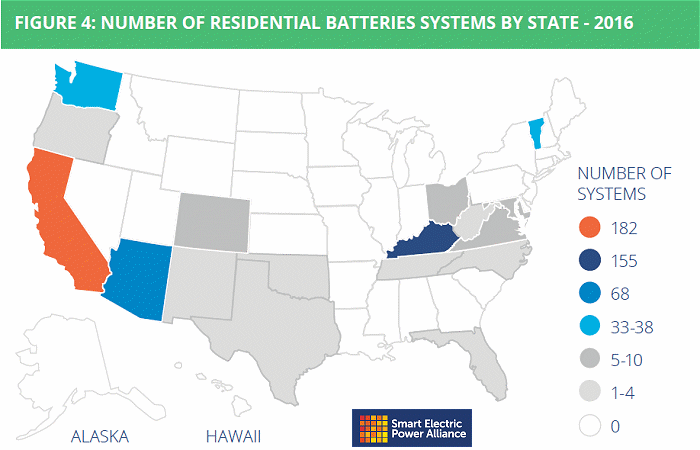 Residential deployment of batteries could see quite an uptick soon. Of the utilities responding to related questions asked by SEPA, 72 percent are planning behind-the-meter battery storage programs for residential customers and 80 percent are planning programs for non-residential (commercial, industrial, and government) customers.
"Not only are utilities overwhelmingly interested in offering programs, they are also interested in the grid support potential of customer-owned storage device inverters," states the report.
SEPA says batteries of all sizes are positioned to play an important role in grid operations in the near future.
The report notes the cost of lithium-ion based batteries declined rapidly, more than 60% since 2012, with a sharp fall late last year after Tesla's Powerwall 2 and Powerpack 2 batteries unveiling.
South Australia gets a mention in the report as an example of projects demonstrating the potential for large-scale battery storage being rolled out rapidly in a time of need, referring to the "100 days or its free" 100 MW/ 129 MWh Tesla battery project in the state.
"Storage may not yet be a mainstream utility resource, as solar is rapidly becoming, but clearly, many in the industry can see the point on the horizon where that starts happening," said Tanuj Deora, SEPA's Executive Vice President and Chief Content Officer.
The 2017 Utility Energy Storage Market Snapshot can be downloaded here (free – registration required).